Cable was once the hottest thing since sliced bread and the only way to access most of the movies and shows we watch today. However, the price of cable is steadily on the rise, leading to the invention of alternative options.
Amazon Firesticks are a great way to view the content you want without paying for hundreds of channels you do not use. If you are ready to cut the cord, we have you covered with the information you need to make the Firestick your favorite source of entertainment.
What is an Amazon Firestick?
A Firestick is a small device that you plug into the HDMI port of your TV. This device gives you the ability to access a wide range of entertainment including but not limited to movies, kids shows, sports, music, and news.
The Firestick usually comes with some channels already available on the device. These typically include Prime Video, Apple TV, HBO, Netflix, YouTube, and Pluto, but there are thousands of other channels that you can add on. This guide includes a breakdown of several of the best options available, though it is certainly not an exhaustive list.
Best Jailbroken Firestick Channels

An Amazon Firestick, like other electronic and media devices, comes with certain restrictions about what you can and cannot access. These restrictions are placed on the device by the manufacturer.
When it comes to the Amazon Firestick, it is equipped to offer content from providers like Netflix and Hulu. The trouble is that by the time you pay for these subscriptions, you cancel out the point of saving money by using the Firestick.
Jailbreaking a Firestick means that you are unlocking it and getting rid of those restrictions. You can then access third party content streaming services that are full of free TV shows, movies, sports, and more. It is an excellent way to cut your entertainment bill down tremendously, but there are a couple of things you should know before diving in.
First, jailbreaking itself is not illegal. You are not digging into the operating system to change code or even doing anything harmful to the device. You are simply adding apps to your Firestick device, like when you download apps onto your Android or iPhone. There is nothing illegal about adding apps to your device.
However, sometimes those apps provide access to content that they do not have the rights too. If you are going to jailbreak your Amazon Firestick, you have to beware of what type of content you are accessing as streaming the wrong content can be illegal.
The second thing you need to understand is that anytime you are using the Internet and electronic devices, you are vulnerable to hacking. Adding apps onto your device can make you even more vulnerable.
This does not mean you have to stay away from them, but you do need to protect yourself by using a VPN, or a virtual private network. A VPN can mask your private information as well as your streaming activity, keeping it away from prying and criminal eyes.
All VPNs have the same basic function, but some are more effective than others. Sometimes, a VPN will disconnect, usually due to WiFi service. If the VPN disconnects, you immediately become vulnerable again. With some VPNs, you have to catch this yourself and disconnect your device from the Internet until the VPN reconnects.
Other VPNs come with a built-in kill switch, meaning that as soon as the VPN's connection drops, your device is automatically disconnected, helping you stay safe.
Be sure that when you are choosing a VPN, you choose one with what is called a network lock, a VPN kill switch, or an Internet kill switch. All three terms mean the same thing, but the name varies according to the VPN provider. This is the reason we highly recommend SurfShark VPN which has all the security features which you need.
-Crackle
Crackle comes from Sony, a well-known media, entertainment, and electronics company. It is considered by many to be equal to Netflix and Amazon Prime with one major benefit over its competitors: There are no subscription fees. The content on Sony is completely free for you to enjoy, and this app has a very large media library.
-Pluto TV
Pluto TV is another avenue for streaming free content. You can access tons of movies, shows, and more than 100 channels. While it is free for you, Pluto TV keeps its service going through ads, as many other free services do. However, if you can deal with some ads, Pluto TV can give you hours of entertainment for free.
Read more: How to Install Pluto TV on FireStick
-Freeflix HQ
Freeflix HQ is a streaming app that provides free content as the name suggests. In addition to gaining access to TV shows, movies, and live TV, Freeflix HQ also has a lot of anime content. It is not necessary to watch with an Internet connection. You can download shows when you have Internet access and then watch them later offline.
Read more: How to Install FreeFlix HQ on FireStick
Best Free Channels List of Amazon Firestick

For those looking to not only cut the cable cord but also eradicate the entertainment budget completely, there are plenty of free channels available on Firestick devices.
After paying the initial cost of the Firestick, you can either cut your bill out completely. Here are some of the best free channels available for your Firestick:
-Tubi
Tubi is a free streaming channel that has partnered with studios like Paramount, Lionsgate, Starz, and more to bring its users thousands of their favorite movies for free.
Read more: How to Install Tubi TV on FireStick
-IMDB TV
IMDB is the go-to source for images and information on movies, TV shows, and celebrities, but did you know they also offer a TV channel? On IMDB TV, you can stream movies, TV episodes, and even more behind the scenes content- all for free.
Read more: How to Install IMDb TV on FireStick
-XUMO TV
Xumo TV is similar to a regular cable package. You can stream the news, sports, movie, TV shows, and on-demand content from almost 200 channels.
-Freeform
Take a look back on some of your favorite movies and TV shows, such as Big Daddy and more. The titles are swapped out on a regular basis, so you can get ongoing entertainment at no cost to you.
-FilmRise True Crime
If you love watching the suspenseful shows on Investigation Discovery- or if you are like the rest of us who have watched all of the available episodes- you have to give FilmRise True Crime a try. It is a great option for true crime fans. Investigation Discovery does offer many episodes for free, but others require a cable subscription. FilmRise True Crime, on the other hand, is free.
Best Premium Channels

There are many ways to access free content on your Amazon Firestick device, but some of your favorite content may be on the premium channels, which usually charge a subscription.
While there are plenty of premium channels with pretty high subscriptions, others are more affordable or simply considered to be worth the cost. Some favorite premium channels include the following:
-Netflix
Netflix is a household name, and most people have experienced the convenient and entertaining content it provides. You can access your current Netflix account or open a new one with your Firestick.
Read more: How to watch Netflix on FireStick
-Hulu With Live TV
Hulu With Live TV is a leading premium channel. It provides More than 85,000 streams of TV shows, movies, sports, live TV, and more. It comes with over 50 hours of Cloud storage for your recordings so you do not have to worry about missing your favorites. You can choose from several subscriptions starting with a basic package and ending with one without ads. Hulu With Live TV lets you personalize your streaming experience, and gives you up to six profiles so your family can enjoy it as well.
Read more: How to Watch Hulu on FireStick
-Sling TV
Sling TV provides access to comedies, news, sports channels, movies, kids shows, and more. You can personalize your content and pay only for what you choose with subscription costs being comparable to those of Netflix. You can try out a week at no cost to see if you like the content.
Read more: How to Install Sling TV on Firestick
-DirecTV Now/AT&T Now
AT&T Now- formerly DirecTV Now- gives you access to more than 120 live channels, movies, games, TV shows, and thousands of on-demand choices. You also get 20 free hours of cloud storage to record shows you cannot catch live. This is one of the more expensive subscriptions, but many people get all of the channels and content they need from this one, eliminating the need for multiple channels.
Read more: How to Install DirecTV on FireStick
Best Local Channels

Local channels are those that can be accessed through a simple antenna instead of having to pay for cable service. There are a couple of ways to access your local channels on a Firestick, and the avenue you choose will depend on the specifics of the channels you want.
One way to access local channels on your Amazon Firestick is through the individual channel's app. The following are some of these local streaming apps:
CBS All Access
PBS
BBC
NBC News
Fox News
ABC News
USA Today
The Weather Network
Most of these channels are either strictly free or they are free with upgrades. For instance, the CBS app lets you watch the last few episodes of its current TV shows for free. If you upgrade to CBS All Access for just a few dollars a month, you can stream all seasons of the current shows and even those that are no longer on air.
These individual channel apps are usually easy to locate. Look for "Apps" on your Firestick screen and choose "Categories". Then, choose "Movies & TV". There should be a list of the local channels you can access before you.
If you simply want to access one or two local channels, or you are fine sticking to only the latest episodes, getting the individual channel's app is a great way to go. If, on the other hand, you want to access all of your local channels and want to watch a wider variety of that channel's shows, you might consider the next option instead.
Many of the premium channels offer local channels anyway. Sling TV, DirecTV Now, and Hulu Live TV all provide local channels along with their other content. Consider which local channels you want along with other streaming content. Then, determine if you would be better off paying for a premium subscription or using free apps.
Do note, though, that some streaming services like Netflix and Amazon Prime do not offer local channels. Before you sign up for anything, check if the local channels you want are on the streaming service you are considering.
Best Kids Channels

Kids are a joy to have around, but it can be tough to keep them entertained when you have a million things that need to be done. No problem! These Firestick kids' channels can occupy the babies while you complete your other work.
-Nick Jr.
It is difficult to ignore the popularity of Nick Jr. when it has such popular shows as PAW Patrol, Bubble Guppies, Peppa Pig, and other kid favorites. They can watch those shows as well as many kid-friendly movies on the Nick Jr. Firestick channel. There is a lot of free content though some do require you to sign in with your cable provider.
-Popcornflix Kids
Popcornflix Kids is another section of Popcornflix, which provides over 1500 movies for free- some of which are not suitable for young kids. Therefore, Popcornflix Kids offers a wide range of both movies and TV shows that are safe and enjoyable for them for free.
-PBS Kids
PBS Kids is both fun and educational for the little ones, so its no surprise that it is also an available Firestick channel. While you do need to create an account for the channel to find the best station based on your location, your kiddos can enjoy PBS Kids for free.
-GoNoodle
GoNoodle is another educational channel for kids, but it is also full of fun activities for teachers, parents, and the entire family. It is a great channel to keep kids entertained and to help you keep them busy during the summer and other times that they are out of school. And it's free.
-Pokemon TV
If your little ones are Pokemon fans, you will score some cool points by using the Pokemon TV channel on your Firestick. There is a large collection of Pokemon TV episodes and movies for your kids to watch for free. You do not even have to create an account, although you get a better-shared viewing experience if you do create a free account.
Best Sports Channels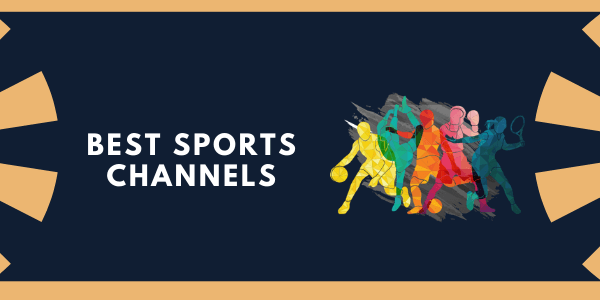 Many people pay for a cable subscription happily as long as they get to watch their favorite teams compete- even if sports is all they watch. Fortunately, you can drop the cable and decrease your monthly entertainment budget by using these Firestick sports channels:
-ESPN
ESPN is well-known for showing sports events from all over the world. You can stream basketball, tennis, football, cricket, and more. The channel itself is free as well as a good deal of the streams. Others, however, may require you to pay for viewing them.
-Fubo TV
Fubo TV is a popular paid sports streaming service that lets you enjoy local, regional, and national sports as well as movies and TV shows on over 85 channels. If you cannot watch your event live, it comes with 30 hours of cloud storage so that you can record it now and watch it later. And if you forget to hit the record button, you can back up as much as 72 hours and watch what you missed. They are currently offering a free 7-day trial so you can give it a spin.
Read more: How to Install fuboTV on FireStick
-Mobdro
Mobdro is a third-party streaming channel that gives you access to more than 1000 channels of movies, TV shows, and sports. You can watch everything from UFC and MMA events to football and more. Some of the streams can be accessed on the basic package while others require a premium subscription.
Read more: How to Install fuboTV on FireStick
-NFL
If you are an NFL Network fan but not a fan of the cable channel's price, there is some good news. You can watch the NFL on your Amazon Firestick at no cost. This is one of the most popular Firestick channels for sports fans.
Read more: How to Watch NFL Live on FireStick
-WOW Sports Live
WOW Sports Live gives viewers access to more than 500 sports channels for free. There are no ads to worry about, either. The most popular sports viewed on WOW are wrestling and boxing, rugby, cricket, and soccer, though you will find many other streams to choose from. This must be downloaded directly from their website as it is not available elsewhere.
Best Fitness Channels

In this incredible digital age, there is no excuse for not getting in shape and getting healthy. If you love to be active or want to make some lifestyle changes, there are many fitness channels to choose from. Here are some of the best choices:
-Peloton
If cycling or running is your jam, Peloton is a great choice. This company produces incredible fitness equipment, such as the Peloton bike and treadmill. While that equipment is useful, it is not necessary to use Peloton. Their channel lets you stream both live and pre-recorded workouts for stretching, cardio, running, yoga, and more. At this time, there are no free trials.
-Daily Burn
Daily Burn offers several ways to access workouts, a favorite being with the Amazon Firestick. One thing that makes Daily Burn one of the best fitness channels is that it creates a customized plan according to your goals and the point from which you are starting. There are more than 500 workouts for you to choose from and they even offer nutrition plans. They are offering a free 30-day subscription at this time.
-Beachbody on Demand
Beachbody is a well-known company that has been around for a while and has been bringing fitness into homes for years. They have always provided a variety of workouts and now you can stream them directly with your Amazon Firestick. There is a monthly subscription to access all of their content, but it is much less than many gym memberships. There is currently a 14-day free trial so you can give it a go.
-Yoga TV
For everyone from beginner to expert, Yoga TV has a workout for you. It offers a variety of themes and focuses, such as meditation and fat burning, and workout streams that last anywhere from about 20 minutes to 1.5 hours. At this time, you can stream workouts for free.
-NEOU
NEOU puts together top trainers and workouts, including CrossFlowX with Heidi Kristoffer. The workouts range widely, offering everything from mobility classes and yoga to boxing and dance cardio. The equipment you need will vary according to the workouts you choose. You get a free 30-day trial after which you can pay a small monthly subscription or pay even less if you pay a full year upfront.
Best Movie Channels

Not much can be cuddling up with loved ones to watch a movie. With these Firestick movie channels, you can have a movie night every night and still have more to watch.
-Hallmark
If you love heart-warming films, the Hallmark Movie Channel on Firestick is a must. It gives you access to a very large collection of Hallmark shows, movies, Christmas specials, and more. If you love to watch Hallmark, it will probably take no convincing to load it up on your Firestick. However, if you need a little time to decide, they do offer a free 7-day trial.
-Netflix
Netflix could really take a spot as one of the best channels in pretty much every category, but it definitely shines in the movie and entertainment area. No matter what genre of movie you enjoy, Netflix has something for you. And, as you likely know, the content changes pretty regularly, so it can keep you entertained.
-Disney Plus
Disney lovers rejoice! Disney Plus for Firestick allows you to stream hundreds of Disney, Pixar, Star Wars, and Marvel movies as well as Disney songs and TV shows. It also comes with National Geographic. Disney Plus is great as a stand-alone channel for a few bucks each month, but you can get great combinations, too. For instance, you can get Disney Plus, ESPN, and Hulu together for less than $15 each month. This channel provides great entertainment for the whole family.
Read more: How to Install Disney Plus on FireStick
Best Educational Channels

Whether you are a lifelong learner or want your kids to see more useful things on TV, educational channels are excellent tools. Most people are familiar with the TV channels the Science Channel, Discovery Go, and I.D. TV- all of which can be accessed on your Firestick- but there are some additional ones you can take advantage of.
-TED TV
TED Talks are a very popular educational source for pretty much anyone who loves to learn or wants to improve in life or their career. Talk lovers can now access TED TV on their Firestick device and easily find a talk they want to watch thanks to the app's very organized menu.
-NASA
NASA has a channel you can access on your Firestick, too. You can watch astronaut interviews- even while they are in space- live videos and events.
Conclusion
An Amazon Firestick can save you a lot of money while still providing a lot of content you love. However, in order for it to save you money, you should have a plan in mind. Know what shows and movies you want access to. Don't forget to consider music channels, such as Spotify and iHeartRadio. Additionally, if you are a fan of cooking shows, there are plenty of food channels, such as Vegan Life, Simply Vegetarian, and Best Cooks.
Take some time to consider what you want to stream as well as the maximum amount you are willing to pay. Then, go through the available channels and choose the ones that offer you the most bang for your buck, so to speak. You might need a combination of channels to stream all that you want, but having a plan in place first will help you make wiser decisions.
As you are determining your budget, be sure to add in the low monthly cost of a VPN. As mentioned earlier, they do help protect your privacy, but the benefits go even farther. Some channels and streams are restricted in certain locations. If you travel a lot, you might find that you cannot enjoy many of your favorite streams. However, with a VPN, you can still access the channels you enjoy at home. And, again, be sure that you choose a VPN with a built-in kill switch for added protection Like SurfShark VPN.