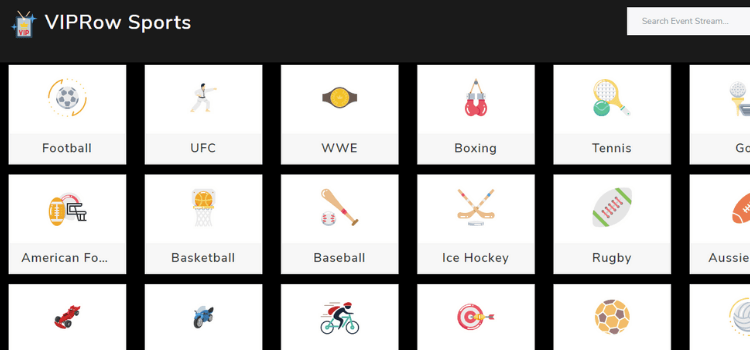 This is a step-by-step guide on how to watch VIPRow Sports on FireStick, Fire TV, FireStick 4K, and Fire TV Cube.
VIPRow is a popular sports streaming website that can be accessed on any device with any web browser for free. You can watch all the Live Sports for free with this website. Isn't it amazing?
The Sports you can watch on VIPRow Sports websites provide Football, Basketball, Baseball, Boxing, Tennis, Racing, and many others. Moreover, the site is quite user-friendly with a simple interface.
You don't have to sign up or register yourself to use the service. As the service is free so you have to bear with the ads. 
Before you proceed, read this…
VIPRow Sports is a free streaming website so we don't know if they hold legal licensing for these channels. That is why, for your own online security, we recommend using a VPN.
Surfshark VPN is our recommended choice. It keeps your IP address hidden from ISP while you streal Live PPV events on your FireStick.
How to Watch VIPRow Sports on FireStick
Since there's no proper app for VIPRow and you will be watching it through a website, there's a risk of online security corrupting your FireStick device. Therefore, it is highly recommended to install and use Surfshark VPN before streaming anything.
Now follow these steps:
Step 1: Open your FireStick device and click the Search icon from the top left corner of the screen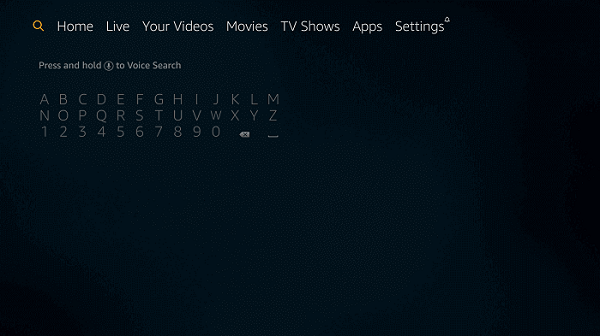 Step 2: Write Silk Browser in the search bar that appeared and select the relevant search results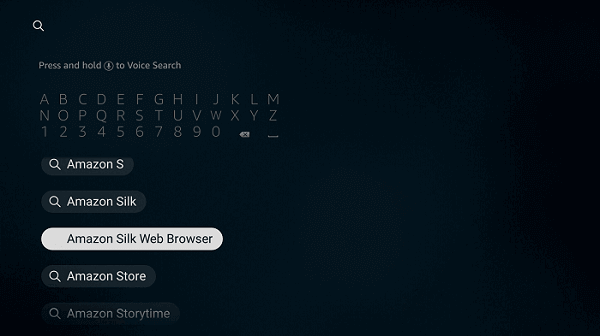 Step 3: Select Silk Browser or Internet icon among the list of other apps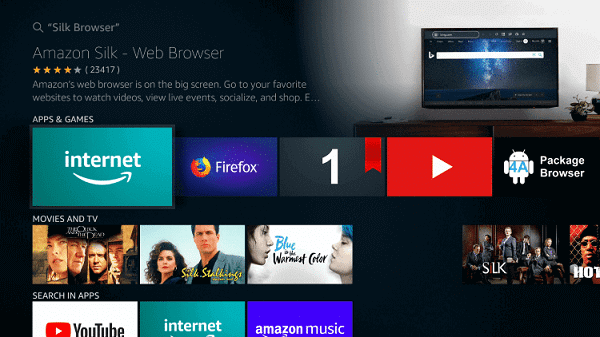 Step 4: Click the Download or Get button
Step 5: Once downloaded, click Open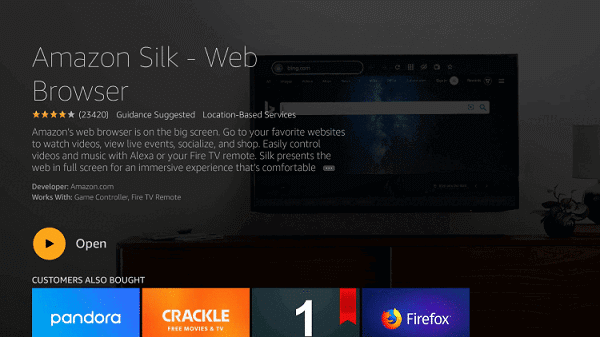 Step 6: Select the URL tab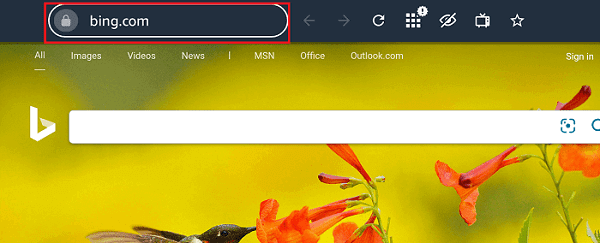 Step 7: Enter viprow.me and click Go
Step 8: Once the website open select any Sports you want to watch i.e. Football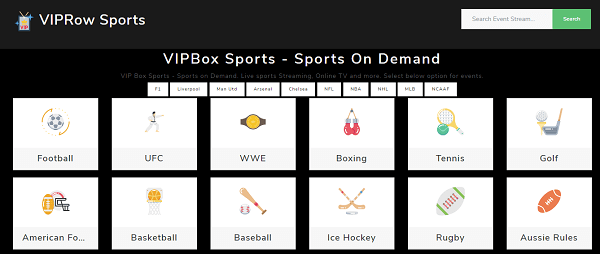 Step 9: Choose any match you want to stream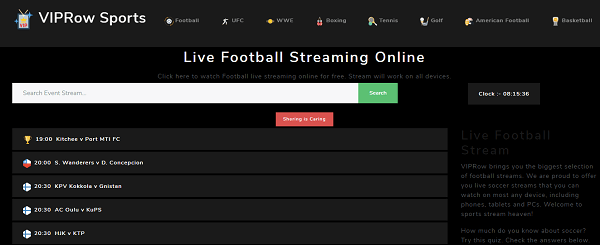 Step 10: Click on Link 1 or Link 2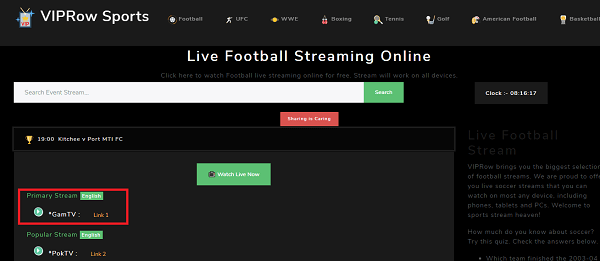 Step 11: Enjoy streaming!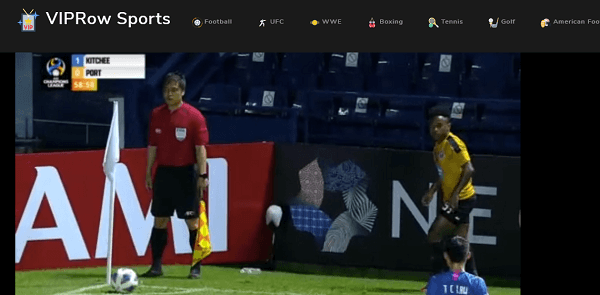 This is how easy it is to access VIPRow on your FireStick device using Amazon Silk Browser.
VIPRow Sports Features
VIPRow Sports is a streaming website with dozens of sports categories to stream. The site can be accessed using any browser. You don't have to sign up or register yourself to use the app.
All you have to do is to install a browser on your device and enter the VIPRows's URL. The website will open on your device.
The site is free and doesn't require any subscription or monthly charges. It offers a variety of live streams for sports lovers.
The interface of the website is simple and user-friendly. All the categories are displayed on the screen and you can easily stream any sport of your choice.
VIPRow Sports Alternatives
VIPRow Sports works great on FireStick but sometimes there might be a glitch or you want to explore some other features. In such a case, I have compiled a list of some VIPRow alternatives for FireStick users. Let's have a look:
FAQs – VIPRow Sports
What is VIPRow Sports?
VIPRow Sports is a streaming website that can be accessed with a browser. You can stream a variety of sports on VIPRow for free without any sign-up or subscription.
Is VIPRow Sports legal?
VIPRow Sports is absolutely legal to use. There will be no legal trouble while streaming VIPRow. Just be careful to watch only public content and avoid streaming copyrighted content.
Is VIPRow Sports safe?
Yes, VIPRow is safe to use. Don't forget to use a VPN to have a secure connection and protect your online identity. It also helps you to maintain your anonymity over the internet.
Is there any VIPRow sports app available?
No, there is no VIPRow Sports app available. You can access the VIPRow website on your device using a browser. I have used Silk Browser in this guide.
Which sports you can view with VIPRow Sports?
There are many sports categories you can stream on VIPRow Sports including Football, Boxing, Tennis, Golf, Baseball, Hockey, and many others.
Conclusion
VIPRow Sports is a streaming website to watch various sports of different categories. The website is accessible on FireStick with any browser.
You can use any browser to access VIPRow on FireStick. I have used Amazon Silk Browser. The site is completely free and safe to use. You don't have to spend a penny to watch your favorite sport using VIPRow.
The site offers several sports categories to watch such as Boxing, Football, Baseball, Tennis, Wrestling, Basketball, and many other sports.
Don't forget to use a VPN before you stream anything on your FireStick. It helps you to have a secure and protected connection. Your anonymity is also maintained with a VPN. Our top choice is Surfshark VPN.