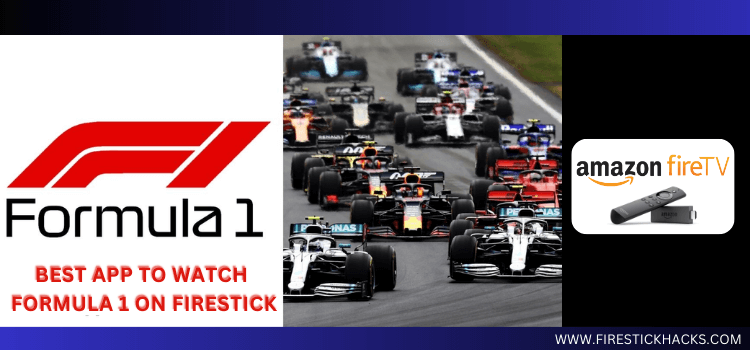 This is the step-by-step guide for the Best Apps to Watch Formula 1 on Firestick, Fire TV, Fire TV4K Max, & Fire TV Cube.
Formula 1 is the most thrilling sport that is watched all around the world and has events throughout the year like British Grand Prix, Austrian Grand Prix, Dutch Grand Prix, and several others.
Exclusive: How to Watch Formula 1 Live on FireStick
Some of the apps or streaming services that have been listed offer you to watch Formula 1 live and free such as ORF, Servus TV, Rapid Streamz, and Live Net TV.
Since most of these apps are geo-restricted outside their country of origin, you will need to use a VPN. ExpressVPN is our #1 choice.
Our Recommended VPN – ExpressVPN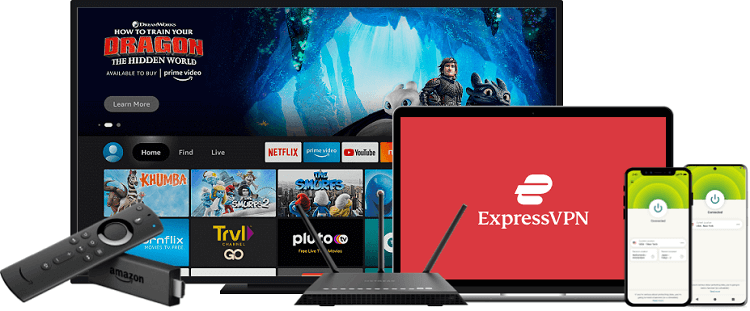 ExpressVPN is our top choice when it comes to watching Formula 1 on Firestick with the best Formula 1 apps because most apps that are listed are geo-blocked in the US and other countries and it helps unblock these services from anywhere.
ExpressVPN today and enjoy 3 extra months free. It also offers a 30-day money-back guarantee policy that allows you to access all features risk-free for 30 days.
Best Apps to Watch Formula 1 on Firestick
Take a look at tested apps on which you can watch Formula 1 on Firestick easily.
1. Servus TV (Free)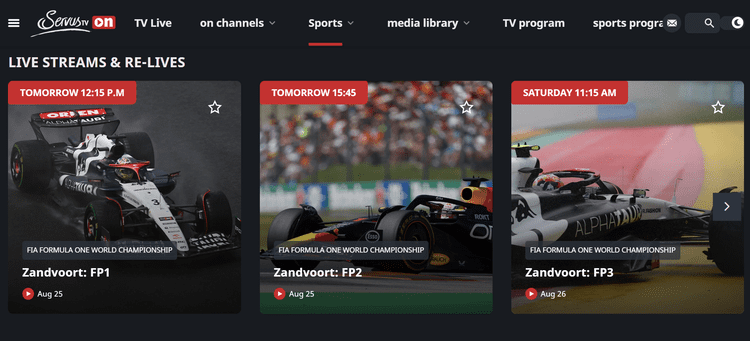 Servus TV is an Austrian streaming service that offers Live TV channels and on-demand content which includes Sports, Movies, TV Shows, and a lot more for free.
It is a completely free streaming service that is only available in Austria that also broadcasts every Live event of Formula 1 racing including Dutch GP, Belgian GP, etc
In addition, it also offers 30 different sports including MotoGP, Cycling, Rugby, Golf, Football, and others for free.
Full Guide: How to watch Servus TV on Firestick
2. ORF Live (Free)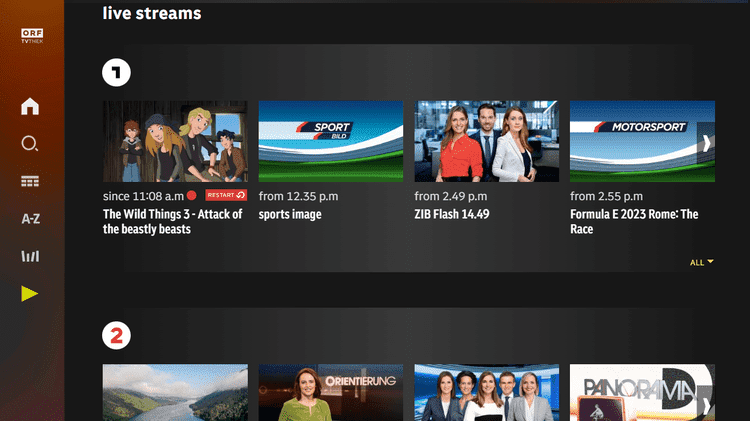 ORF is a free Austrian National Public Broadcaster that has different TV Channels like ORF 1, ORF 2, ORF 2 (Europe), ORF III, ORF Sports+, and 3sat.
It is the Official broadcast of Formula 1 races Live on the ORF Sports+ channel according to time and schedule without any charges.
In addition, ORF Sports+ offers many sports programs including; Formula 1, hockey, football, table tennis, tennis, badminton, volleyball, swimming, team handball, and others.
Since the service is only limited to Austria, you need to connect to the Austrian server to access the content if you're outside Austria.
Full Guide: How to Watch ORF Live on Firestick
3. F1 TV (Premium)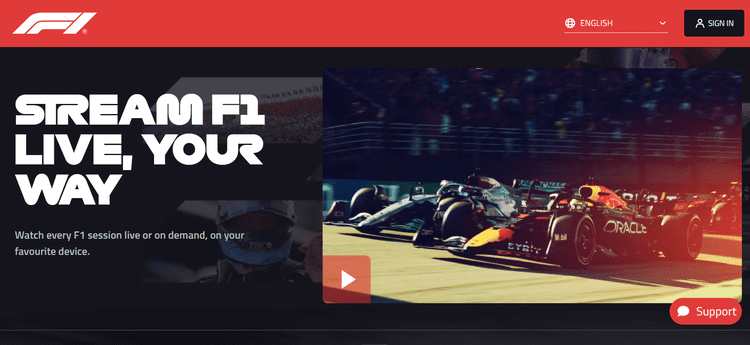 F1 TV is a Premium streaming app of Formula 1 Network which is easily available on the Amazon App Store for download and it has two subscription plans [$2.99/mo (TV Access) and $7.99/mo (TV Pro)]
You can catch every moment of Formula 1 events with this service as it covers it all including Live events, showcases, documentaries, analysis, Tech-Talk, reality shows, and every other thing related to Formula 1.
4. Kayo Sports (Premium)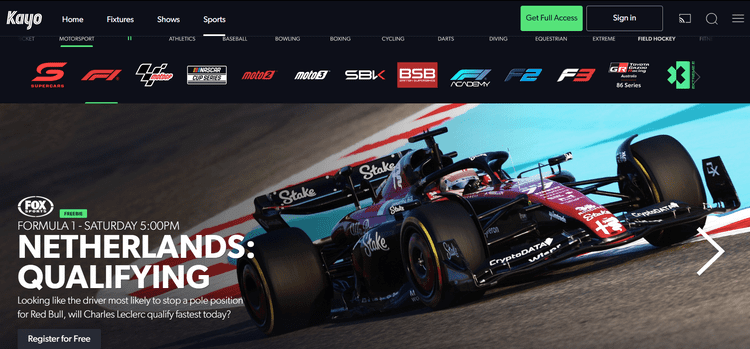 Kayo Sports is a premium Australian streaming service that offers more than 50 Sports all around the world starting from just $25/mo
It officially broadcasts All Formula 1 racing events Live and on-demand within the limitation of Australia. You can access it from anywhere by connecting the Australian server with ExpressVPN.
Full Guide: How to watch Kayo Sports on Firestick
5. beIN Sports (Premium)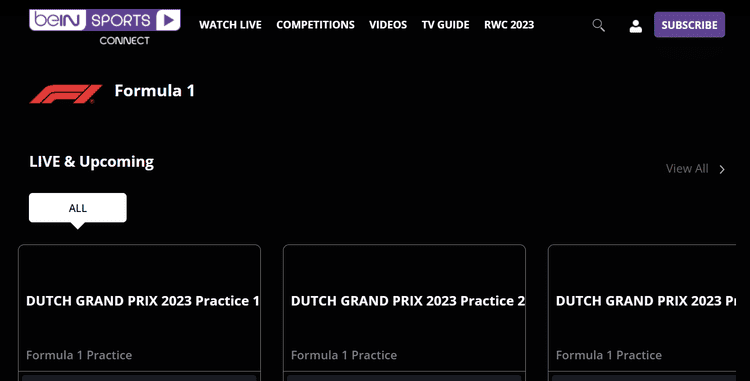 beIN Sports is a popular sports network and streaming service that is available in many countries, especially in the Middle East, African region, France, Indonesia, and some others.
It is a premium service that has various subscription plans according to region but for the US it can be subscribed with Live TV Services like Fubo TV, Sling TV, DirecTV, etc
It is the official broadcaster of Formula 1 Races in various regions including Indonesia, LAOS, Hong Kong, Singapore, and other countries.
Full Guide: How to watch beIN Sports on Firestick
6. DAZN (Premium)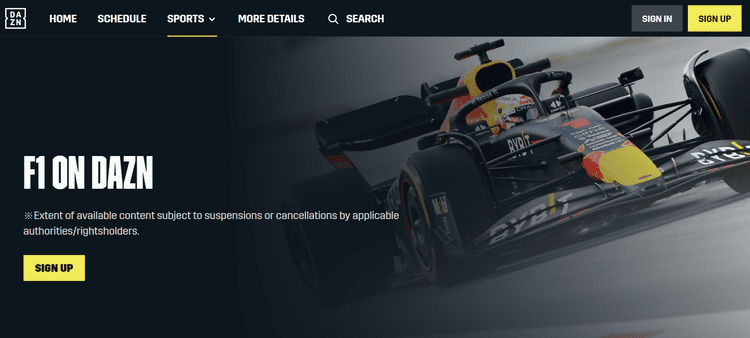 Dazn is a Premium sports streaming service available in 200 countries that offers tons of sports including Boxing, Soccer, Formula 1, and a lot more at the cost of $19.99/mo.
It is also the official broadcaster of the Formula 1 events of 2023 in Japan, Spain, and Andorra. 
It is better known for combat sports you will get almost every PPV event and combat sports like MMA, UFC, and Boxing fights easily on DAZN
However, its content varies in every region, but you can connect any of these servers on ExpressVPN and easily watch Formula 1 Races from anywhere.
Full Guide: How to watch DAZN on Firestick
7. ESPN+ (Premium)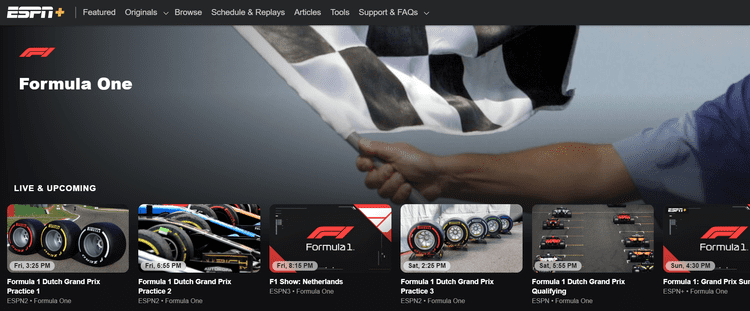 ESPN+ is a worldwide popular streaming service of ESPN Sports network that offers many sports all around the world including Formula 1, Football, Cricket, and so on at the cost of $9.99/mo
It is a premium streaming service and official broadcast of all events of Formula 1 in the USA. Moreover, you can catch shows related to Formula 1 events as well.
Its Sports library includes Tennis, Football, MMA, Golf, Tour de France, Wimbledon, and many PPV events.
Full Guide: How to Watch ESPN+ on Firestick
8. Fubo TV (Premium)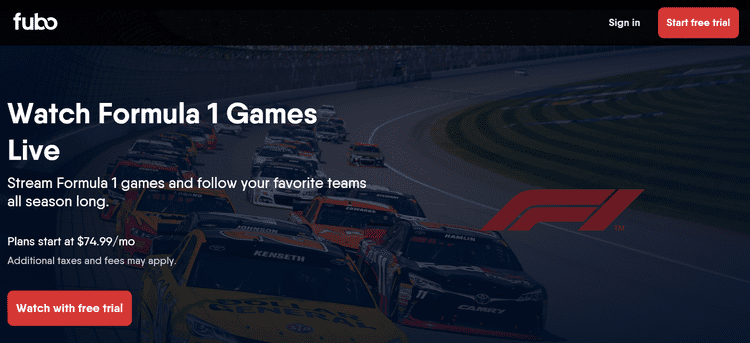 Fubo TV is purely a premium Live TV Streaming service that does not host any on-demand content or PPV event at all.
However, it has some great sports channels that broadcast many live sports events including Formula 1 racing events like FS1, ESPN, ABC, CBS Sports, beIN Sports, and so on.
Its basic subscription package costs you $74.99/mo with 171 live TV channels and the ultimate package costs you $99.99/mo with 292 Live channels.
In addition, you will get full EPG of Fubo TV along with a multi-hundred hours DVR cloud to record your favorite content.
Fubo TV is available in limited regions like the US, Canada, and Spain but content varies accordingly. So connect the US server on ExpressVPN and enjoy maximum channels on Fubo TV.
Full Guide: How to Watch Fubo TV on Firestick
9. Canal+ (Paid)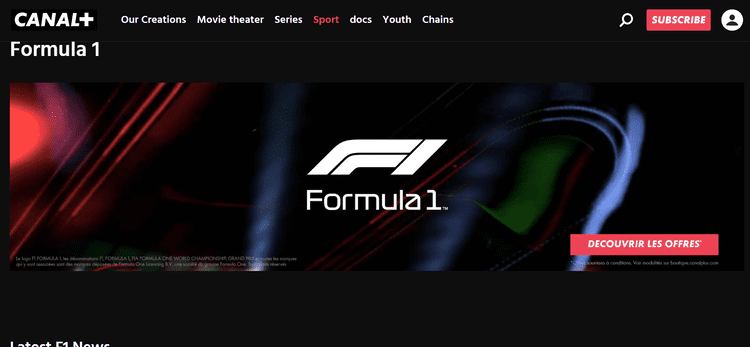 Canal+ is a French premium streaming service that provides Live and on-demand content including Sports, News, Entertainment, Kids, and others only to the audience in France.
You can watch Formula 1 events with Canal+ streaming service with its subscription package "Canal+ Sport" which costs €25.99/mo because its basic Canal+ package does not host international sports like Formula 1.
Full Guide: How to Watch Canal+ on Firestick 
10. Rapid Streamz (Free)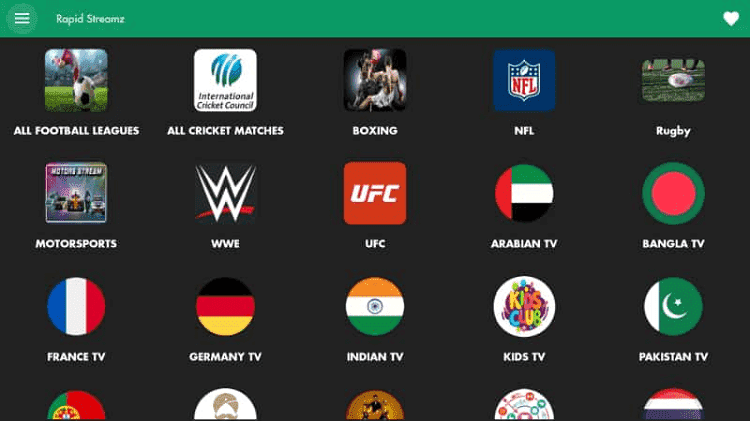 Rapid Streamz is a free live TV streaming app that allows you to stream over 800 live TV Channels from different countries and various categories.
Along with that it also offers many live sporting events including Formula 1 Races in the Motorsport tab which can be streamed easily with external players (like MXPlayer and VLC Player).
In addition, it offers a separate tab for Sports TV and also it has different language channels including English, French, German, Arabic, and others.
Remember this You can only stream Rapid Streamz content by connecting to the Costa Rica server by using a VPN because it only works with this region server. ExpressVPN is our #1 choice.
Rapid Streamz Downloader Code: 63457
Rapid Streamz Downloader Link: rapidstreamz.live
Full Guide: How to Install Rapid Streamz on FireStick 
11. Live Net TV (Free)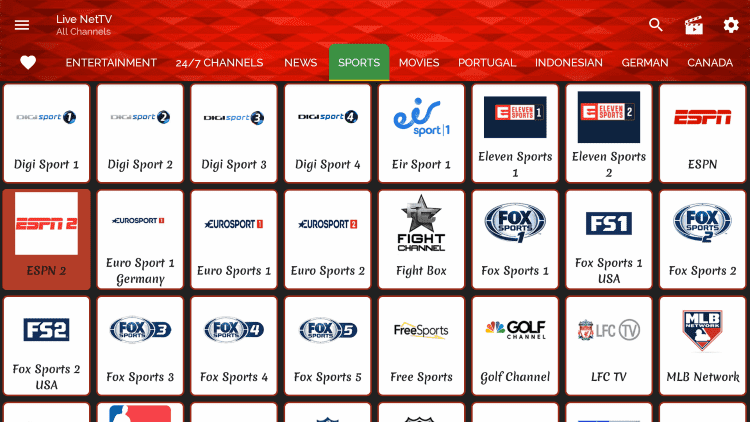 Live Net TV is another free live TV streaming service that has 700+ live channels that are classified according to countries and categories like Sports, Movie, News, Canada, Indonesia, Portugal, Germany, etc. 
It has a simple user interface and easy navigation with different language channels including English, German, Arabic, Urdu, Hindi, and others.
It offers multiple streaming links for Streaming any channel so you can have possible changes to stream that channel.
Live Net TV Downloader Code: 86975
Live Net TV Downloader Link: livenettv.bz
Full Guide: How to Install Live Net TV APK on FireStick 
FAQs – Best Apps For Watching Formula 1
How can I watch live Formula 1 on FireStick?
You can Watch Formula 1 on Firestick with various streaming apps. Some of them are free and some are premium. In this regard, we've bought the solution for you in this guide for the Best Apps to watch Formula 1 on Firestick.
Which sports app streams Formula 1 Races on FireStick?
There are several apps that stream Formula 1 Races like Live Net TV, Rapid Streamz, ESPN+, Dazn, and many others
How can I watch Formula 1 for free on FireStick?
If you want to watch Formula 1 for free then Servus TV is the best streaming service for you as it is legit and airs free Formula 1 events. Moreover, Rapid Streamz, Live Net TV, and ORF Live also provide free Formula 1 events.
Conclusion
Formula 1 is a very thrilling sport and racing fans are all around the world looking for the best solution to stream every event of Formula 1.
After testing tons of streaming apps and services we have come up with some of the Best Apps to Watch Formula 1 on Firestick including Rapid Streamz, Live Net TV, Servus TV, Kayo Sports, DAZN, and others.
Just make sure that you have subscribed to a VPN before starting streaming. It helps you hide your online activity, provides you with a secure internet connection, and helps you bypass geo-restrictions. ExpressVPN is our recommended choice