This is a step-by-step guide on how to install Sling TV app on FireStick, Fire TV, and Fire TV Cube.
With Sling TV, you don't have to pay too much for TV because with only $30/month you get to stream 50+ Live TV channels.
These channels include CNN, TLC, AMC, FX, TBS, Fox News, Cartoon Network, History channel, and more.
Would you like to save some money? Would you like to cut the cord and still enjoy the same content? Would you like to watch your favorite shows and pay less than your cable TV network? Today I am going to answer these questions myself.
The internet today is full of competition. Everybody is participating in the race to provide entertainment according to user-specific needs and demands, but none that provides Live TV service than Sling TV. I will guide you to the installation process of Sling TV on Firestick.
How to Install Sling TV on FireStick
In this section, I will show the installation process of Sling TV on Firestick. Keeping in view the availability of Sling TV application on Amazon app store we will not need to sideload it, meaning that it will be a short process having fewer steps. So now let us begin.
Step 1: Go to Search and type Sling TV.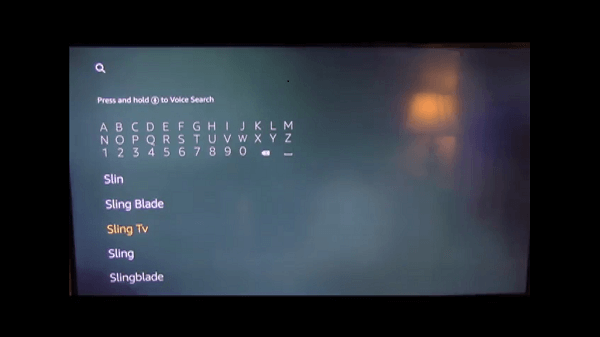 Step 2: Select the Sling TV application.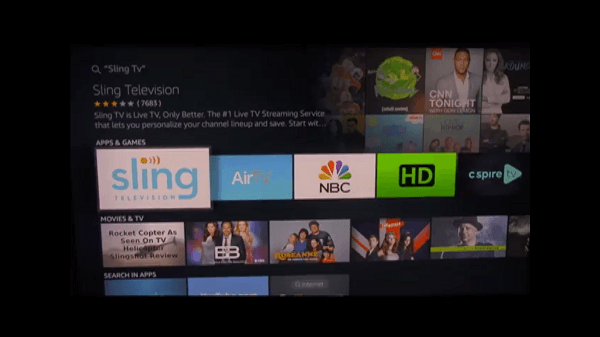 Step 3: Click GET to start the download.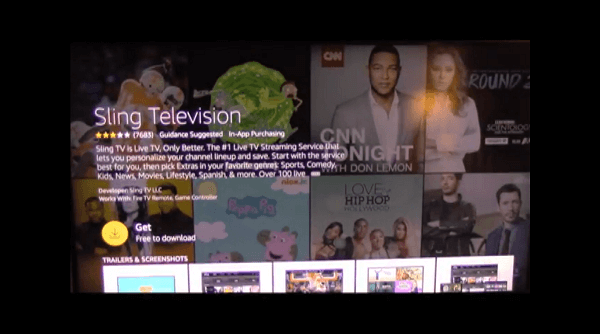 Step 4: After the installation is complete. Click Open.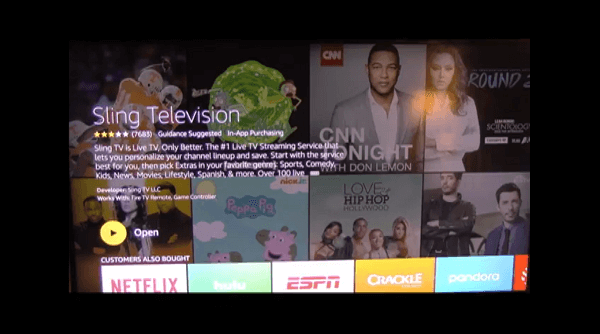 Sign Up to Sling TV Firestick
The signing up process is of Sling TV is quite simple. Just a few steps and you're there.
Step 1: open sling TV app. Click Watch now 7 Days free.
Step 2: Select your desired Plan and click Continue.
Step 3: Next, add Extras if you want and can afford to pay some extra money.
Step 4: Now to create an account you need to provide an Email address and password through which you want to use Sling TV on firestick.
Step5: Provide your billing information and click continue.
Now when we are done with the signup process let us move to the next guide where I will show you to use Sling TV on Firestick.
How to Use Sling TV Application
Using Sling TV on FireStick is no big issue. But there is a particular process you must go through. First, you have to register yourself and provide billing information on your Amazon account.
Once you have done that now let me show you how to use sling TV.
First of all launch sling TV application and sign in with the email address and password you used to create your account.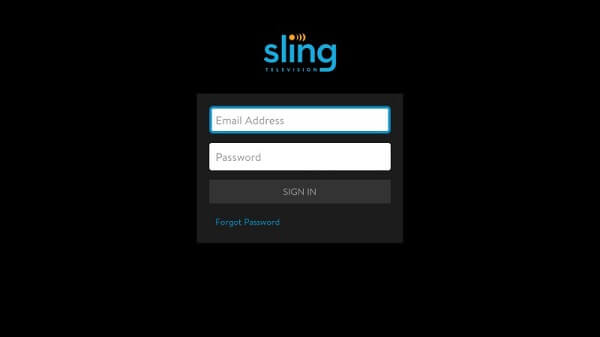 The first section you will see is My TV. Here you can add your favorite channels which allow you quick access to your favorite shows.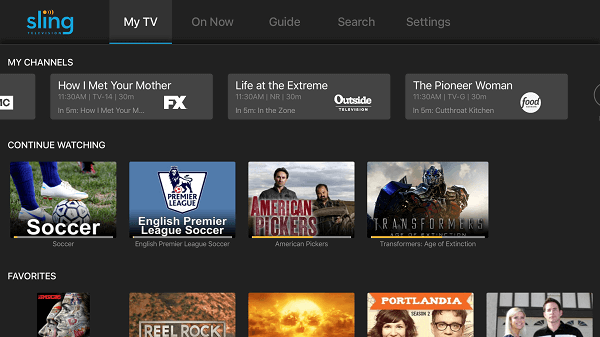 The next section is On Now. This section basically shows you live shows that are being telecasted. Here you can watch all your favorite shows live like sports, news lifestyle and many more.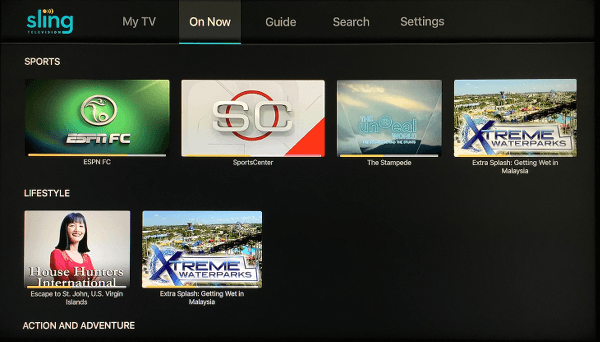 Next is the Guide section. This section has significant importance. The guide not only displays the shows being telecasted live but it tells you about the shows that are scheduled to be telecasted later through a timeline.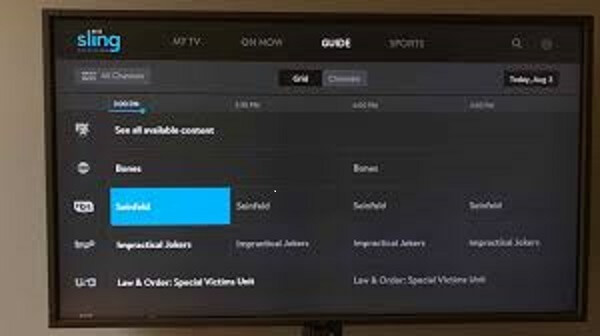 Now last but not least the Sports section. Here you can watch myriad sports channels and sports shows you desire. For example basketball, football, baseball and much more.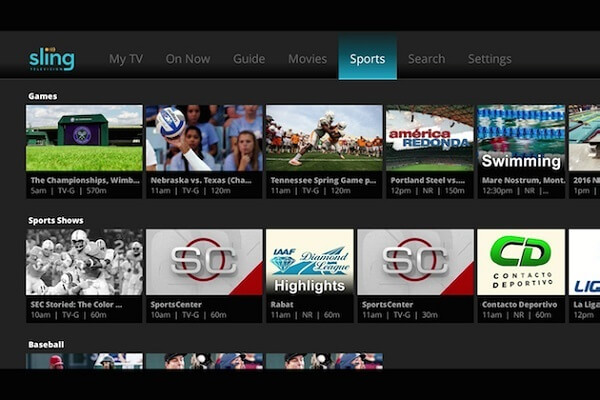 What is Sling TV?
Sling TV is a media streaming service that gives you access to the content all you used to watch on your cable TV at a much cheaper price. Despite being a subsidiary of the dish network you will never need to pay for dish network subscription.
To install sling TV, you just need to download it from the Amazon app store, subscribe and purchase your plan. And you are done!
Another important thing that with Sling TV you do not face issues of hidden charges. All you need to have is an internet connection and a device, in our case it is Amazon firestick, on which you are going to install it.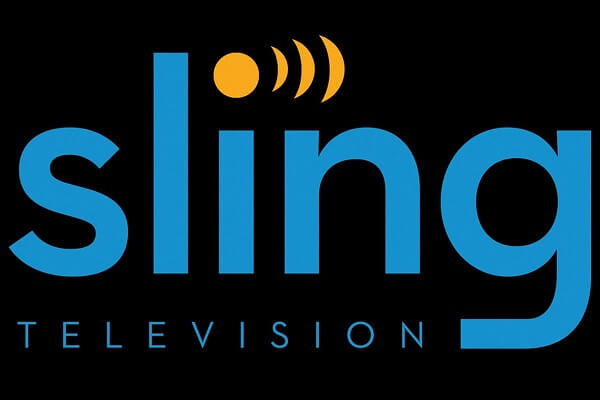 Sling TV Pricing Plans
Sling TV offers 3 packages namely Sling Orange, Sling Blue, and Sling Orange + Blue. All of them have their own purchasing price. A brief introduction to the packages is discussed below.
Sling Orange
Sling Orange costs you $25 due to the recent price hike. Previously it used to be at $20 per month. Sling Orange gives you more than 30 channels which include A&E, AMC, AXS TV, BBC America, Boomerang TV, Cartoon Network/Adult swim, Cheddar, Flama, Food Network, TBS, TNT, Travel Channel, ESPN, ESPN 2, ESPN 3 and many more. However, sling orange does not include FOX network channels but it provides you an amazing choice of ESPN network instead.
Sling Blue
Sling Blue is another sling package that also costs you $25 per month. Sling blue gives more than 40 channels which include A&E, AMC, BBC, BET, EL Rey Network, FOX, FOX Regional Sports, FOX Sports 1, FOX Sports 2, FX, FXX, USA Network, Cheddar, BBC America, TNT, Comedy Central and many more.  Here you get FOX network channels but do not get ESPN network channels.
Sling Orange + Blue
This one is the combo of the above two. Sling Orane+Blue costs you $40 per month having more than 50 channels including all which are provided by sling orange and Sing Blue separately.
For example, if you are a sports fan and want ESPN and FOX network together then Sling Orange+Blue is the best choice you can have at affordable prices.
How to Avoid Geo-Restriction in Sling TV?
Sling TV, however, is available only in the US and it is geo-restricted, therefore it is not available in other regions. But do not worry, I will show a way through which you can access Sling TV and watch it from where ever you are in the world.
You can use Sling TV on Amazon FireStick by setting up a Virtual Private Network (VPN) as we have discussed above. VPN helps to hide the original IP address and location and makes you appear somewhere else in the world.
For example, if you are somewhere in Europe and you want to access Sling TV on your internet, your access will be denied.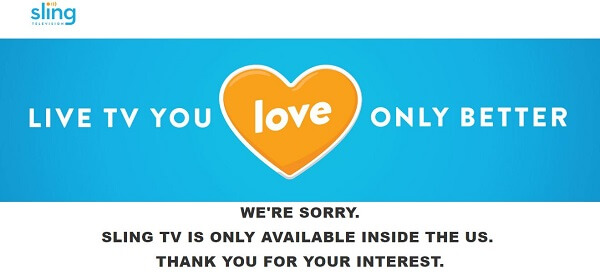 However, if you use a VPN connection then you will surely be able to access Sling TV because it will replace your initial IP address with the IP address of the VPN provider that is located in the US.
Another advantage of using sling TV with a VPN is that it brings you the local channels as well. As mentioned earlier, through VPN you appear to be in a different place, therefore it enables you to enjoy the local broadcasting channels at whichever place you are appearing to be. Whether you appear to be in Washington DC, New York City, Amsterdam, Denver, San Francisco, Miami, or Boston, once you are connected through a VPN server all the locals are in your reach through Sling TV.
Sling TV Problems/Issues
There are no such serious issues with sling TV when installing it on the FireStick device. Mainly the buffering issue is caused by the internet connection speed. That is why at least 5 Mbps connection is recommended to avoid buffering issues.
Sometimes another issue people face is the blackout of the screen. It happens rarely but if you are watching a show of which you do not want to miss even a single second this might make you frustrated to face such a problem even for a fraction of a second.
There are some methods through which you can resolve these issues:
Restarting Firestick:

By restarting firestick refreshes the firestick operating system and application data, while it actually helps in resolving the issue.

Reinstalling Sling TV application:

reinstalling the application will cause a total refresh of the application which will give you a fresh start and will surely resolve the issue.

Refreshing the Sling TV app:

By refreshing the application all of the history and the app data will be erased and your application will be like new just like reinstalling the application. By refresh method, all of your E-mail and password will be lost. Meaning you will have to sign in again to have your history and favorites back.
Frequently Asked Questions About Sling TV
Yes, of course, sling TV brings you the favorite shows you desire. For example, live TV, sports, movies, and much more.
Yes! Sling TV is available on the Amazon app store for free. It can be downloaded from there and can be used on trial for free.
The answer is again yes! The On Now section allows you to watch the live TV and shows being aired. Now you can watch various shows like sports, news, etc.
This time the answer is no! Officially Sling TV is available in the US only and this application is Geo-restricted everywhere else. But by using VPN with Sling TV you can break the geo-restriction barrier and watch from anywhere in the world.
Conclusion
Sling TV on Firestick is a wonderful option for people who want entertainment at a cheaper price than the cable TV network. Sling TV brings you various packages with a lot of channels available for everyone.
With VPN you can avoid the geo-restriction and enjoy Sling TV from anywhere in the world. Sling TV is really affordable choice for every segment of society and is the best option among many.