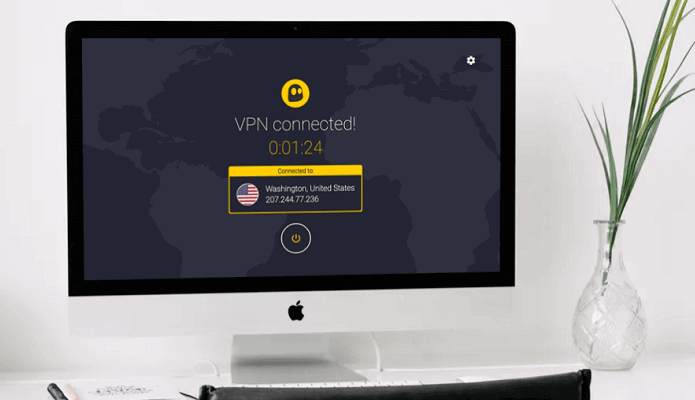 This is the step-by-step guide on how to install CyberGhost on FireStick, Fire TV, and Fire TV Cube, and also how to use it.
CyberGhost VPN has a large server network to offer with 5,900 servers that are available across 89 countries. It is easily installed on Fire TV Stick since it is available on the Amazon app store.
With a single CyberGhost account, you can connect to 7 multiple devices simultaneously and it costs only $2.75/month with a 45-days money-back guarantee. 
With CyberGhost, you can unblock any geo-restricted app that you are unable to stream like Hulu, Shows on Netflix, HBO Go, and more.
How to Install CyberGhost on FireStick
Step 1: Subscribe to CyberGhost
Step 2: Open FireStick Home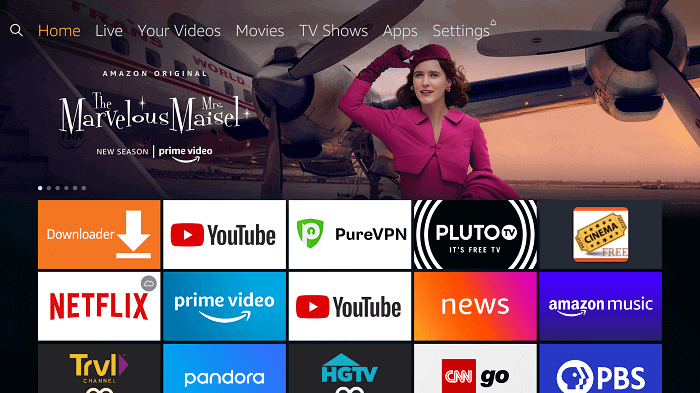 Step 3: Click on the Search menu at the top and type CyberGhost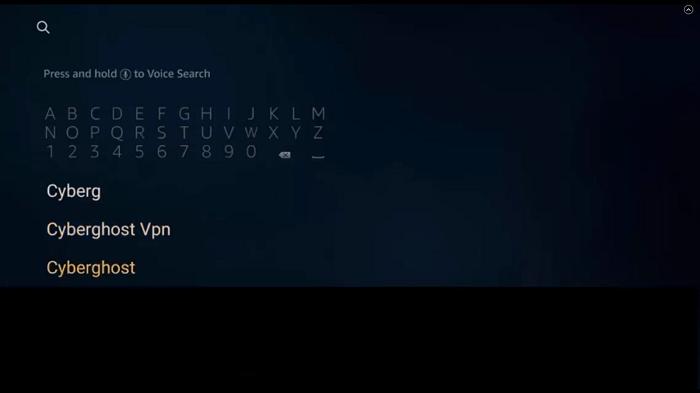 Step 4: Select the CyberGhost VPN FireStick app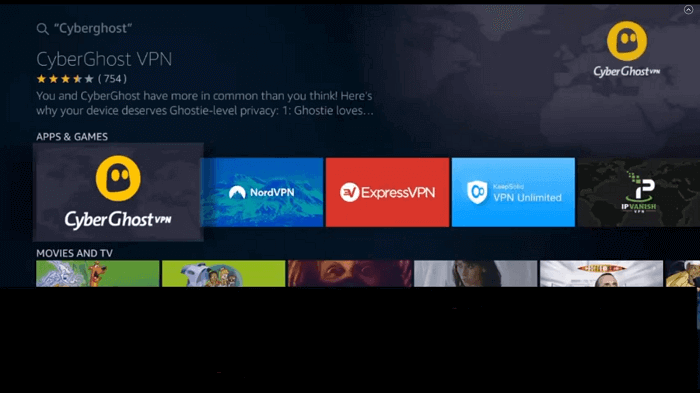 Step 5: Now click on Download or Get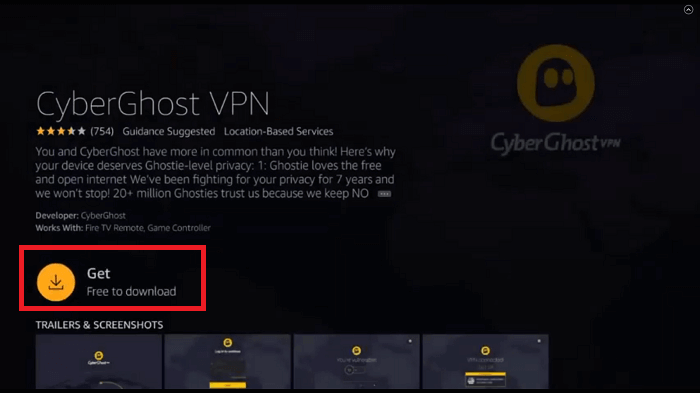 Step 6: Once downloaded, click Open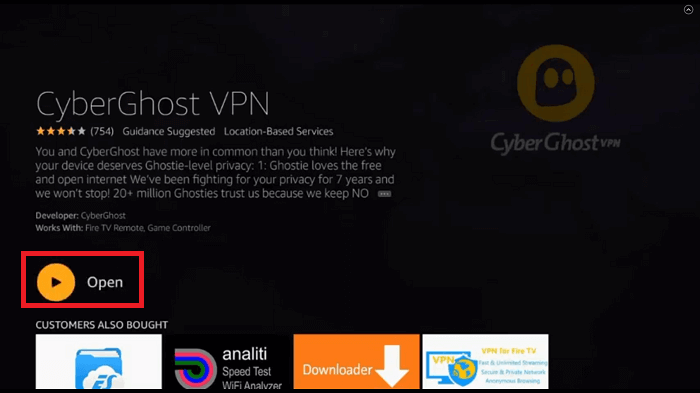 How to Use CyberGhost on Amazon Fire TV Stick
Step 1: Once you have opened CyberGhost app, click on Agree and Continue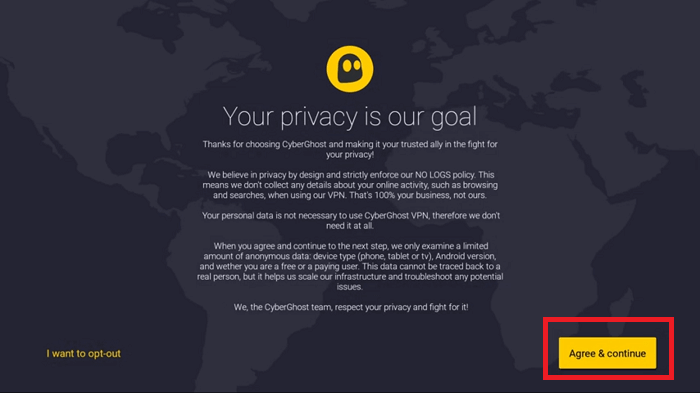 Step 2: Now click on Allow VPN Access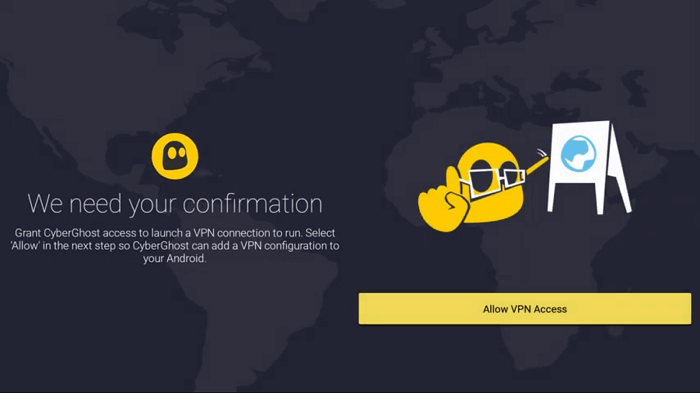 Step 3: Click OK to Connection Request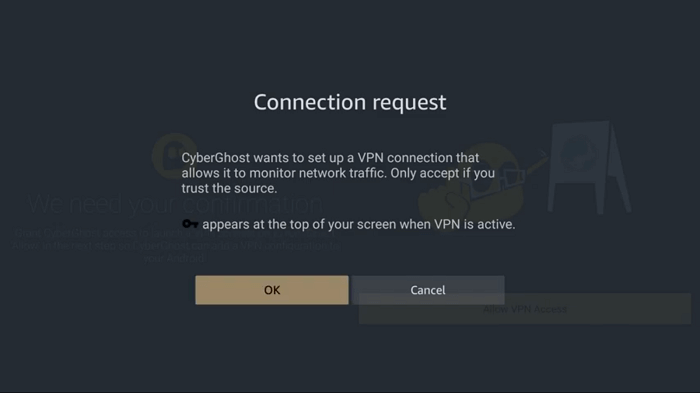 Step 4: Enter Login and Password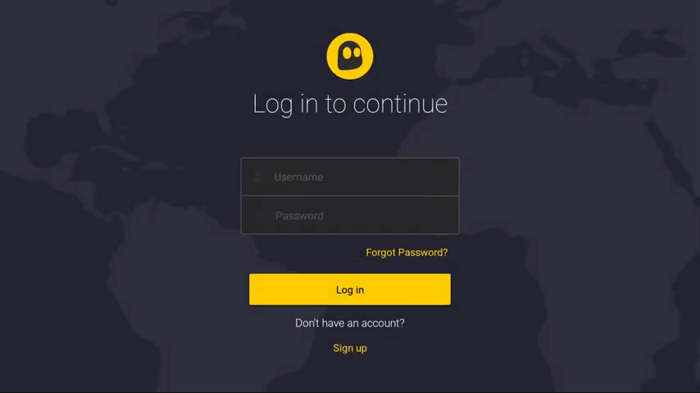 Step 5: This is the interface of CyberGhost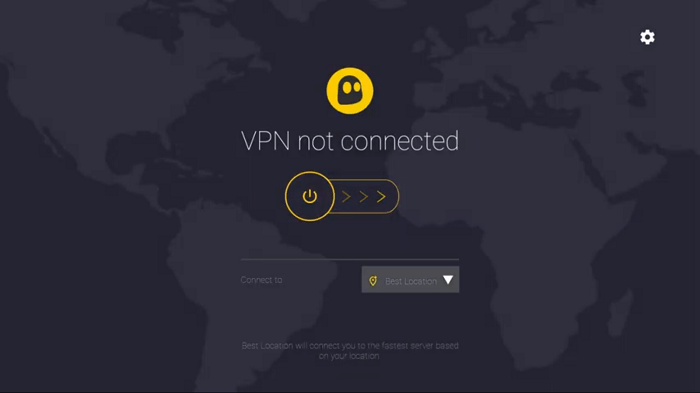 Step 6: Choose any server from the list (for e.g. United States)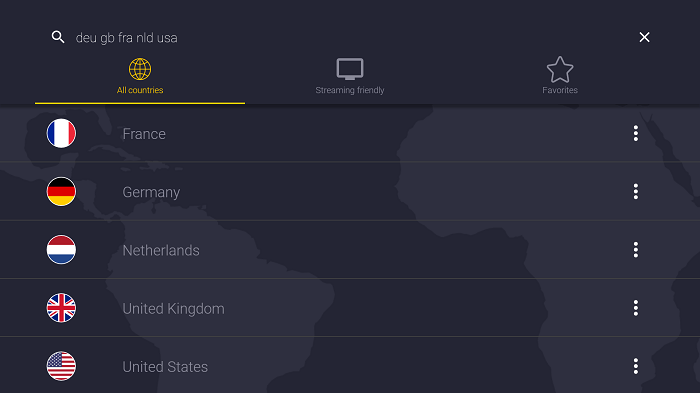 Step 7: You are now connected to the US server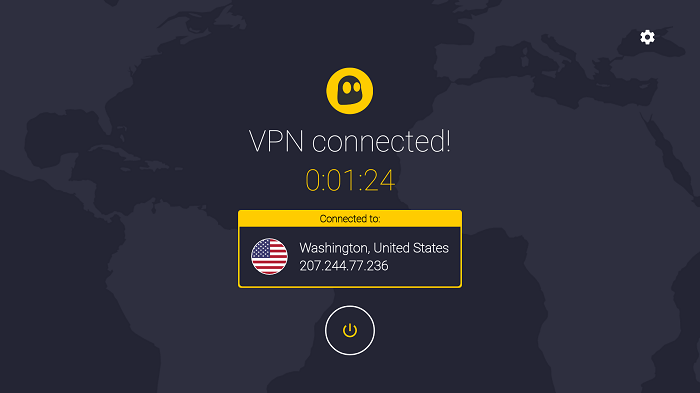 Main Features of CyberGhost VPN App
Here are some of the main features that you will get when you install CyberGhost VPN on FireStick:
IP and DNS Leak Protection
Your original IP and DNS are NEVER leaked outside of their encrypted tunnel. This means your true identity is never revealed. This is something that keeps you safe over the internet.
No Logs Ever
CyberGhost VPN does not keep any kind of logs. It is based in Romania that doesn't have data-retention laws. Even if the government asks for your data, CyberGhost will have nothing to give them.
Encrypted with 256-bit AES
Your internet traffic on FireStick or any device flows through this encrypted tunnel. This is the strongest encryption that not even a skilled hacker can trace it.
Large Server Network
CyberGhost has currently the largest server network in the entire VPN industry and has surpassed NordVPN. It currently has 5,900 servers that are spread across 89+ countries.
45-Days Money-Back Guarantee
This VPN also has the most amount of money-back guarantee i.e. for 45-days. You can use the service for 45 days only to cancel it after if you don't like the service.
7 Simultaneous Devices
With a single CyberGhost account, you can use this service on 7 different devices at the same time. For example, you can use it on FireTVStick, Mobile, Computer, Routers, Roku, and more.
24/7 Live Chat
For its premium customers, CyberGhost has a live chat support 24/7 for any kind of problems they are facing.
If this VPN does not suit your need, we have other best VPNs for Amazon FireStick you can choose from.
CyberGhost Rating on Amazon App Store
CyberGhost VPN has an Amazon rating of 3.6 stars out of 5 with over 1,500 user reviews which is pretty decent.
A total of 49% have given it a 5-star rating, but also a good number i.e.  24% of users have marked it a 1-star rating which is something to worry about.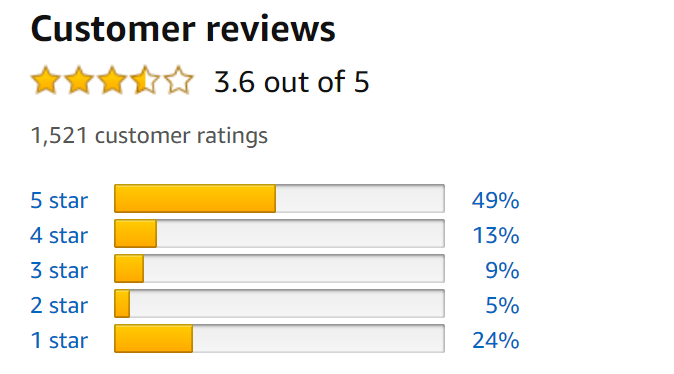 Alternatives to CyberGhost VPN
Here are some alternatives to CyberGhost that has fast speed, strong encryption, and overall good performance:
Conclusion
CyberGhost VPN is undeniably one of the top leaders in the VPN industry. With a large number of server network to strong encryption, CyberGhost has everything.
The app is easily available on the Amazon app store, which is why it is easy to install CyberGhost on FireStick.
The feature I liked most about this VPN is its 45-days money-back guarantee and the fact that it can connect to 7 devices simultaneously.
It takes about 5 minutes or less to install it on your FireTVStick. Once you have installed CyberGhost, you can enjoy watchingUS Netflix shows, Hulu from anywhere, and so much more.
Since this VPN hides your online traffic and whatever you stream on the internet, you can take this opportunity to watch free content with our best FireStick apps.