Are you a fan of American TV channels and shows? Are you a fan of shows like the popular Brooklyn Nine-Nine, Downtown Abbey? Do you love to snuggle in every weekend to watch Saturday Night Live?
If yes, you are in the right place or should I say webpage?
These shows are by one of the most popular American TV channels, NBC. And NBC just launched a video streaming app called Peacock TV on 15th of this month.
Installing Peacock TV app on FireStick will make your life as colorful as its logo with tons of NBC current and past original programs on-demand as well as live TV streaming.
In addition to NBC's original programming, Peacock TV will also feature content especially movies from other media services and TV channels.
Peacock TV offers very economical subscriptions as well as a free plan and a 7-day free trial for users who'd still like to watch their favorite programs but free of cost.
So let's find out how to get Peacock TV on your device right now!
How To Install Peacock TV app on FireStick
The very first step is to install a VPN to unlock Peacock TV if you're not located in the US after which we'd proceed to installing it.
Go to your FireStick home screen.
Click on the Search icon.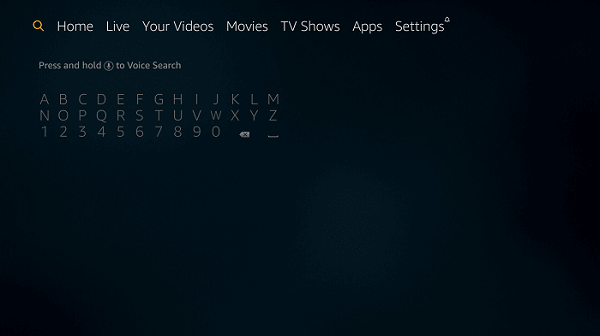 Type 'SurfShark' in the search bar.
Click on 'SurfShark' in the results below.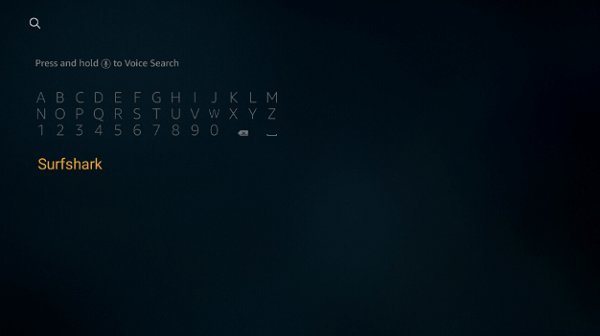 Move to the 'Apps & Games'
Click on the Surfshark tab.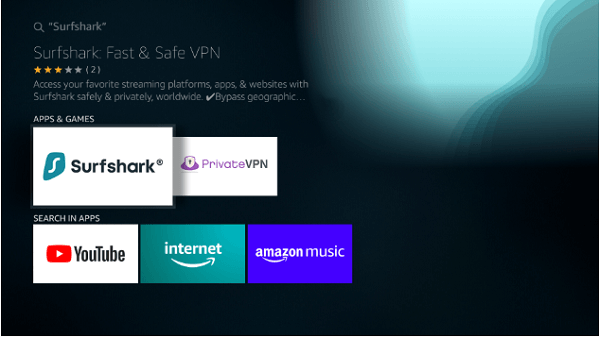 Click on 'Get' button to download.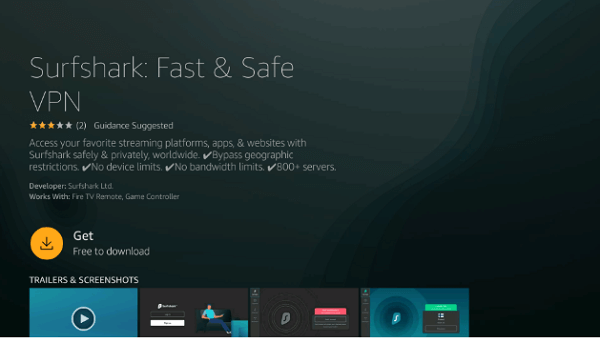 App download will start.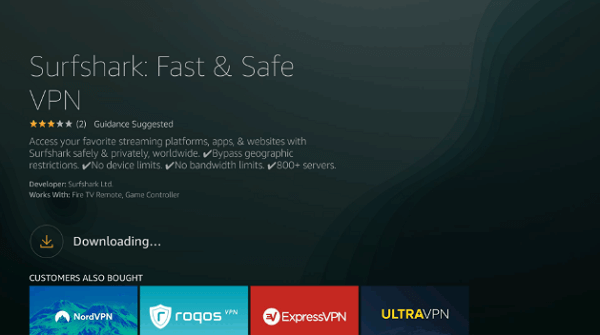 Installation will automatically start and complete.
Click on 'Open' to launch SurfShark.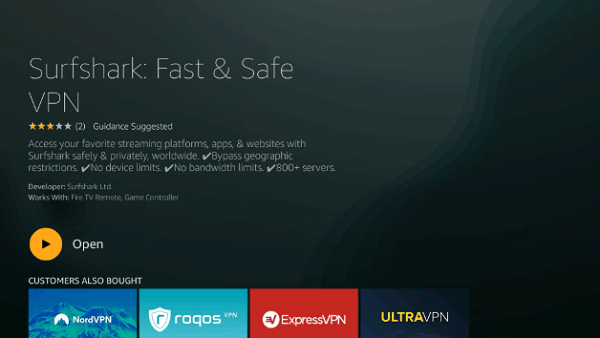 Go to https://order.surfshark.com/.
Sign up for SurfShark and get a plan.
Enter you're your email and password and login.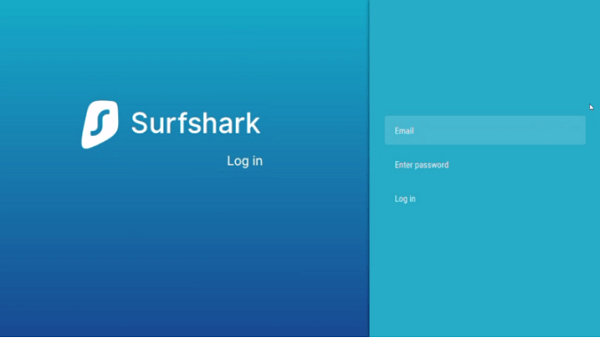 Connect to a US server.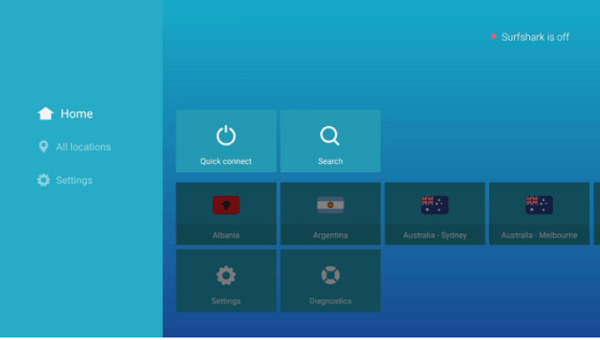 Note: Connecting to a US-based server will allow you to use Peacock TV app from anywhere in the world despite the fact that it is only restricted to US.
Using VPN connection has many necessary benefits. It masks your IP address so you can surf and stream without having to worry about malware attacks. It also stops government, your ISP and hackers from tracking your activity online and protects your privacy.
Therefore, it is wise to use a VPN such as SurfShark to stream on FireStick using different apps.
Go back to the home screen.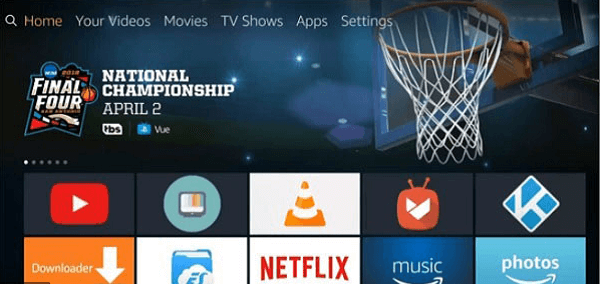 Click on the 'Settings' option in menu bar.
Move right on the 'Settings' menu.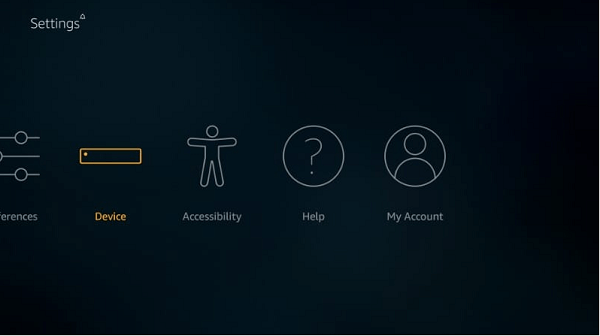 Click on 'Device' or 'My Fire TV', depending on availability.
Move down on the 'Device' menu.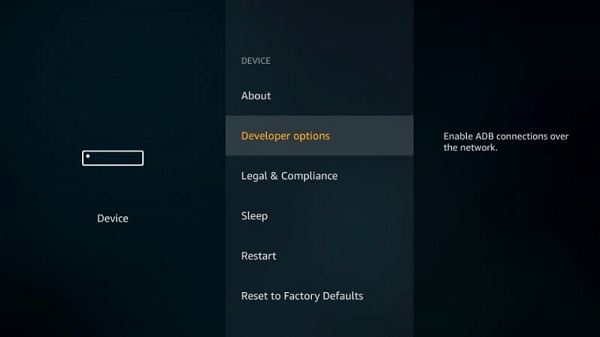 Select 'Developer options'.
Click on 'Apps from Unknown Sources'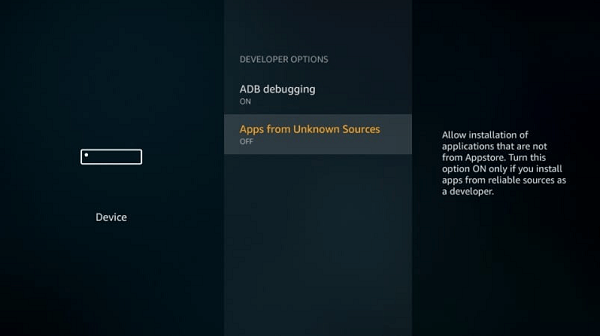 Click on the 'Turn On'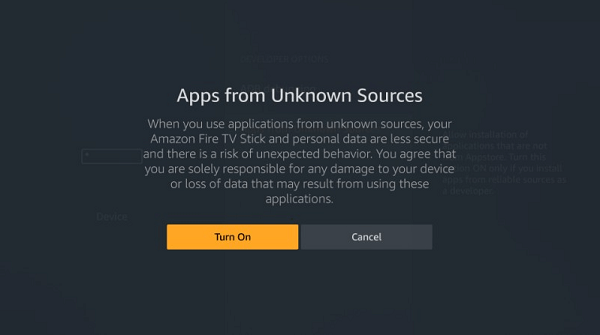 Now, go back to the home
Click on the search icon.
Type 'Downloader' in the search bar.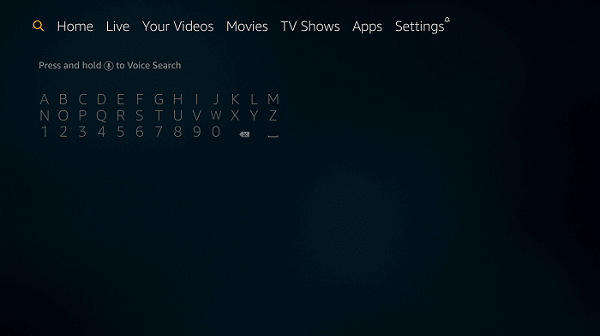 Select 'Downloader' from the search results.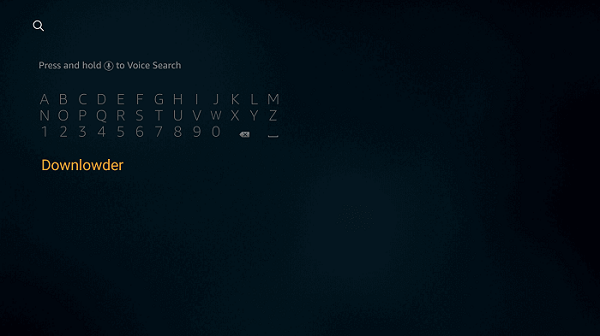 Go to the 'Apps & Games'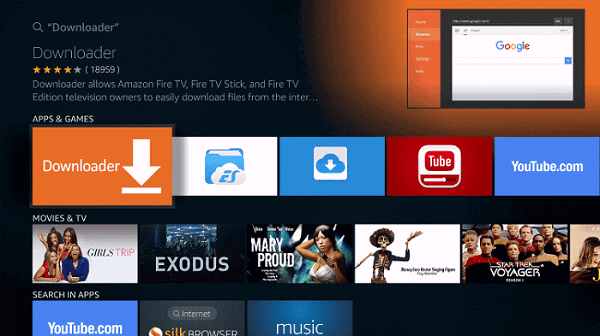 Click on the 'Downloader' tab.
Click on the 'Download'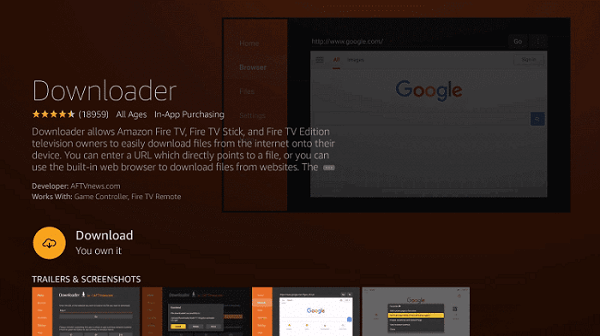 Download will start.
Installation will start after download is complete.
Click on 'Open' after installation completes.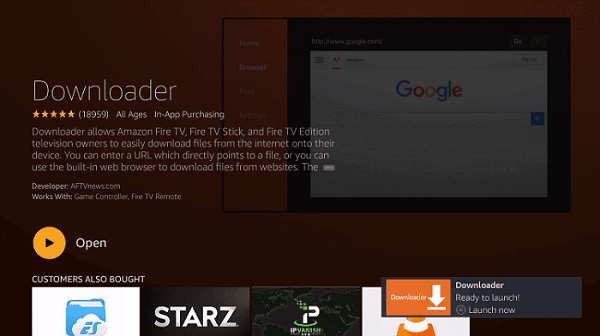 Downloader home page will open.
Type in the following URL https://firestickhacks.com/file/peacock-tv.
Click on 'Go'.
The file download will begin.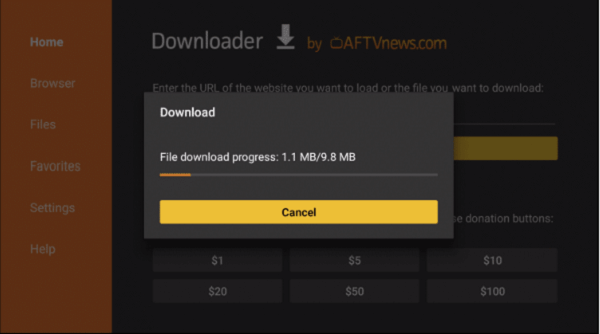 Click on 'Install'.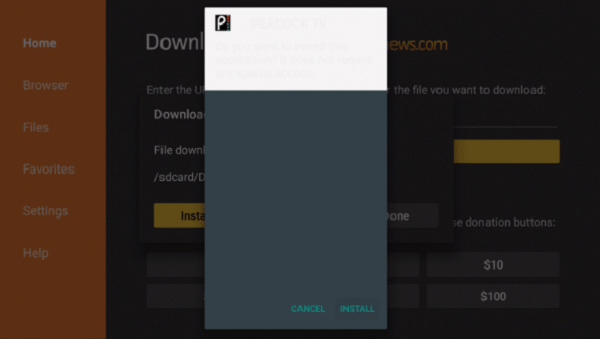 Click on 'Done'.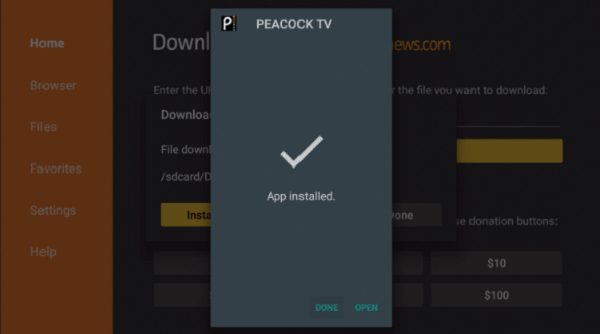 How to Use Peacock TV app on FireStick
Go to FireStick home screen.
Move the cursor to 'Your Apps & Channels'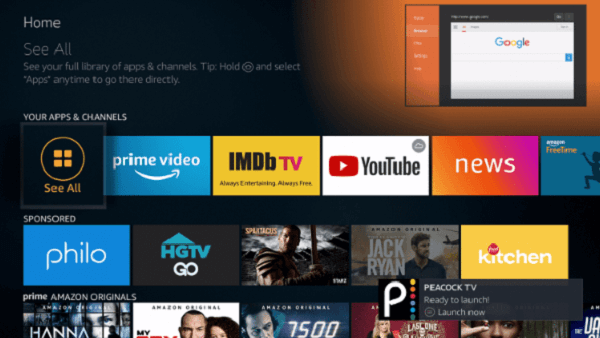 Scroll to the very right of the list.
Click on the 'Peacock TV' tab to open it.
OR scroll left on 'Your Apps & Channels' list.
Click on 'See All'.
Move down to the end of the list.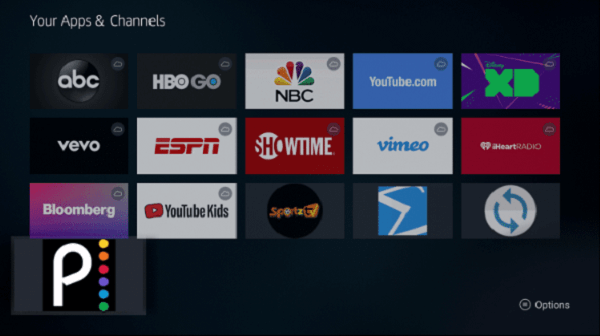 Place your cursor over 'Peacock TV' tab.
Press the 'Menu' button on the FireStick remote.
A menu will appear on the bottom right.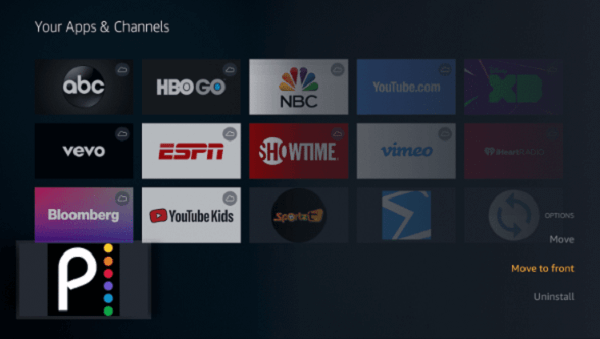 Click on 'Move to front' option OR
Select 'Move' and drag the app to top of list.
It will now appear on your home screen in 'Your Apps & Channels' list.
Launch the app.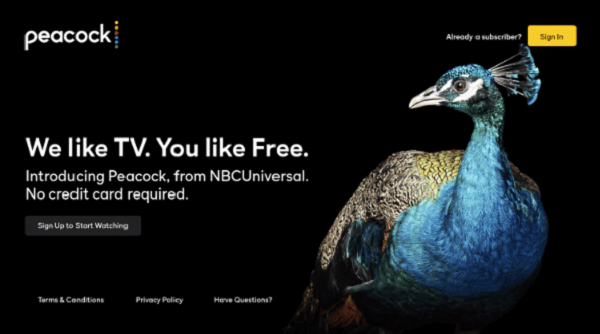 Enjoy!
Features of Peacock TV on FireStick
Peacock TV has NBC original shows as well as sports programs and movies in its library.
The app also plays host to programs and movies by NBCUniversal, CNBC, MSNBC, Dreamworks, Universal Pictures and many more.
Users can also avail a 7-day free trial period.
All subscription plans are highly affordable, you can choose to watch Peacock TV free or sign up for a plan according to your budget.
Peacock Premium and Peacock Premium Plus costs only $4.99/month and $9.99 a month respectively.
Peacock Premium is free for Comcast and Cox cable TV users.
Paid versions of Peacock TV support an ad-free streaming experience.
Free plan gives users access to 7,500 hours of screen time.
Following popular TV shows are available on Peacock TV:
Brooklyn Nine-Nine
The Real Housewives
Downtown Abbey
Keeping Up with the Kardashians
Friday Night Lights
Saturday Night Live
Peacock TV on FireStick Alternatives
FireStick never disappoints its users and they have a large list of streaming apps to choose from. These apps either contain shows from specific TV networks or have shows from all over the world.
Sky Go on FireStick
HGTV on FireStick
ITV Hub on FireStick
DStv on FireStick
zeetv on FireStick
Frequently Asked Questions
Can I watch Peacock TV from anywhere in the world?
Yes and no! Peacock TV is geo-restricted to subscribers in the US. But you can follow this guide to unlock it using a VPN service and then you would be able  to watch it from anywhere in the world.
How much do I have to pay to watch Peacock TV?
How much you pay depends on the subscription plan you get. Peacock TV has a free plan and two paid plans that offer varied access to programming. Peacock TV is also free for subscribers of some US TV network services.
Conclusion
It is not an exaggeration to say that Peacock TV is the hottest streaming app for FireStick this month and for many months to come.
It brings shows that we have been waiting for so long to our TV screens so we can watch them on-demand and on the go whenever we desire. Its affordability makes it an absolute steal and gives us value for every single buck spent.
NBC has been really popular among its fans for its interesting TV shows, sports shows and other programs. Installing Peacock TV on FireStick means our favorite shows are only a few clicks away!
So, use this guide and unlock a world of unlimited NBC programming that awaits you!