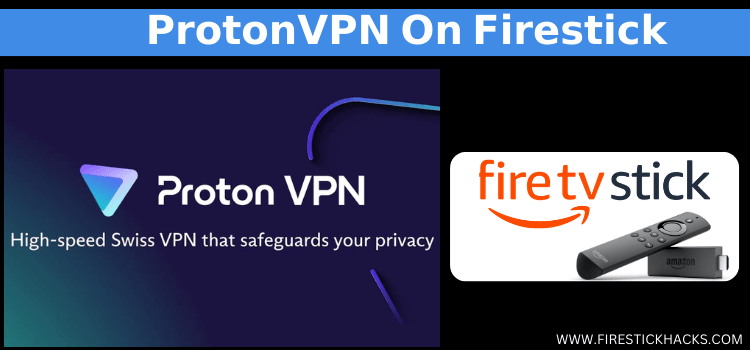 This is the step-by-step guide on how to Install and Set Up Proton VPN on Firestick, Fire TV, Fire TV 4K Max, & Fire TV Cube.
Proton VPN is a product of the "Proton Mail service" (an encrypted email service) that has a free and premium subscription with some super extra features.
It offers some premium quality security features like double-hop VPN, split tunneling and a kill switch.
Moreover, with the help of VPN Acceleration, it provides up to 10 GPBS Server speeds for website surfing.
As far as its No logging policy is concerned, it is based in Switzerland which is one of the best countries that offers maximum privacy and No logging legislation.
Proton VPN Key Feature for Firestick
Proton VPN is one of the Best Free VPNs for FireStick that have all premium VPN features. Some of these important features are listed below:
1900+ servers in 65 countries around the world.
NetShield Ad-blocker to block ads, malware, and trackers.
Public WiFi encryption.
100% open source platform
Strict no-logs policy
Switzerland based VPN
Free VPN
10 device connection
High-speed connections.
AES-256 encryption and the key exchange are done with 4096-bit RSA protocols.
Switzerland-based VPN, Non-14-eye country.
It has built-in Tor support for servers.
Kill Switch
double-hop VPN
Split Tunnel
30-day money-back guarantee
2 Ways to Install and Set up Proton VPN on Firestick
However, Proton VPN is available on Amazon App Store but I have mentioned two methods to Install Proton VPN on Firestick.
In case you face any problem finding the App on the official store you can use another method. These methods are:
How to Sign Up for Proton VPN on Firestick
If you wish to install and use Proton VPN then first of all you have to create a Proton VPN account. Either you can Sign Up for free or directly choose a premium plan. I recommended creating a free account first.
Follow the steps below:
Step 1: Go to https://account.protonvpn.com/signup from your mobile or PC browser
Step 2: Enter your credentials here and click Create Account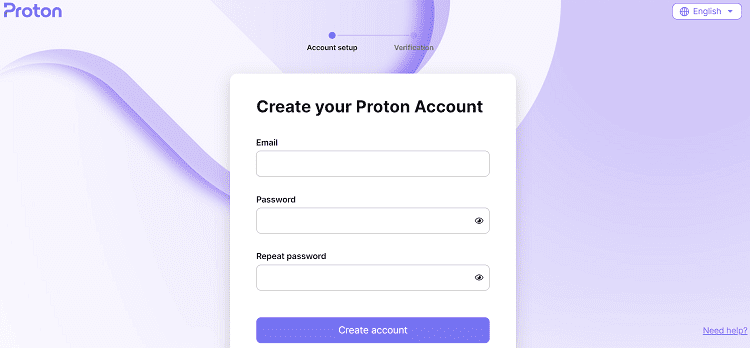 Step 3: You have been sent the Verification email code on your provided email. Enter Code and click Verify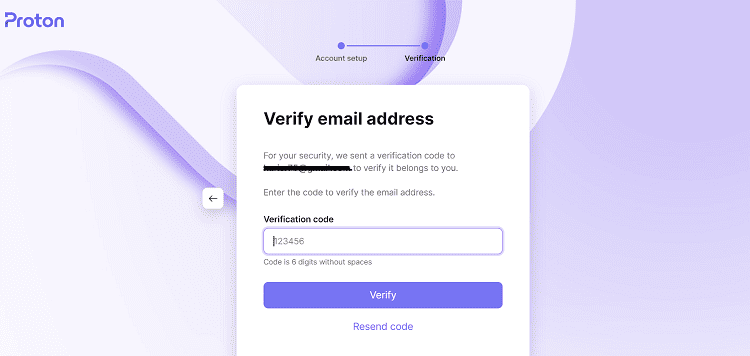 That's it, your free Proton VPN account is created successfully
Install Proton VPN on Firestick using Amazon App Store
Proton VPN app is available on Amazon App Store or download, you can easily install and Set up Proton VPN from it.
Follow the steps below:
Step 1: Once you have subscribed to Proton VPN, open FireStick Home
Step 2: Click on the Find tab and then click on the Search icon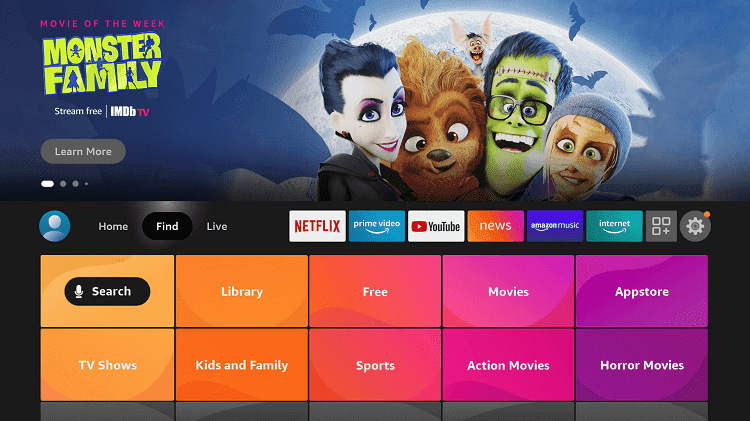 Step 3: Type Proton VPN and click on the first result that appears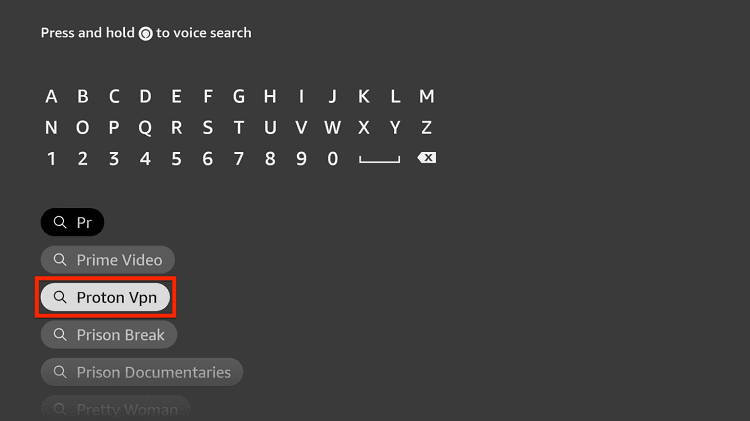 Step 4: Select the Proton VPN app from the list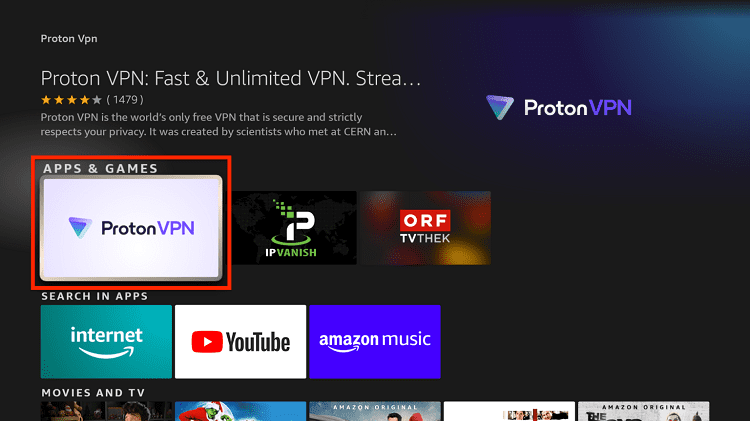 Step 5: Click Download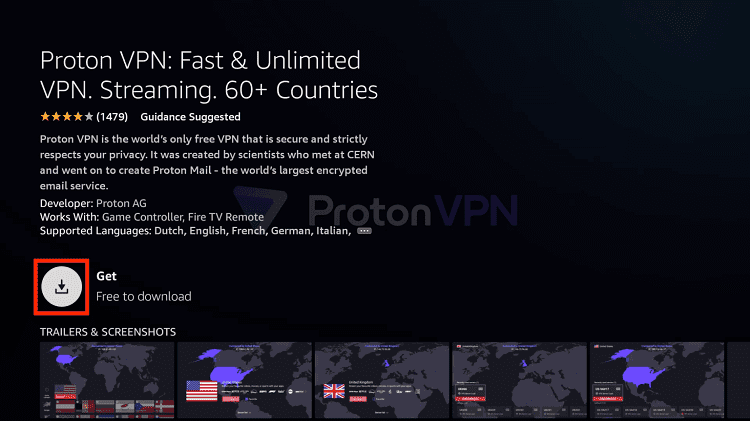 Step 6: Wait for the download to complete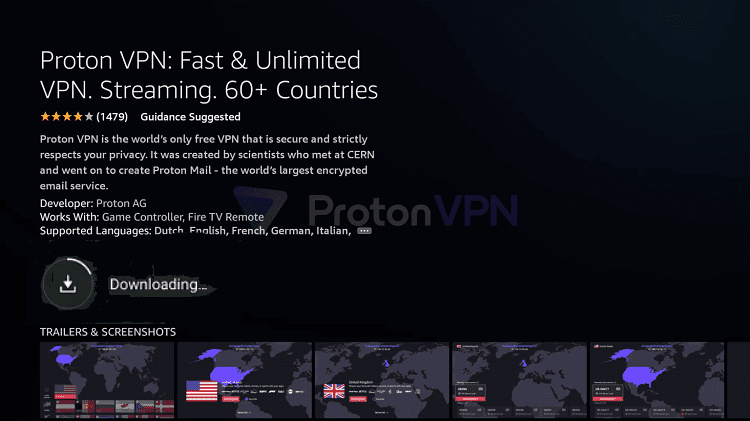 Step 7: Click Open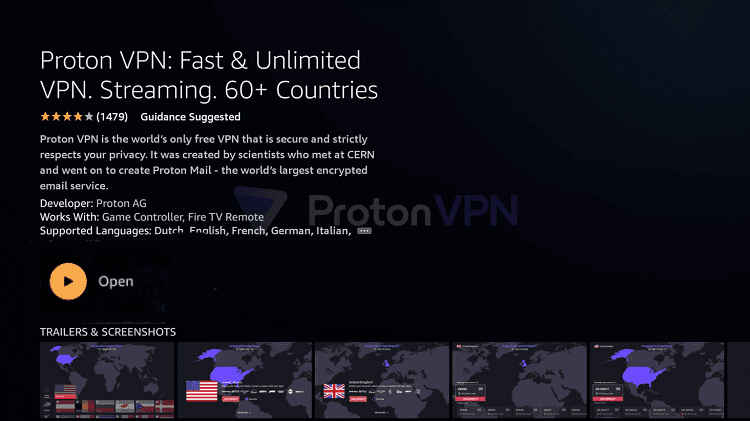 Install Proton VPN on Firestick using the Downloader App
In any case, if you face trouble installing Proton VPN from the Amazon App Store, then you can sideload it with Downloader App.
Follow the steps below:
Step 1: Open your FireStick Home Screen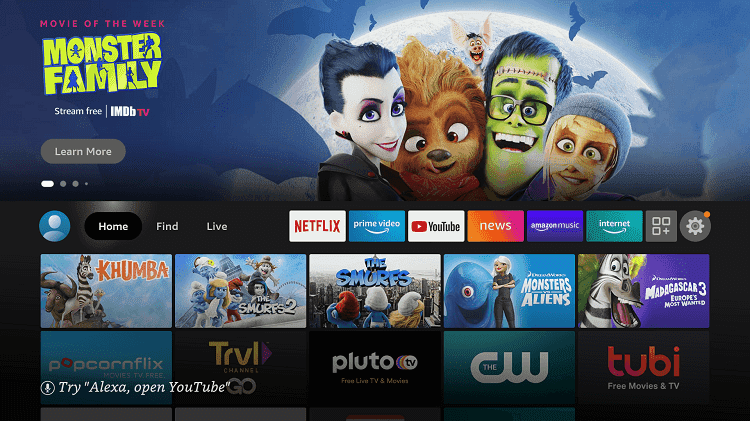 Step 2: Click the Settings icon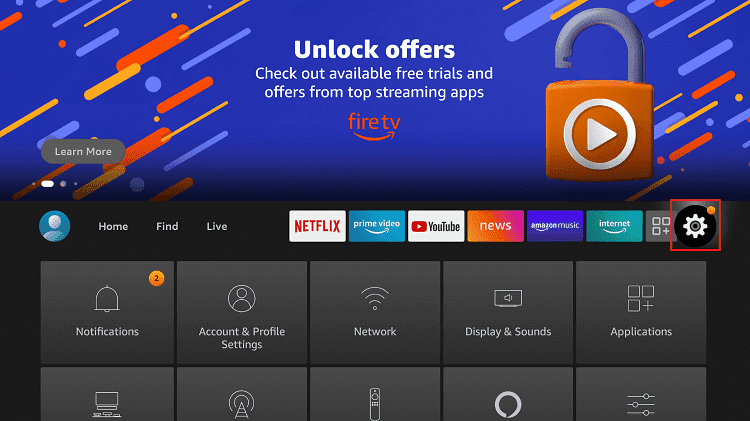 Step 3: Select the option My Fire TV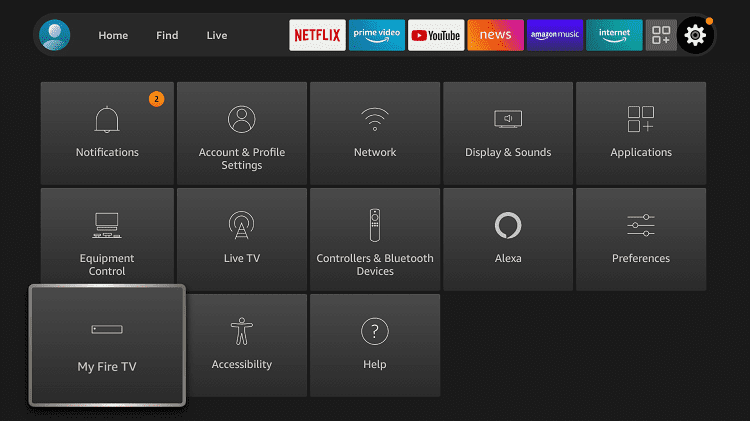 Step 4: If you don't find the Developer Option then Click About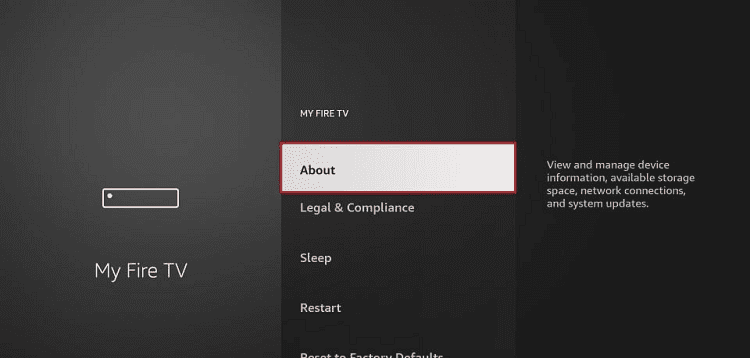 Step 5. Click on your Fire TV Stick quickly 7 times.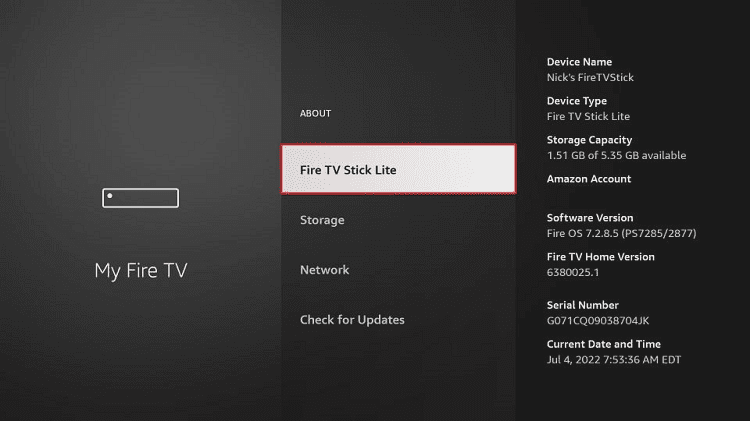 Step 6. A notification appears at the bottom saying No need, you are already a developer. That's it, you have enabled Developer Options.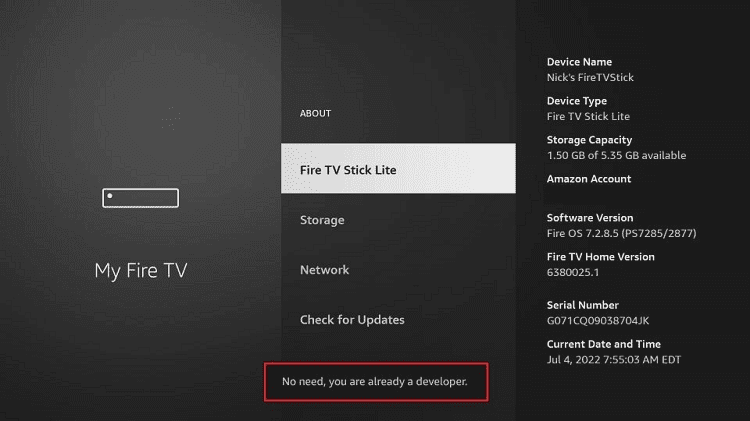 Step 7: Select the Developer Option given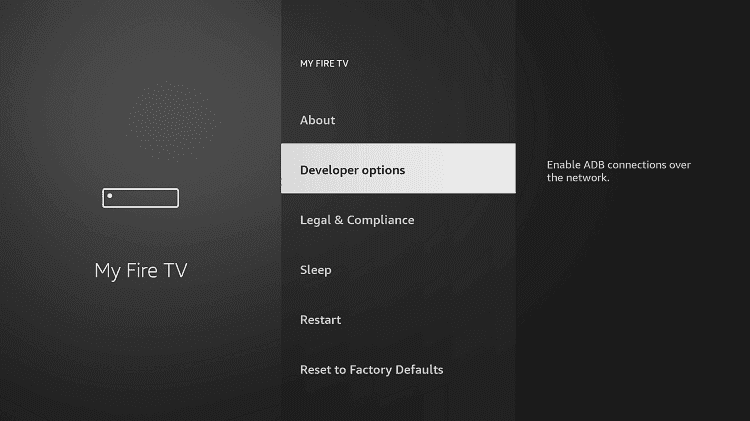 Step 8: Select Apps from Unknown Sources to enable it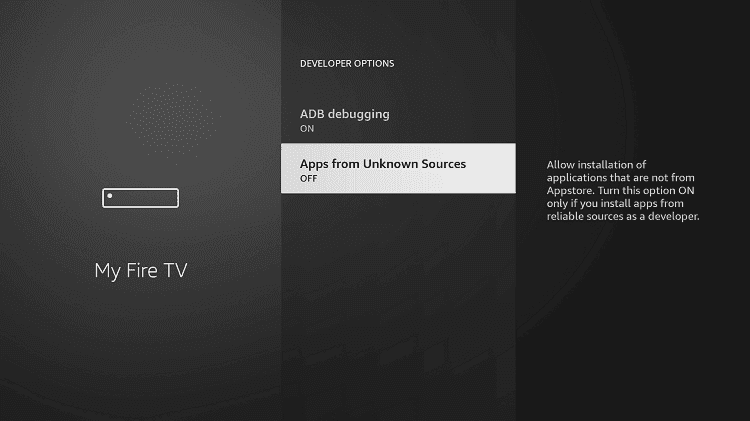 Step 9: Click the Turn On button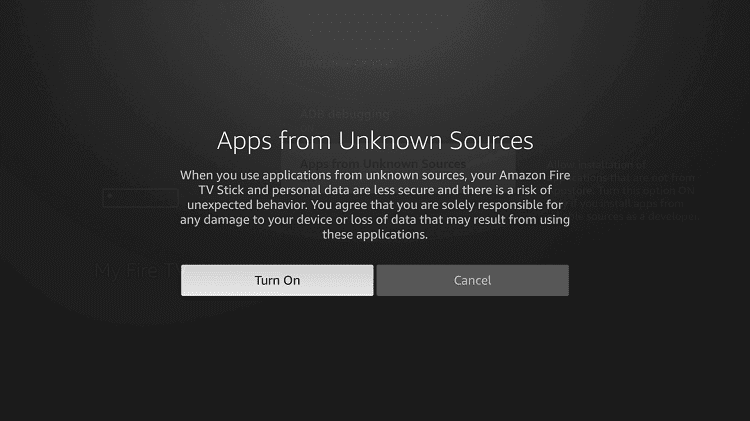 Step 10: Now navigate back to the home screen of your FireStick device and click the option Find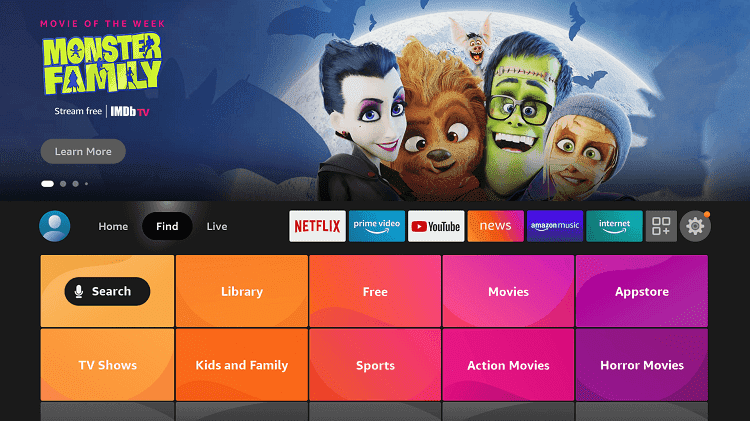 Step 11: Click the Search option from the menu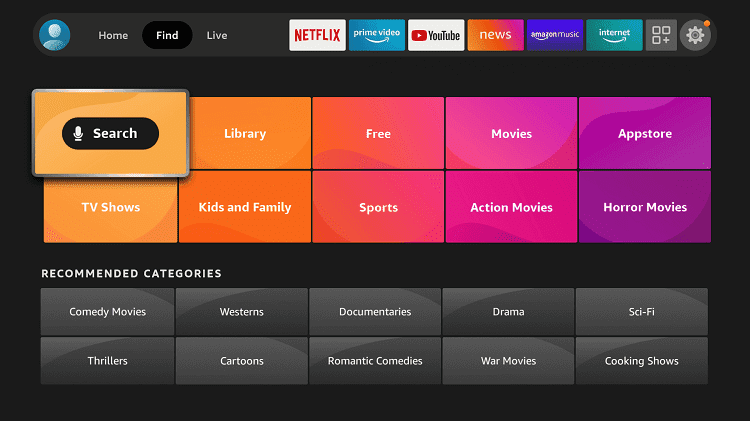 Step 12: Type Downloader in the search bar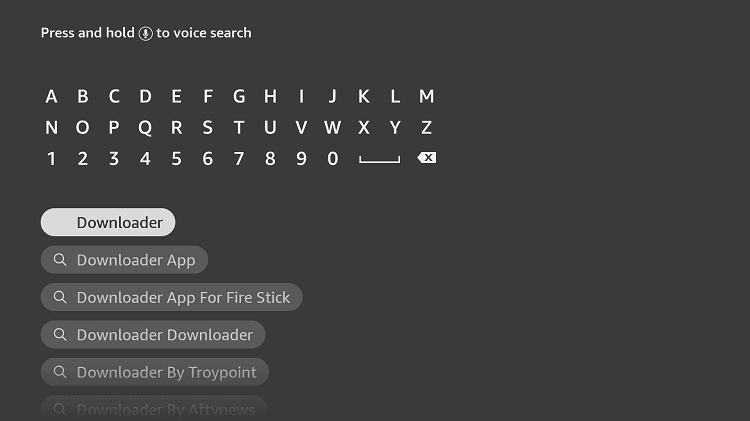 Step 13: Click the Downloader icon from the Apps & Games section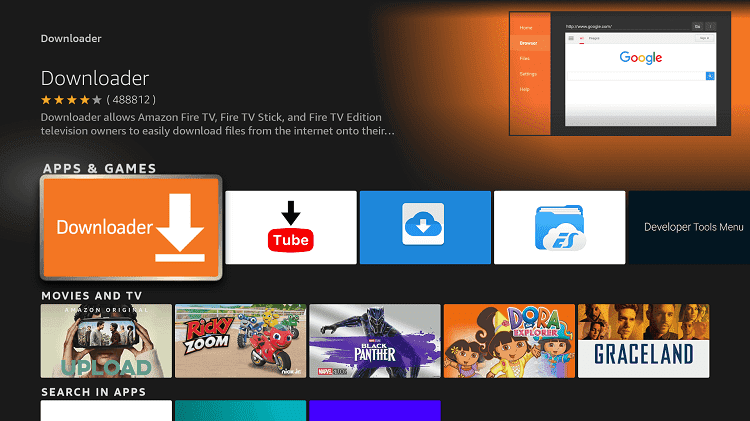 Step 14: Click the Download or Get option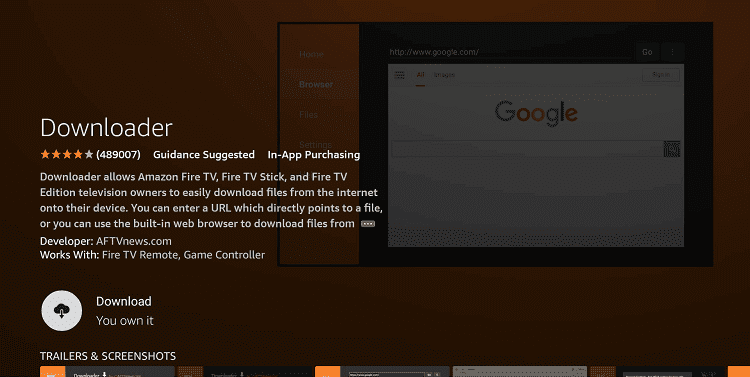 Step 15: Wait for the app to be installed on your device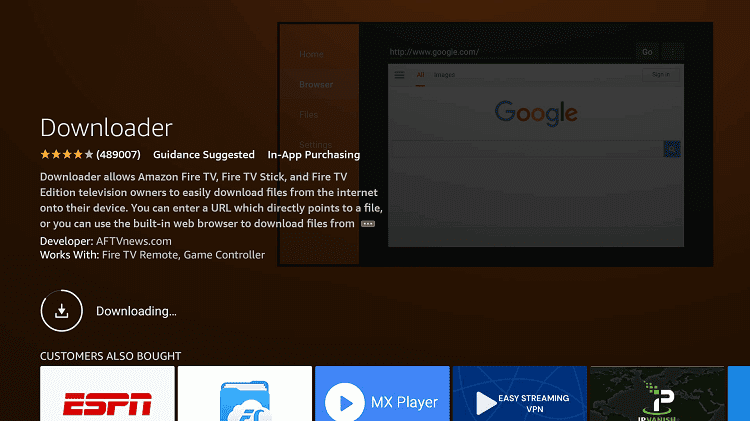 Step 16: Click Open once the app is installed successfully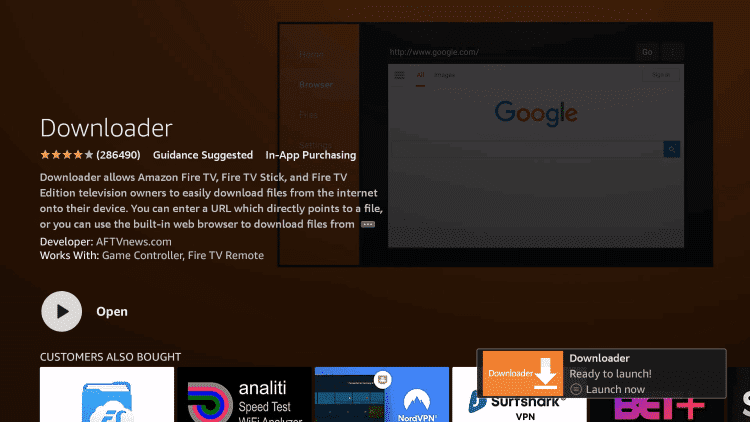 Step 17: Click OK if any such prompt appears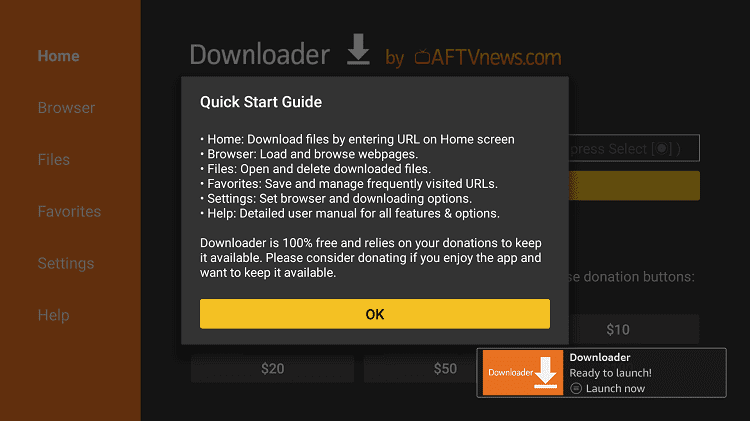 Step 18: Click Allow to give Downloader access to your photos, media, and files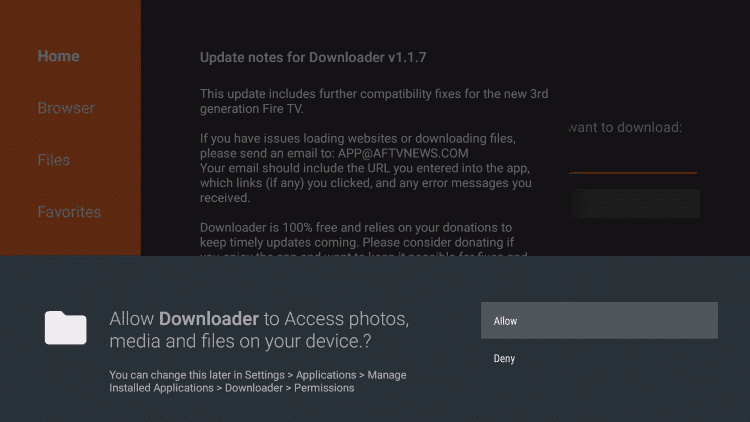 Step 19: Click the URL bar on the home screen of the Downloader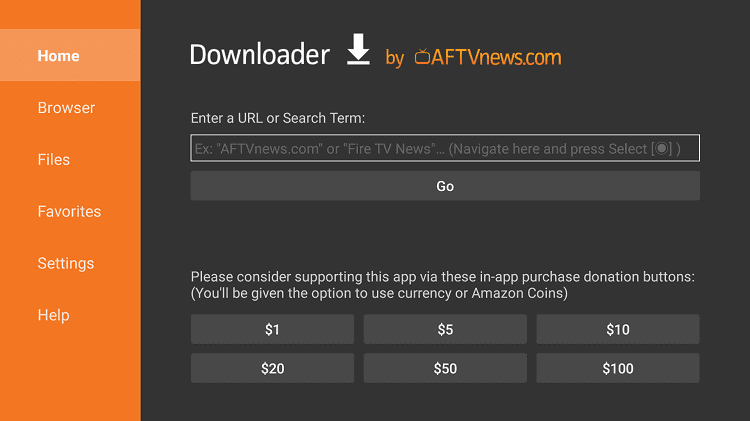 Step 20: Now click on the URL bar and enter bit.ly/protonvpn75 and click Go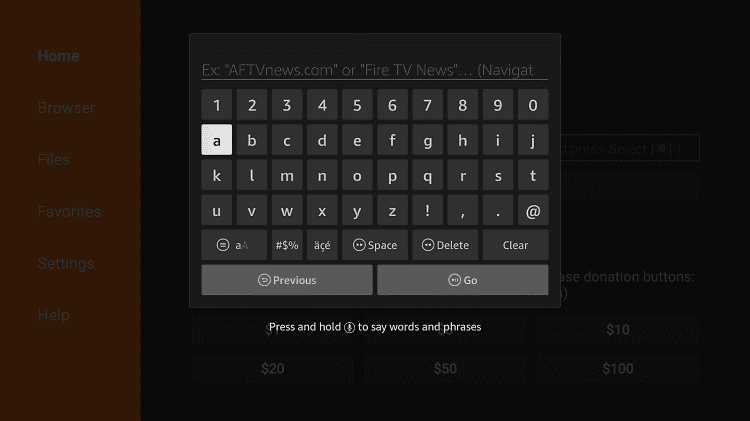 Step 21: Scroll down and click Download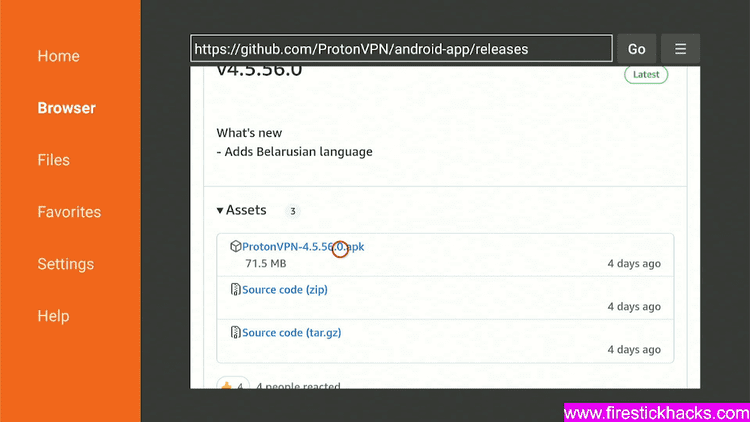 Step 22: The apk file is downloading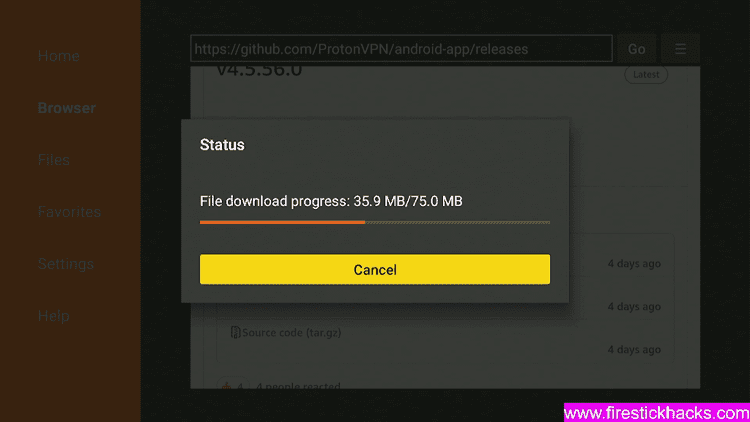 Step 23: Click Install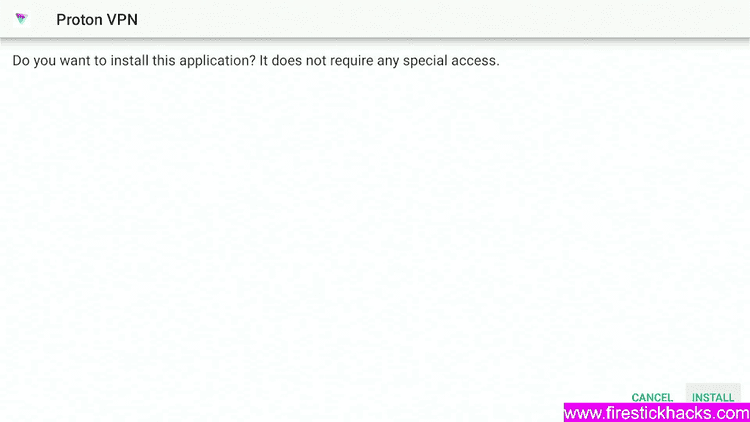 Step 24: Proton VPN will now install, so wait for a while.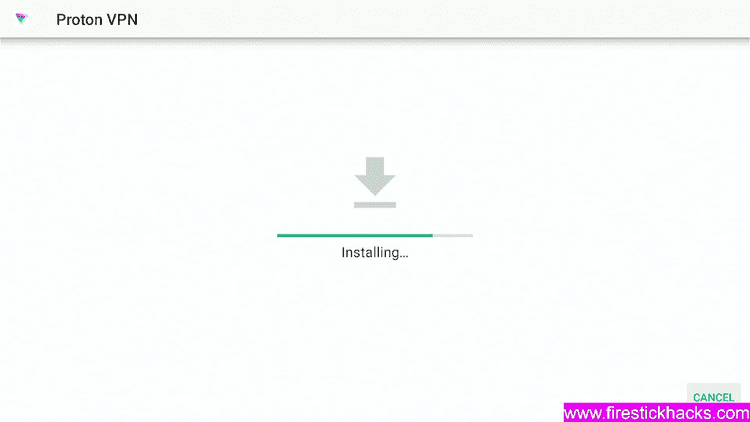 Step 25: Once installation is completed, Click Done or Open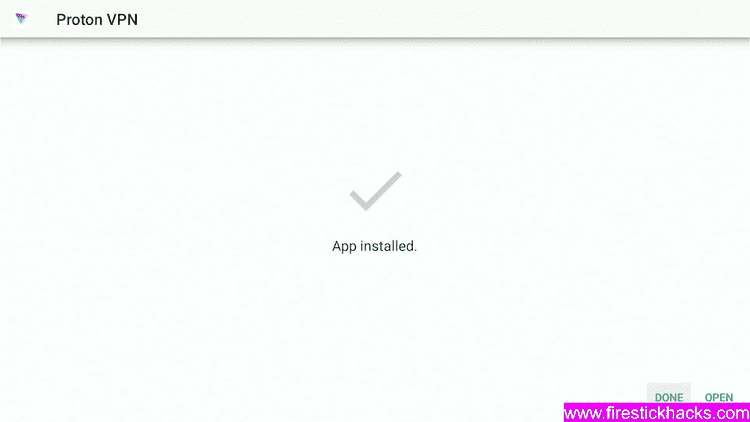 How to Set Up Proton VPN on Firestick
Once the ProtonVPN is installed on your Firestick device, now it's time to Set Up and Use ProtonVPN to secure the network.
Follow the steps below:
1. Launch the ProtonVPN App after you have subscribed to its service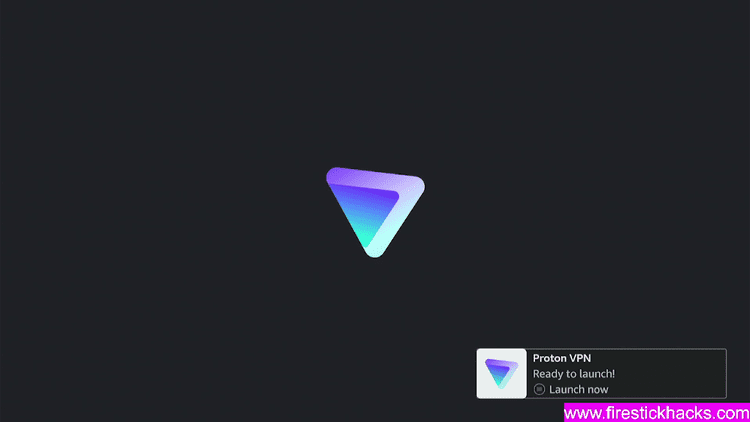 2. Click Sign In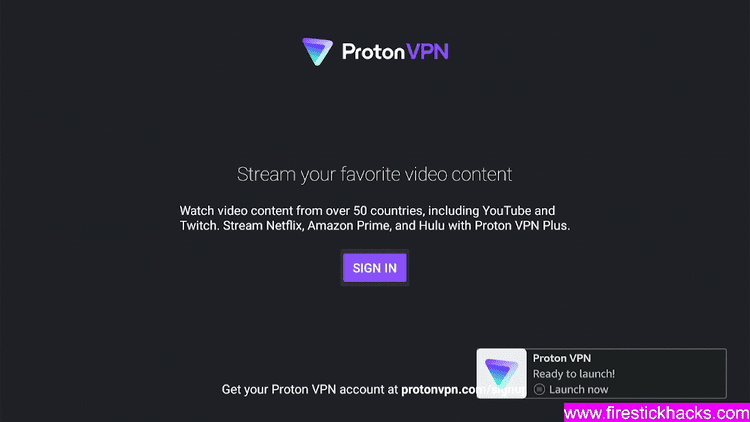 3. A code will be displayed, note it down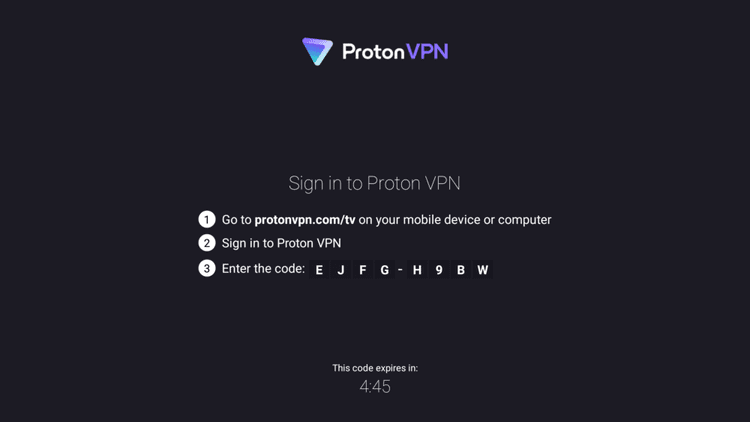 4. Now Go to https://protonvpn.com/tv, Sign In with your credentials, and then enter the same code here and verify.
5. Once you have verified the code, now back to Proton VPN app on Firestick. The app is activated now choose any server.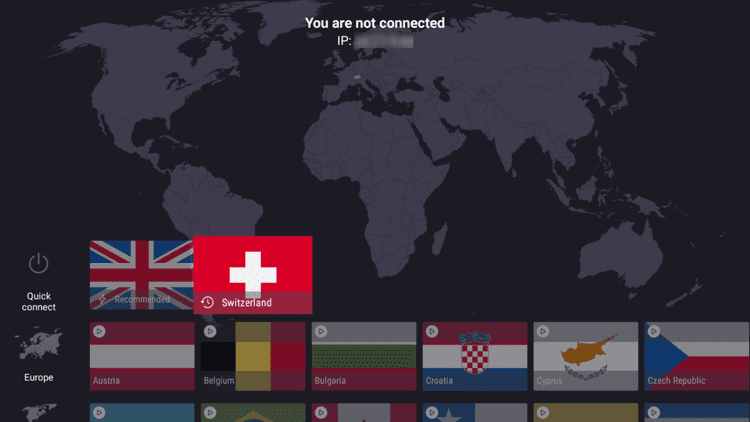 6. You can choose any country and connect to a server by selecting Connect.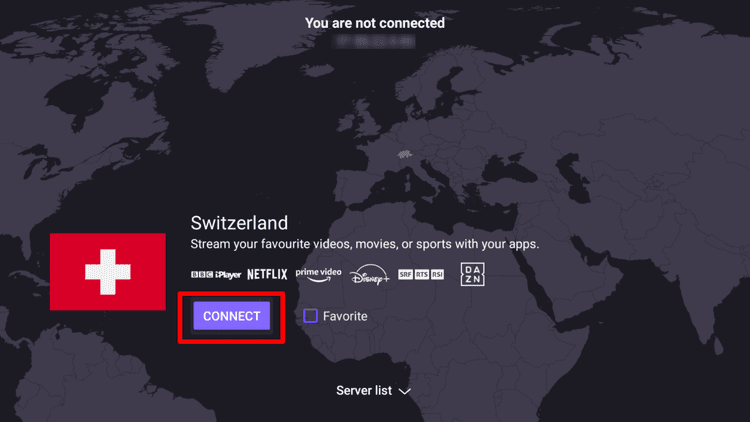 7. Check Favorite if you want to add any country to the main screen for quick connect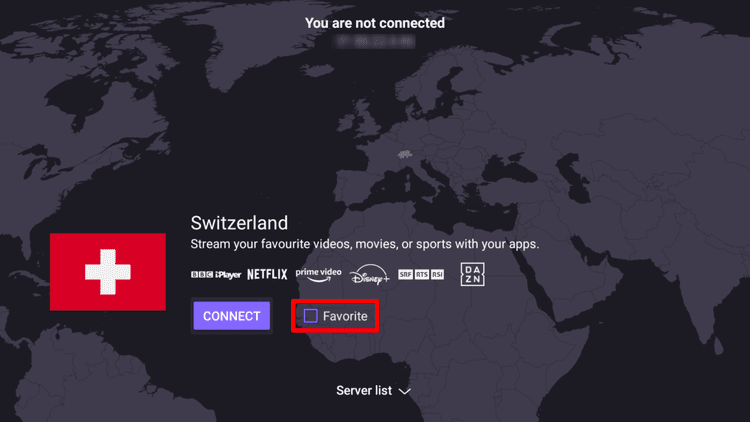 8. For a specific server you can check the Server list…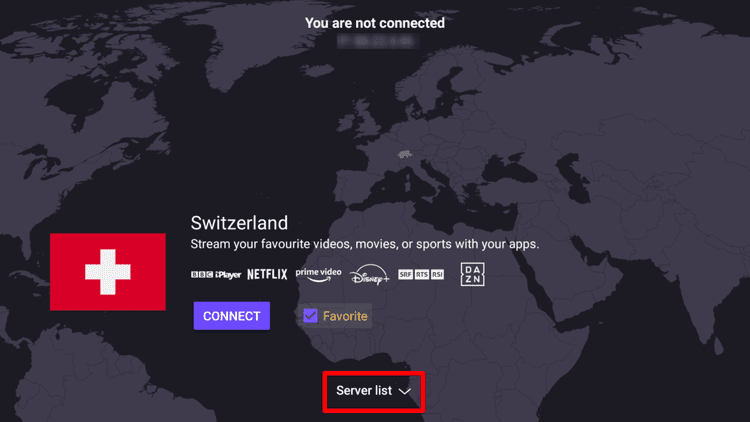 9. Pick accordingly if you want to be very specific.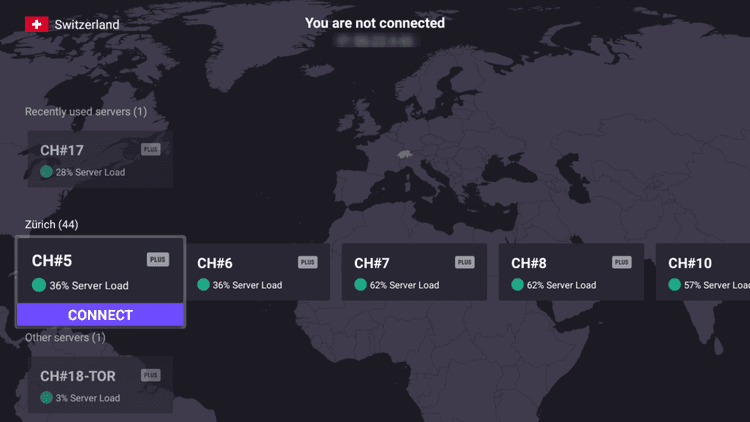 Main Features of Proton VPN
Swiss privacy
Switzerland has some of the strongest data protection laws in the world. When you connect to Proton VPN, you can enjoy the same legal protections that ensure the privacy of all Swiss citizens.
Proton VPN is a product of Proton Mail, the largest encrypted email provider built group of CERN scientists. It is Switzerland-based, which allows passing the benefits of Swiss data protection.
No activity logs
Proton VPN claims that there won't be any tracking of your IP address, location, communications, or the websites you visit.
Proton VPN is committed to protecting your privacy, which is why we have a strict no-logs policy. We do not keep any logs of your online activity and do not store any metadata.
Open source
Proton VPN claims complete transparency. All of their apps are 100% open source, so anyone can examine the code.
Proton VPN is planning to make all of its applications open source in a natural next step. They also publish the results of independent security audits covering all of Proton software.
Kill Switch
Kill Switch is a very known and useful feature that protects your IP address even if you lose your VPN connection.
Proton VPN is private by default. You can choose to turn the kill switch always On or only when accessing sensitive information.
Secure Core
Secure Core is simply adding another layer of protection to your VPN connection with Proton custom VPN hop.
We installed our Secure Core servers and continue to operate them to eliminate any chance of tampering with them, and all Secure Core VPN servers are located in countries with strong data privacy laws.
NetShield Ad-blocker
Browse the internet ad-free. NetShield Ad-Blocker helps you block interrupting ads during surfing or streaming and also uses DNS filtering to protect you from malware and website trackers.
NetShield checks the domain requests of every website and app you use against a database of domains that are known to host malware, ads, or trackers. If it finds something risky, the DNS server automatically blocks the flagged resource from loading.
VPN Accelerator
Proton VPN claims to accelerate VPN speed by up to 400% with a unique technology named VPN Accelerator.
VPN Accelerator is built into all Proton VPN apps. You'll automatically get the fastest speeds possible wherever you are, no matter what VPN server you connect to.
Safe file sharing
Protect your IP address when you share files and torrents with fast download speeds and unlimited bandwidth. You can even use BitTorrent to quickly and easily share files without compromising your privacy.
Proton VPN Rating on Amazon Store
Proton VPN Amazon's rating is great even though it has just stepped foot in the industry. It earns 4 out of 5 Stars.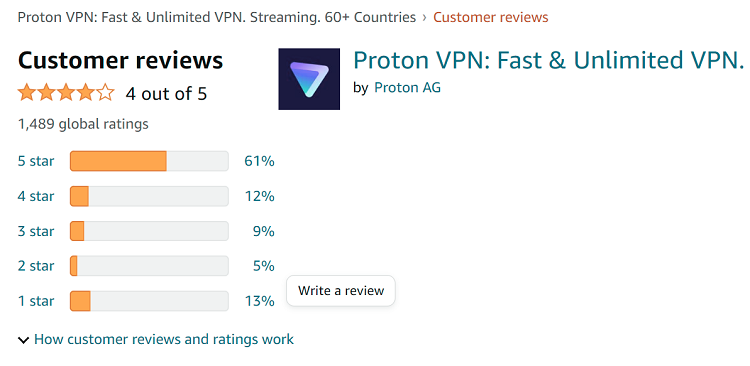 Alternatives of Proton VPN
Here's a look at some other VPNs that can be considered an alternative to ProtonVPN:
FAQs – Proton VPN
1. Is ProtonVPN available for Firestick?
Yes, ProtonVPN can be installed on the Amazon App Store of Firestick.
2. Is ProtonVPN free to download?
Yes, Proton VPN App is free to download, moreover, it does also allow a free subscription plan so you can secure your connection for free and stream anything.
3. Does ProtonVPN offer free IPTV services?
No, ProtonVPN Does not offer IPTV service however, its free version provides unlimited bandwidth of 3 free servers that can be used to access free IPTV Service on Firestick
4. Is ProtonVPN safe?
Yes, Proton VPN is Completely safe for streaming on Firestick. Even more, it has the best AES-256 encryption system and has no log policy as well.
Conclusion
ProtonVPN is one of the Best VPNs and is reliable for use on Firestick with its great and amazing features whether free or premium.
You can install ProtonVPN on FireStick with two methods i.e. the Amazon app store and the Downloader method.
Moreover, you can connect up to 10 devices simultaneously with one connection to secure your all devices and start streaming, or surfing anything on the Internet.