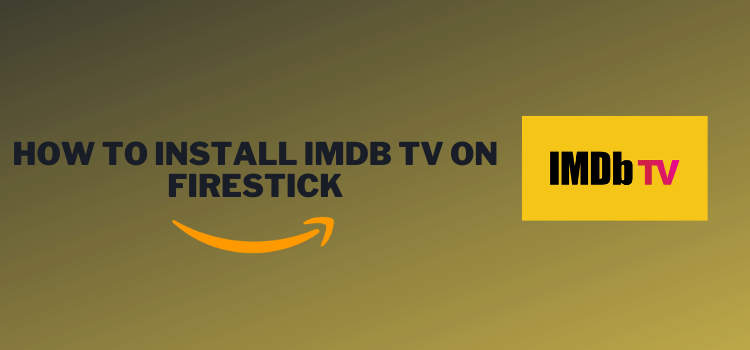 This is a step-by-step guide on how to search IMDb TV on Firestick, Fire TV & Fire TV Cube. 
IMDb is a name known to all where you get movie ratings, details on its cast and crew plus the plot of the movie. Not so long ago,  they launched IMDb TV an ad-supported streaming app that is available on all devices whether it is a phone, tablet, laptop, or smart TV.
Currently, IMDB TV is owned by Amazon and is completely free to use and mostly it comes preinstalled on your FireStick device. Although you won't find the latest movies to stream with IMDb TV, but it's quite worth your while.
There are two things you need to know when streaming on IMDB TV. You won't be able to stream anything until you sign up for free with the service. Second, you won't be able to access its app until you use a VPN.
IMDB TV is only available in the United States. If you try to access its website or an app, you will see a message that says:
"IMDB TV is only available to customers in the US at this time." "Server Error: Something went wrong while loading this page. Error Code: ITV-2002
To watch IMDB TV on FireStick, you first need to connect to a US server of a good VPN. We recommend using Surfshark. Then, you can enjoy watching your favorite content on IMDB TV.
How to Install IMDb TV on FireStick
The IMDb TV usually comes pre-installed on the Amazon Prime Video app on your Amazon devices, if it isn't then follow these few simple steps to install the IMDb TV on Amazon FireStick or TV.
But even before that, make sure to install Surfshark VPN on FireStick to unblock the streaming service if you're outside of United States.
Step 1: Navigate to the Firestick Home Screen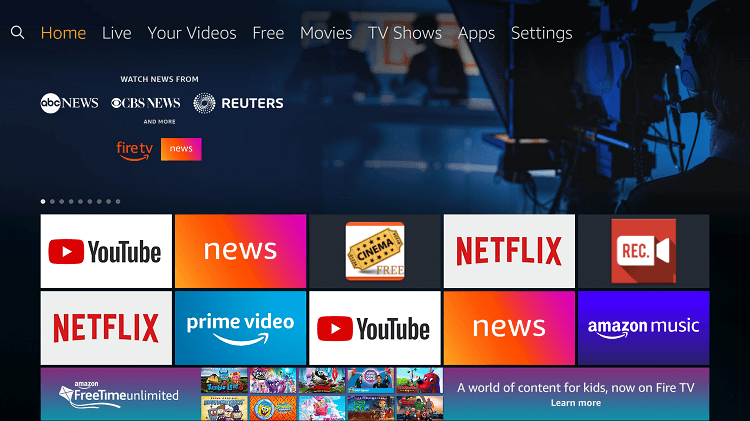 Step 2: Click on the Free option from the top menu bar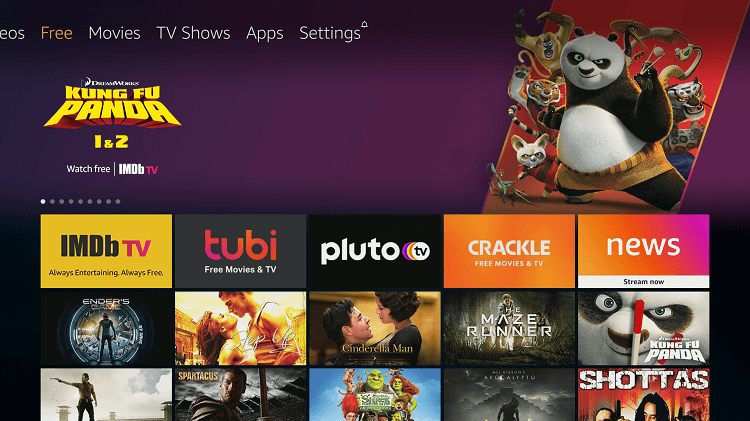 Step 3: Below you will find the IMDb TV app so select the option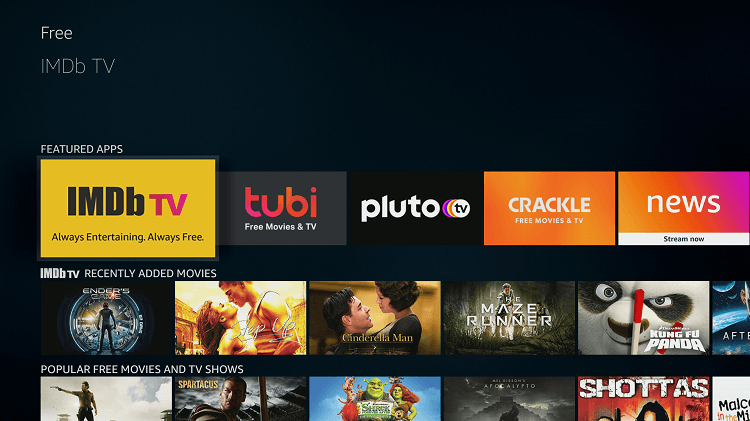 Step 4: Choose the content you would like to stream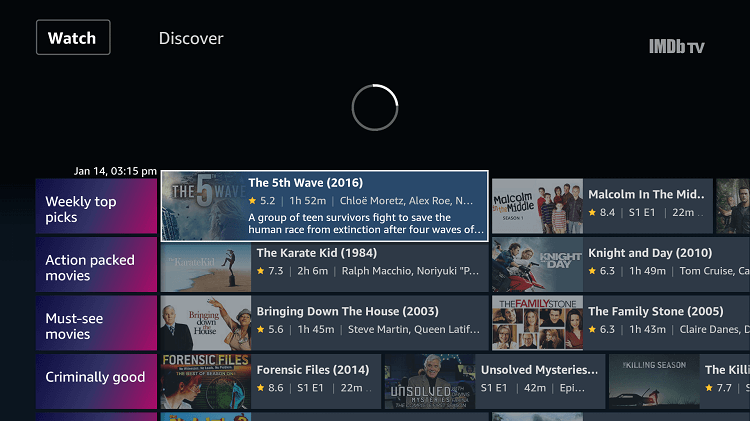 Step 5: Your content will be ready to stream after an ad!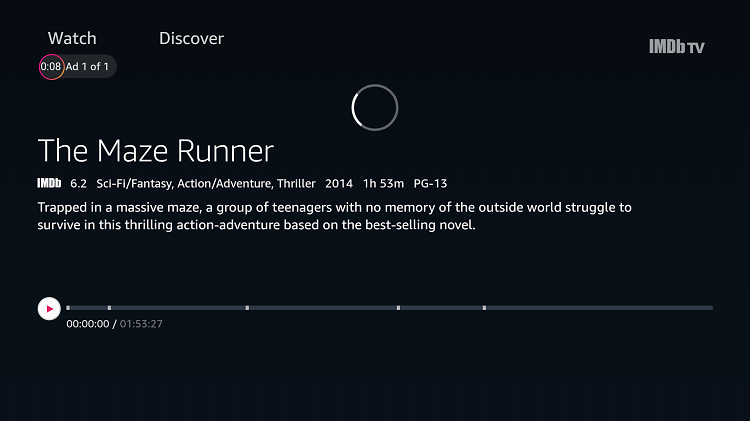 Your IMDb TV app is installed on Amazon Fire TV Stick to be used with ease!
How to Watch on IMDb TV via Amazon Prime Video App
Amazon Prime Video app is already present on the Fire devices, through which you can access content on IMDb TV without downloading the app. Just follow the few steps given below to watch it through the IMDb TV.
Make sure to run the VPN before accessing IMDb TV if you are somewhere outside the US.
Step 1: Navigate to Firestick Home screen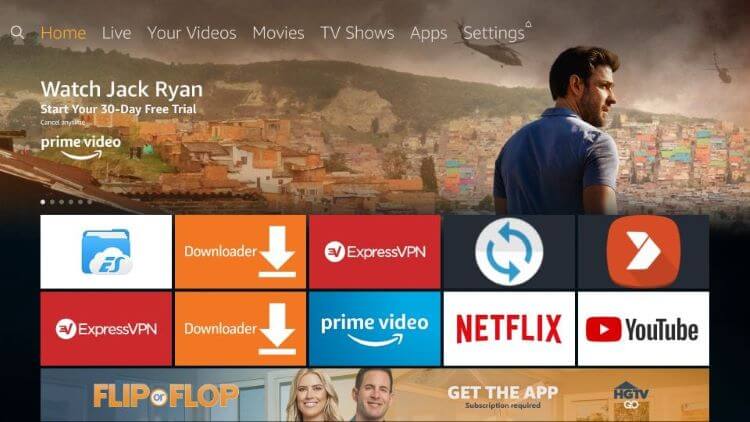 Step 2: Click on the Search option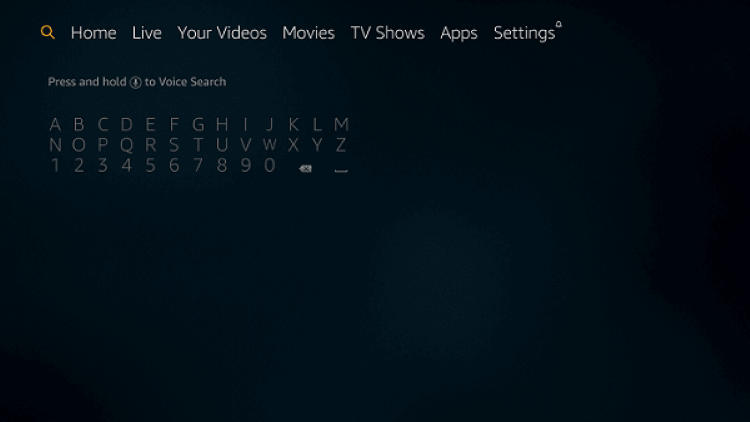 Step 3: Type in the desired title of a movie, TV Show, or documentary and click on it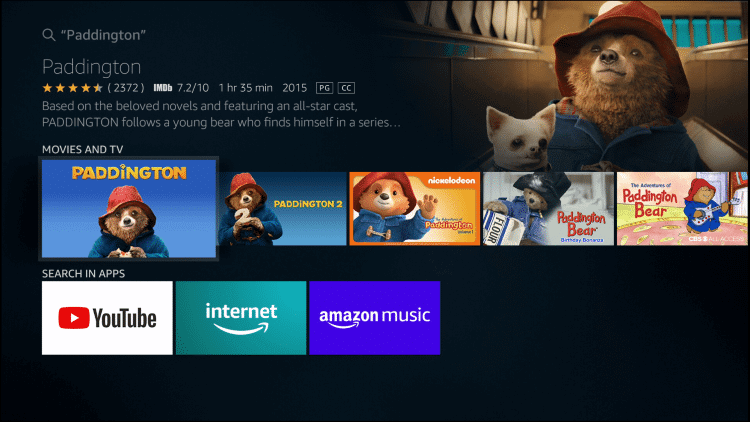 Step 5: Click on the option of Watch on IMDb TV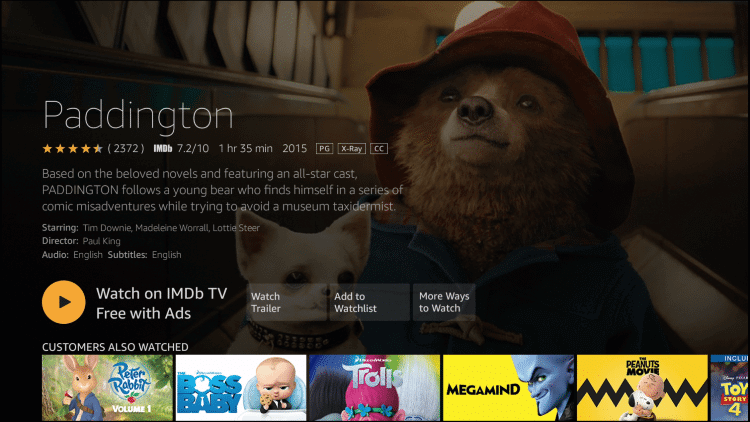 Step 6: Your Movie/TV show will start playing via IMDb TV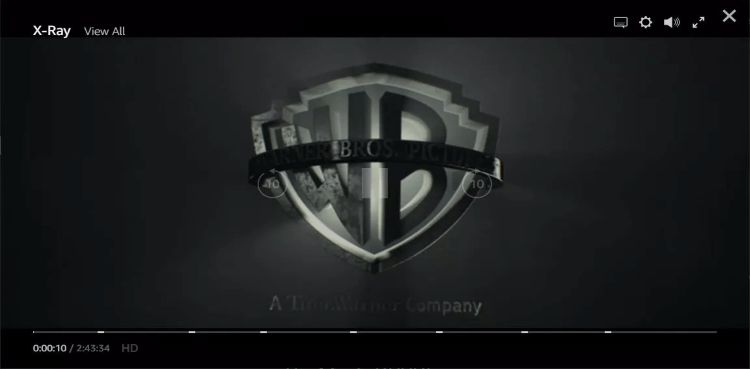 How to Sign-up with IMDb TV App
To start using the IMDb TV app you need to sign-up. But even before that, you need to connect to a VPN. We recommend using Surfshark VPN.
If you do not have an IMDb account then you can make a new one for free, or log-in using your Amazon account, Facebook account, or Gmail account. You will need to make the account on your phone, laptop, or tablet by using a web browser.
Step 1: Navigate to the IMDb website on the web browser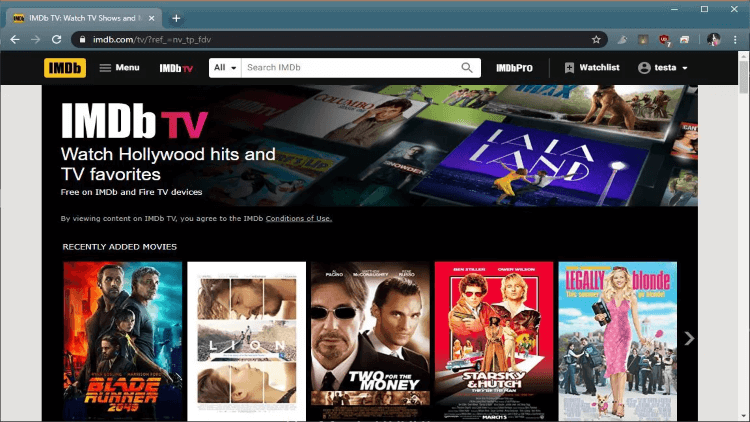 Step 2: Click on Sign–in present on the upper left corner of the screen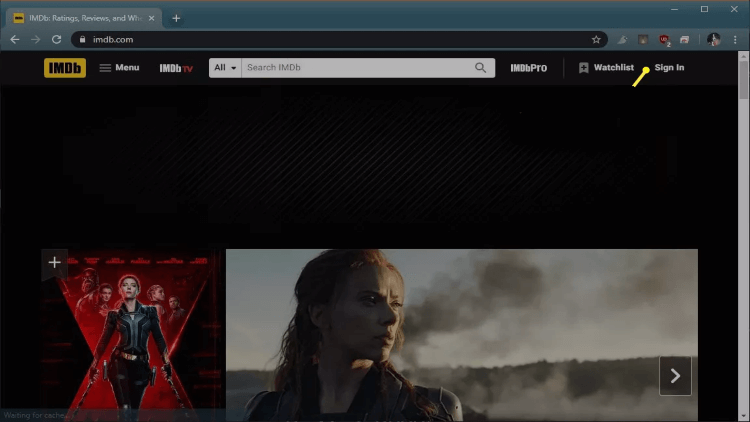 Step 3: Select any form of sign-in method and enter your credentials for the method
OR
Select Create a New Account to make an account on IMDb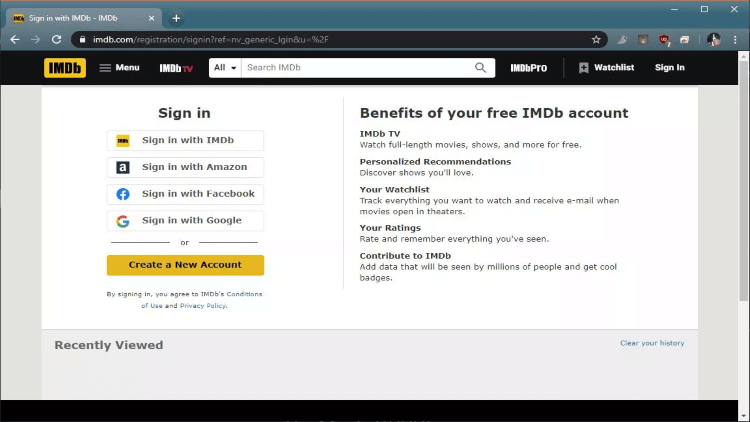 Step 4: Fill in the form completely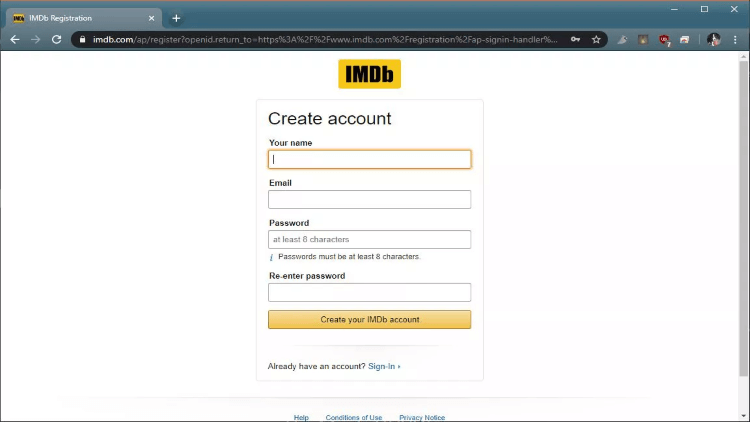 Step 5: Then, click on Create Your IMDb account
Step 6: You will be navigated back to the Log–in screen, where you have to enter the Log-in information of your new account
Step 7: After Logging in you will be navigated back to the main page of the IMDb site
How to Manage your Watchlist on IMDB TV
You can create or edit the watch list on your IMDb TV to organize it according to your liking.
To add to your Watch list follow these steps:
Step 1: Browse for a title of the movie/ TV show in the Search bar of IMDb TV
Step 2: Click on the + Add to Watch list option
Step 3: Click on Sort by to arrange your Watch list according to:
Alphabetical
IMDb Rating
Popularity
Your Rating
Number of Ratings
Release Date
Run Time
Date Added
To edit your Watch list follow these steps:
Step 1: Click on the Edit option on the right side of the screen
Step 2: Tick the box on the left side of the title of the movie or TV show on which you would like to apply the command to
Step 3: Click on Move to, Copy to, or Delete as per your need
Step 4: When finished click on "Done"
How to Use a VPN with IMDb TV
Some of the first steps will tell you how to install a VPN (Surfshark) on your device so you can watch IMDb TV from anywhere in the world despite the geo-restrictions.
Step 1: Open your Firestick Home Screen and click on the Search icon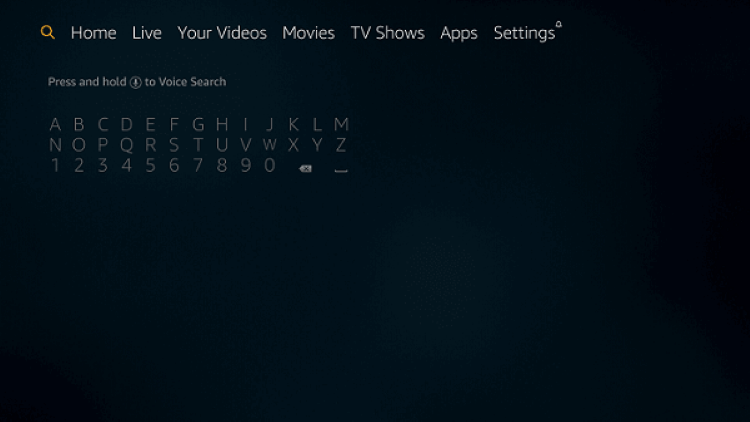 Step 2: Type 'Surfshark' in the space given and click on the search that appears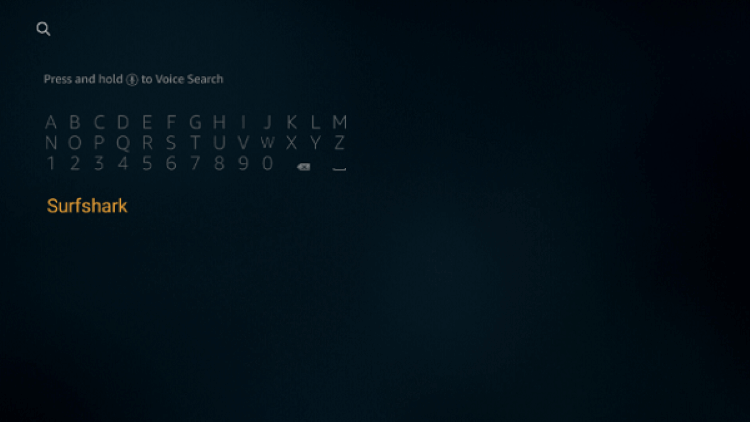 Step 3: Select the Surfshark tab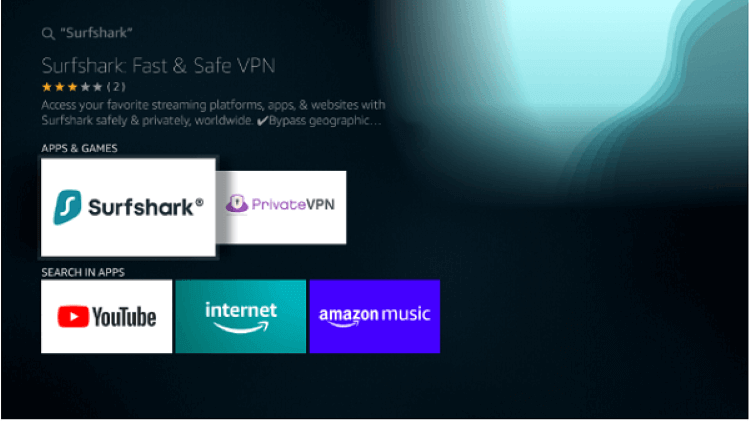 Step 4: Click on 'Get' to start installing Surfshark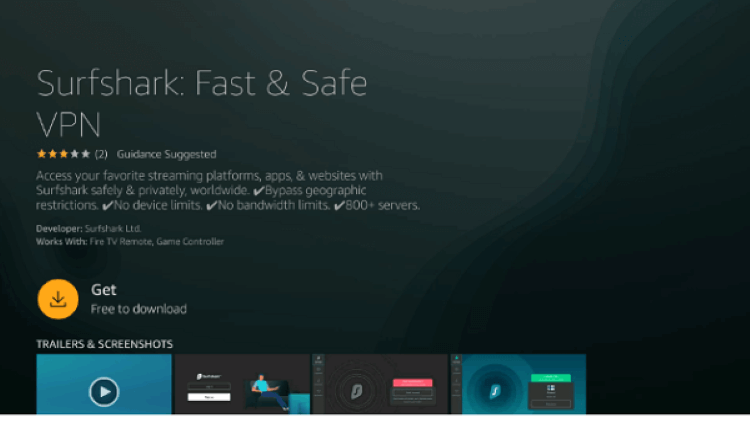 Step 5: The app will begin to download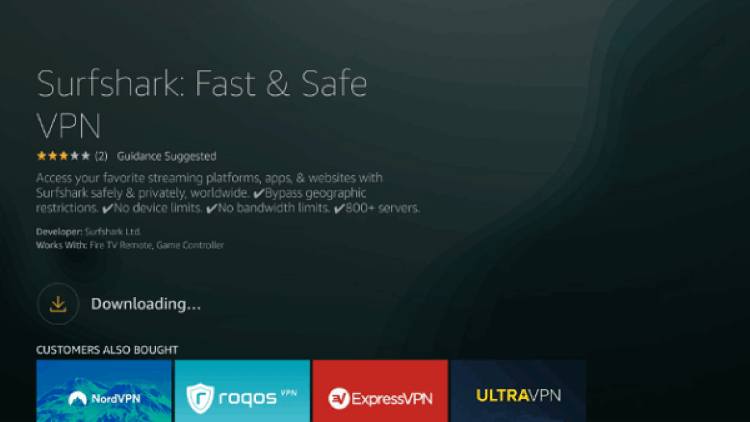 Step 6: Click on the 'Open' button to launch Surfshark once the installation is complete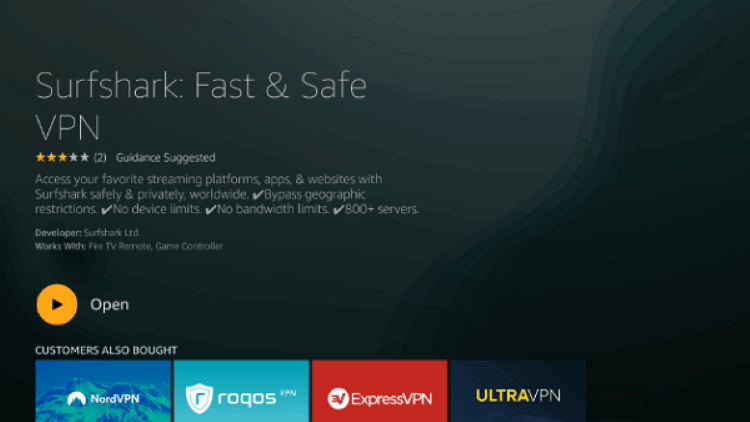 Step 7: Login using the credentials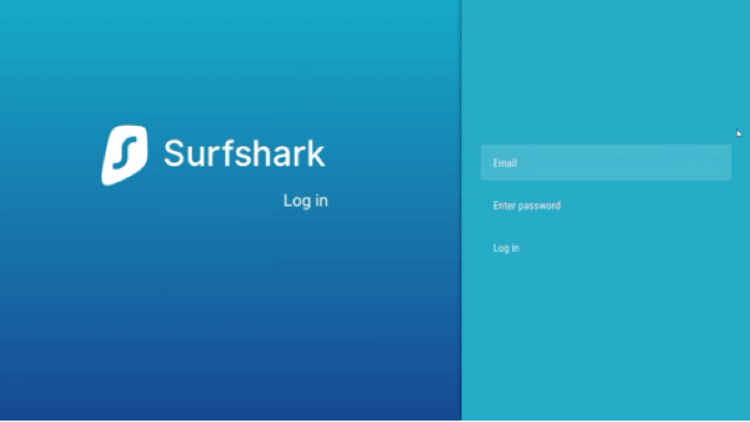 Step 8: Connect to an American server (e.g. Boston)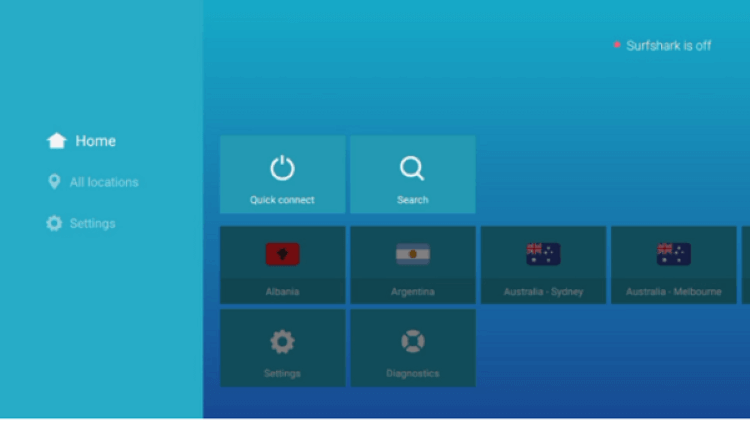 Note: The USA server will allow you to access IMDb TV even if you are not located in the USA, which is why it is essential to use a VPN outside the US.
A VPN is also necessary to protect yourself from malware and attacks on your privacy from hackers, your ISP, and the government.
Therefore, it is recommended that you use a reliable VPN such as Surfshark at all times when using free streaming apps on Firestick.
A VPN service works by hiding your IP address that prevents others from tracking your online activity.
IMDb TV Features
IMDb TV is an online streaming channel but it is ad-supported that can not be skipped. It is an Amazon-owned and operated service that can be accessed through the integrated Prime Video app.
The IMDb TV was launched in early 2019's by the name of IMDb Freedive which was then changed into IMDb TV. You can access this app for free with Amazon Prime membership and even without it on any streaming device, Smart TV, phone, tablet, or laptop.
It has over a million movie and TV show titles in its library with the plot of the movie, complete info on the cast and crew, with its ratings and reviews.
It has a huge library of content, with many categories to choose from, that includes:
Movies
TV Shows
Videos
Community
Awards and Events
Celebrities
IMDB TV Alternatives
If you want to know some similar streaming services that are free to watch but contains some good Movies and TV Shows, then here are some alternatives:
All of these services require you to connect to a good VPN for FireStick before streaming.
Frequently Asked Questions
What is IMDb TV on Firestick?
IMDb TV is an ad-supported streaming channel that streams free videos on Fire TV, Firestick, and through the Amazon Prime Video app on Smart TV, laptops, tablets, and phones.
How do I get IMDb on my TV?
You can get IMDb on TV by installing the IMDb TV app on your smart TV or through the Amazon Prime Video app.
Is IMDb free on Firestick?
Yes, IMDb is free on Firestick, the only downside is that it is ad-supported.
Is IMDb owned by Amazon?
Yes, IMDb is owned by Amazon since 1998 and is completely free since then.
The End!
If you are someone who is patient enough and loves to watch free stuff then streaming content through IMDb TV is the best option for you.
Just learn how to search IMDb TV on Firestick and enter the world of millions of movie and TV show titles.