IPVanish boasts a rating of 4 stars out 5 on Amazon app store and is available for download on FireStick through its App Store.
With unlimited bandwidth and 256-bit AES encryption, it is one of the best choices for Amazon Fire TV Stick.
IPVanish lets you access 1400+ servers located in over 75 countries. It has a zero traffic logs policy to ensure your privacy and offers a very economically feasible plan for $6.49/month for a one-year subscription that comes with a 30-day money-back guarantee.
In this guide, we will go over how to install and use IPVanish on FireStick so you can have a secure streaming experience with the enhanced protection IPVanish offers.
It's extremely easy so setup since it only need 9 steps to follow.
Steps to Install IPVanish on Firestick
Getting IPVanish on FireStick are only a few easy steps away. Make sure you have an IPVanish subscription before you get started.
Step 1: Go to FireStick Home.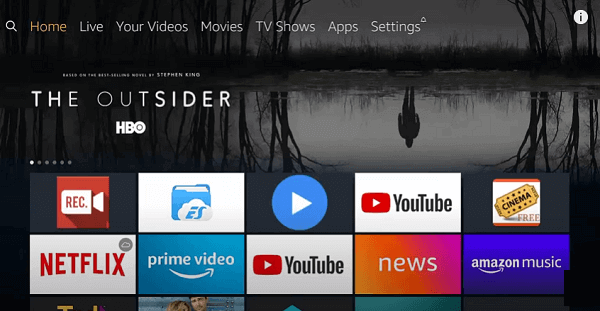 Step 2: Click on the search icon that appears on the extreme right of your homepage menu.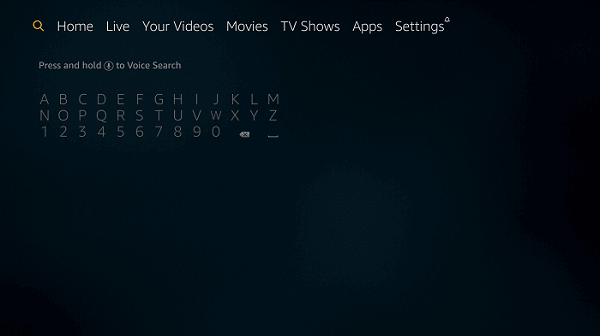 Step 3: Type 'IPVanish' in the search bar and click on it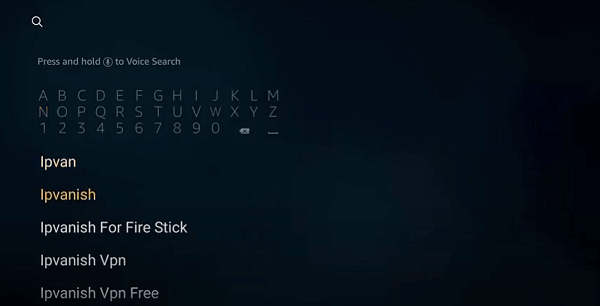 Step 4: On the next screen, again click on the IPVanish tab in the 'Apps & Games' list.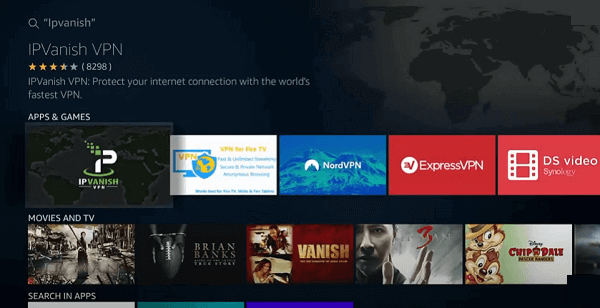 Step 5: Click on the 'Download' button on the next screen.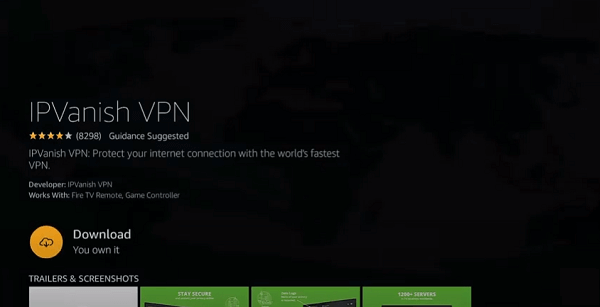 Step 6: The VPN app will begin downloading.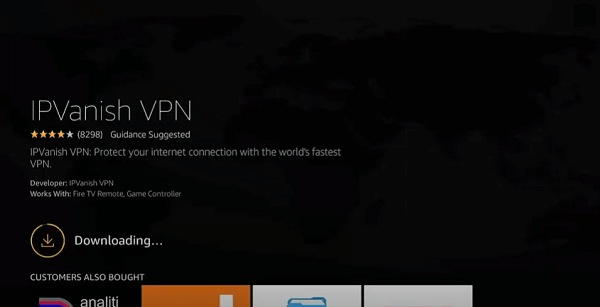 Step 7: After completion of the downloading process, the app will start being installed on your FireStick.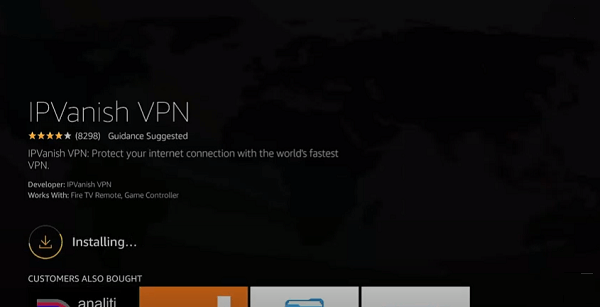 Step 8: After the installation is complete, click on the 'Open' button.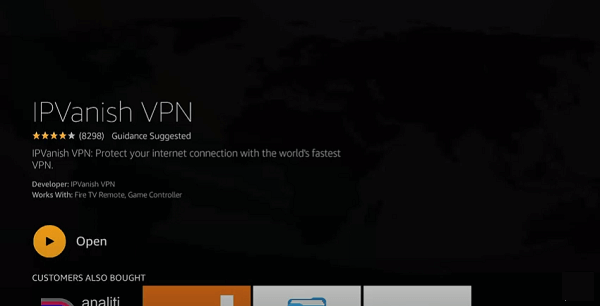 How to Use IPVanish on Amazon FireStick
Step 1: On IPVanish homepage, enter your IPVanish login details.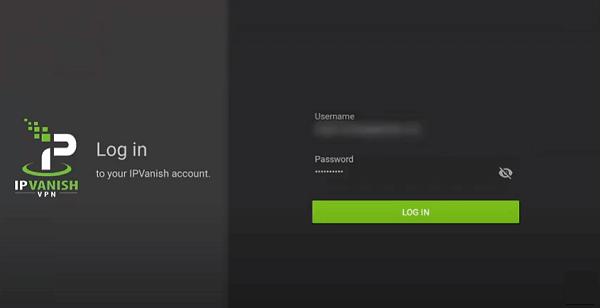 Step 2: Click on 'Country' on the menu on the left side of the country if you have any specific requirements or preferences.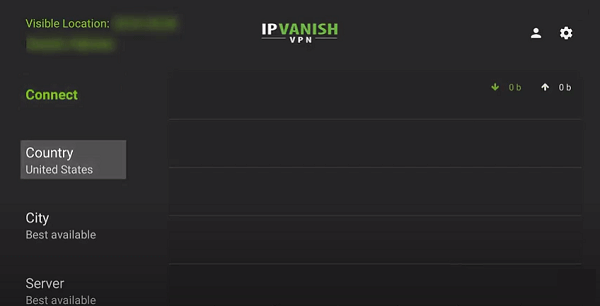 Step 3: Choose any server of your choice from the available list of countries.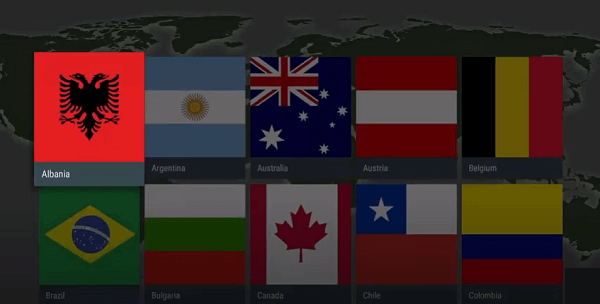 Step 4: Click on 'Connect' to establish VPN connection and enjoy streaming safely!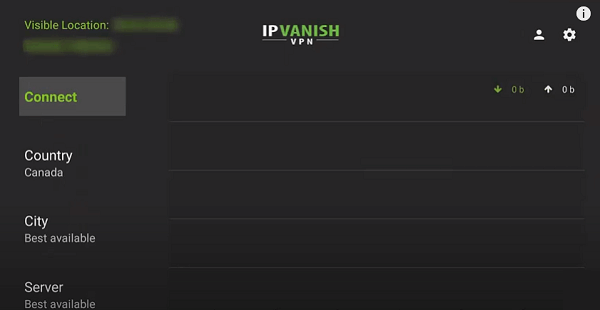 Video Tutorial: How to Install IPVanish on FireStick
Main Features of IPVanish App
IPVanish is increasingly finding its place among some of the fastest and best VPNs out there. Here are the features that makes it one of the best VPN options available for FireStick:
High Quality Service
With the ability to connect you to around 40000 IP addresses over 1400 servers in 75 different countries, IPVanish lets you enjoy the highest speeds on connections.
It offers unmatched security so you can stream your favorite shows and movies without any concerns for your security.
Split Tunneling Feature
IPVanish's split tunneling features lets you be in charge of your internet traffic.
It is a breakthrough feature that lets you decide the apps for which you want the internet traffic routed through your ISP and for which apps you would like to connect to the VPN.
This feature is available for use on FireStick as well.
Unblocks Ge-Restrictions
IPVanish offers an ad-free experience because it blocks attempts at geo-targeting by advertisers whereby they collect your location information to send you targeted ads.
There are protocols in place that keep online marketers from getting access to your information.
Enhanced Protection
Its 256-bit AES encryption is on par with best industry practices. IPVanish uses several VPN connections and protocols to offer the best protection possible.
A zero-traffic logs policy, IPVanish never stores your connection and activity logs and metadata so this information can never be used against you.
Customer Support
IPVanish not only offers a smooth and high-speed FireStick connection, it accommodates its customers with its features for their convenience.
24/7 customer support answers all your queries and solves issues in real-time and 30-day money-back guarantee gives you the option to be fully satisfied before you finally buy it.
IPVanish Rating on Amazon App Store
IPVanish's high-quality VPN service needs no further proof than its Amazon rating.
Based on more than 15000 customer reviews, it has on overall rating of 4 stars out of 5. 61% of these reviews contain a 5-start rating while only 16% said they had a very poor experience.
Alternatives to IPVanish
Here are some other VPNs that provide a service that is on par with IPVanish.
You can also see our best VPN for Amazon Fire TV list that showcases the features of best VPNs.
Conclusion
There is no doubt that IPVanish is a must-have if you are looking forward to enjoying your desired TV shows, movies and other content and remain safe and secure at the same time with an encrypted connection.
IPVanish makes sure you have all the features you need in one place. Anyone can get IPVanish on FireStick as it is super easy and convenient to install and use.