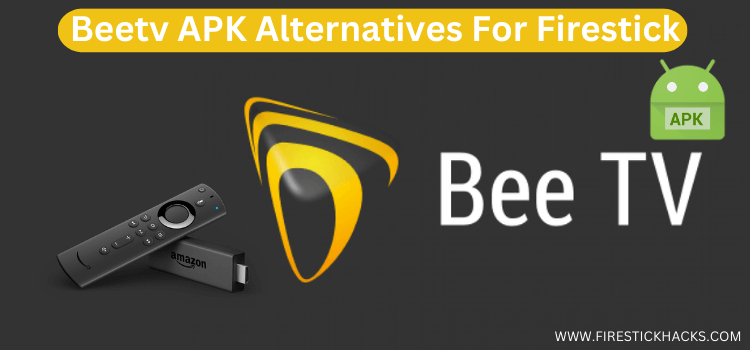 This detailed guide will show you some of the best BEE TV APK alternatives for FireStick, Fire TV, FireStick 4K, and Fire TV Cube.
Bee TV is a free video streaming service. Without a doubt, it is among the most widely used third-party streaming services for watching movies and TV series.
The app works to offer the most recent movies and TV series to your FireStick or another compatible device.
BeeTV, however, has had a lot of problems recently. A few examples include problems with installation, content playback, server overload, glitches, and application crashes.
Therefore, BeeTV fans are looking for alternatives to BeeTV until BeeTV's developers fully address the concerns. Follow the guide to find out the best BEE TV APK Alternatives for FireStick.
Since most of the applications listed below are free, it is strictly advised to use a VPN on your FireStick for safe and secure streaming.
Our Recommended VPN – ExpressVPN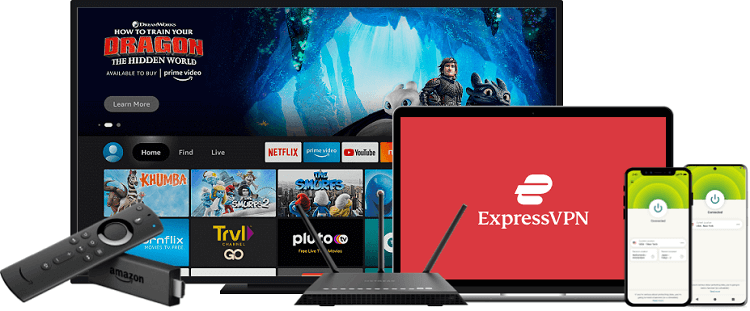 ExpressVPN is our top choice when it comes to watching free movies and series with the best BEE TV APK Alternatives as it completely hides your IP address and keeps your online identity private while watching free content.
Get ExpressVPN today and enjoy 3 extra months free. It also offers a 30-day money-back guarantee policy that allows you to access all features risk-free for 30 days.
Try ExpressVPN (Black Friday Deal)
Legal Copyright Disclaimer: FIRESTICKHACKS does not verify if apps, websites, or services hold a legal/official licensing of the media content that they stream. We DO NOT own, operate, or re-sell streaming sites, apps, or services NOR it is administered or hosted by FIRESTICKHACKS.
Best BEE TV APK Alternatives For FireStick 2023
I am listing the best Bee TV APK Alternatives for FireStick. You can select any application you think will work for you. Note that all these apps are tried and tested so you won't be disappointed.
Since most of the apps in our list are free and may be open to security threats we strongly recommend installing and using ExpressVPN on FireStick. This will also bypass any geo-restriction if it is imposed in your location.
1. Cinema HD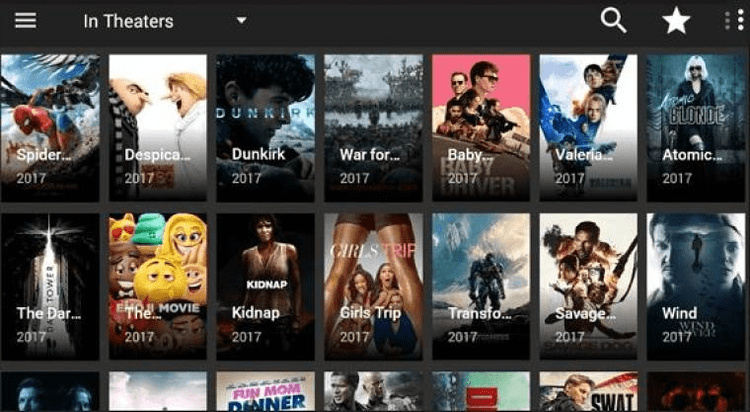 One of the most well-known third-party streaming apps is Cinema HD. This application serves as a standard for all others in finding the best movie apps.
On supported devices like FireStick, Android TV boxes, and more, you can watch on-demand video using Cinema HD. Blockbusters that have been forgotten, timeless TV shows, you name it. All of it is streamable via the Cinema HD app.
All genres of entertainment are included in Cinema HD. With this app, you can stream anything from action movies to suspense thrillers and comedies.
Cinema HD has a user interface that is familiar and user-friendly for a classic experience when streaming. The app makes the user feel interactive and self-explanatory.
Cinema HD is a top streaming app for watching movies and TV shows in HD, FHD, and 4K quality overall.
Read More: Install Cinema HD on FireStick
2. Cuco TV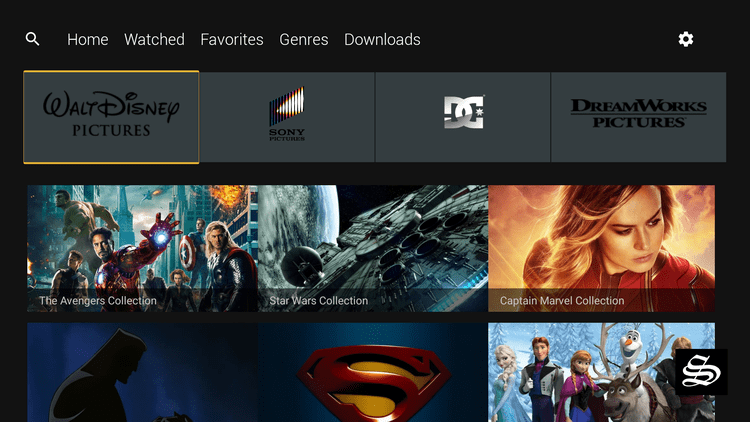 On various OTT devices, CucoTV offers movies and TV shows from various platforms. The application is entirely free of cost, allowing the user to stream movies and TV Shows from its huge library.
While streaming with Cuco TV the user will not be interrupted by ads. Moreover, the app allows you to download content in the background while the user is streaming movies and shows with Cuco TV.
There are five categories on Cuco TV: Home, Watched, Favorites, Genres, and Downloads. On the first page, you may see collections of movies and TV shows. The content in the following two parts, however, is what you have viewed and user favorites.
Next, Genres allows you to browse movies and TV shows of various genres. Finally, all of the content you have downloaded is stored in Downloads.
You don't need to download a video player because Cuco TV already has one built into the content of that stream.
Read More: Install Cuco TV on FireStick
3. Cyberflix TV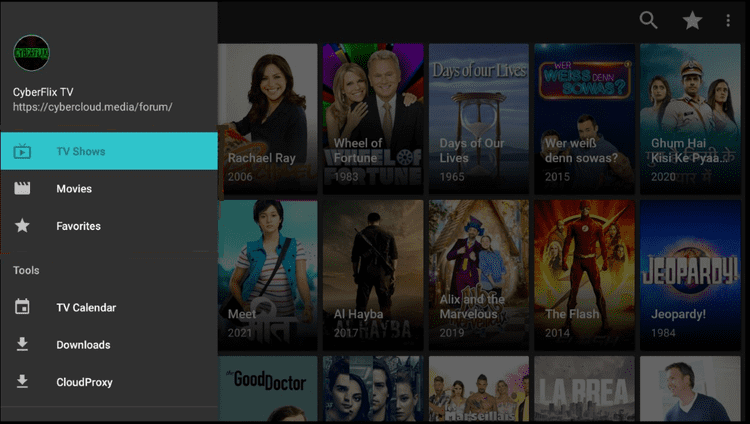 One of the best streaming services and a strong alternative to Bee TV is CyberFlix TV. The interface of CyberFlix is identical to that of the CinemaHD app. It is well-organized and quite intuitive.
There is never any buffering when viewing anything on Cyberflix TV thanks to its extremely fast server. Over 255 different languages are included in the subtitles.
As a result, there is a good likelihood that you may receive subtitles in your original tongue.
Cyberflix TV's absence of advertising and sponsored banners is a nice feature. It contains an integrated media player that offers a wonderful watching experience without any distractions.
This app updates its content often to keep your binge-watching sessions going on.
Read more: Install Cyberflix on FireStick
4. Tea TV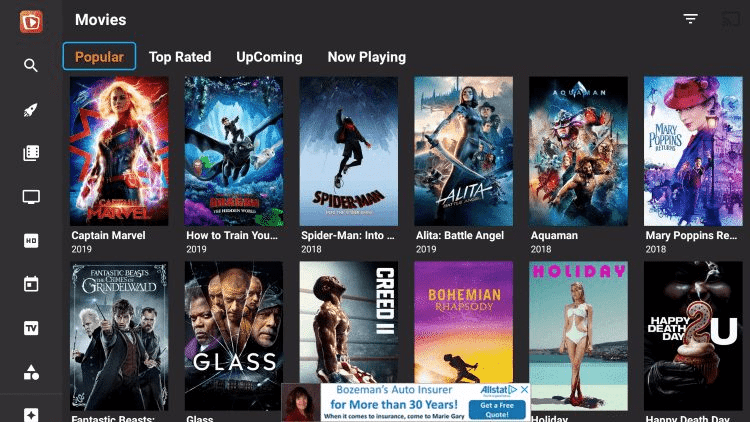 Tea TV is one of the greatest BeeTV alternatives if you want unrestricted content. TeaTV has a vast library of material, including content in several languages and from various areas.
Additionally, it is the home of some original content that is not present on any other apps. The movies and TV series are all available in Full HD. As a result, using this app on big displays is excellent.
Tea TV offers a user interface that is easy to use and very intuitive. You can make a personalized list and quickly search for fresh material. The app's inclusion of trailers, season information, and reviews for every film and television show is a plus point.
As a consequence, you can learn trustworthy information about a film or television series before starting to watch it. It will enable you to decide whether it is worthwhile to stream or not.
Additionally, TeaTV makes it simple for you to keep track of the movies you've already seen.
Read More: Install Tea TV on FireStick
5. Media Lounge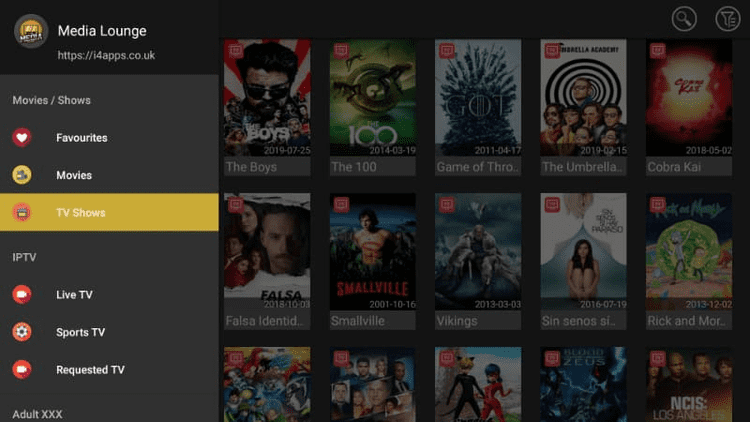 Since its recent launch, Media Lounge has become fairly popular among cord-cutters all around the world. By giving you access to various entertainment options this app helps you enjoy yourself to the fullest.
There are several categories of Media Lounge for movies, TV shows, live TV, sports TV, and more. So whether you want to stream a live sports game, listen to a local news channel, or watch a movie, this app allows you to do it all.
Moreover, you can link your Real Debrid account to enhance your Media Lounge experience.
The app offers a big library of top-notch TV series and films. Furthermore, most apps can't compete with the high-resolution videos that Media Lounge is known for.
The user interface of this streaming software is quite appealing. You can navigate between the many menus and categories with ease. Lastly, Media Lounge is frequently updated with new features and fixes for bugs.
Read More: Install Media Lounge on FireStick
6. Movie HD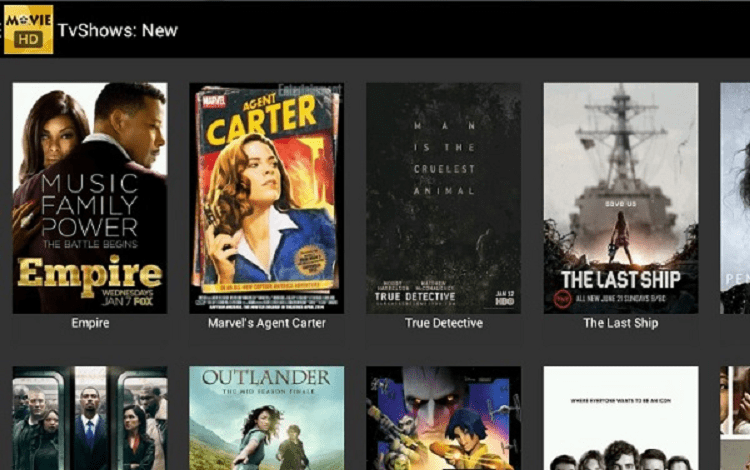 One more of the top Bee TV alternatives is Movie HD. Movie HD APK is the improved version of Terrarium and is extremely well-liked by those who previously used Terrarium.
Movie HD is a free app to view movies and TV series, much like other platforms. TV Shows and Movies are the two primary divisions of Movie HD.
Further, it is subdivided into sections like Update, Popular, New, Rating, etc., each part. This enables you to quickly explore various sorts of material inside the content.
Movie HD has an automatic updater built right in, so you don't have to worry about doing it yourself. It also has downloaders, complex search capabilities, and subtitle scrapers.
Furthermore, there is no registration required to watch the Movie HD app, Just install and enjoy.
Read More: Install Movie HD on FireStick
7. Syncler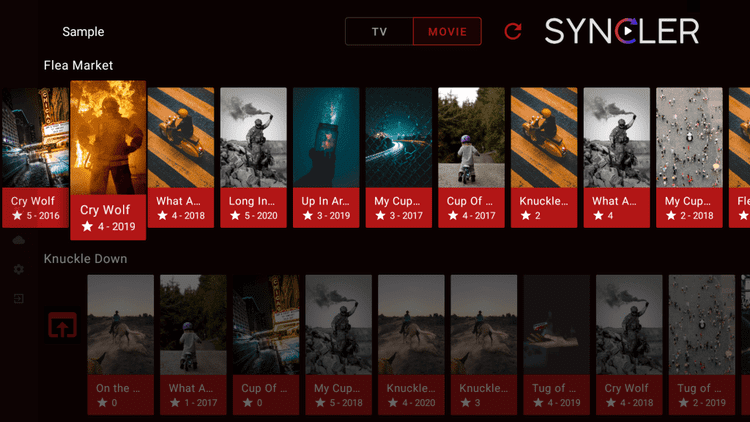 Another free streaming application is Syncler.  Syncler, which was inspired by Netflix, has cutting-edge yet simple user interfaces with sections for Home, Search, Debrid Manager, etc.
This app is designed to allow you to view more content rather than browse and click.
You may connect premium services like Real Debrid, Premiumize, and All Debrid to source content. Sycnler is a one-stop shop with all the content you require to watch your favorite series, movies, anime, and more.
Syncler promises fast streaming with regularly updated content. We must also note when using the app to watch international films and TV shows, subtitle support is quite useful.
Read More: Install Syncler on FireStick
8. Freevee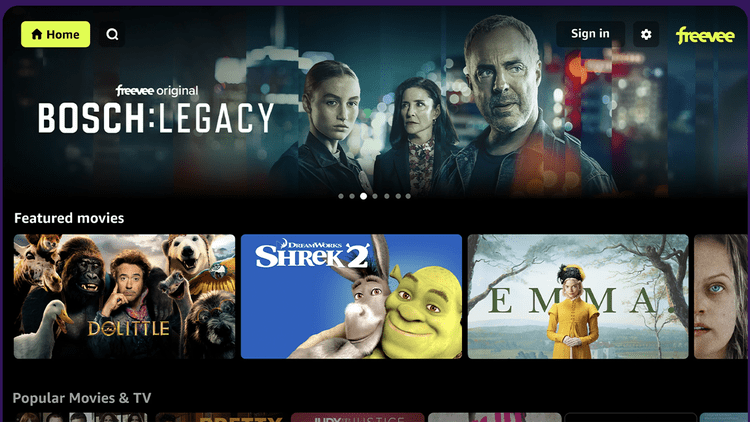 Various genres and categories of free movies, TV series, and unique content are available on Freevee.
On Freevee, you may watch entertainment channels in addition to movies and TV episodes. Although these channels are active around-the-clock, you sometimes can't locate what you're looking for right now.
If you want a FireStick-compatible alternative to BeeTV, you can choose Freevee. You need to have an Amazon account to utilize Freevee.
Additionally, Freevee has adverts that play while you watch. Because there is no premium option, you cannot turn off the adverts, which is the reason the platform is free.
Read More: Install Freevee on FireStick
9. Stremio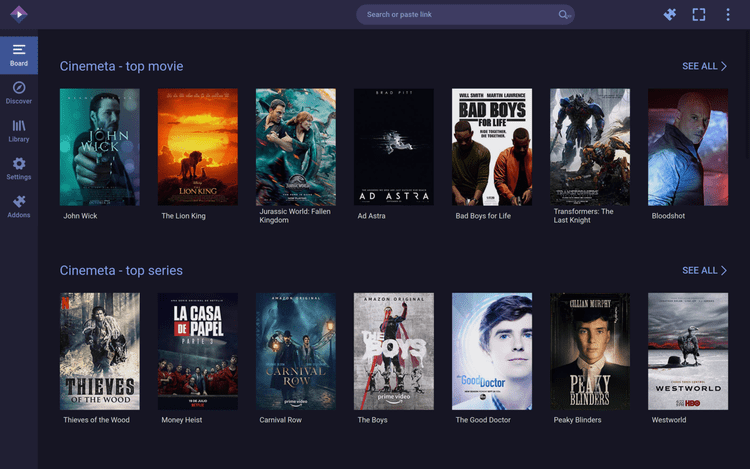 In comparison to the other Bee TV substitutes, Stremio is today's media center that operates somewhat differently. For links to movies, TV shows, live TV channels, YouTube videos, and other content, this app depends on add-ons.
If you have the appropriate add-ons set up on your Stremio app, you can search for any type of content. The application will load the results for you in a matter of seconds. Select something, and then wait for the app to list all the addon-supported streamable URLs.
With one potent app, Stremio, you can find, view, and organize movies, TV series, live TV channels, YouTube channels, and more.
Read More: Install Stremio on FireStick
10. MediaBox HD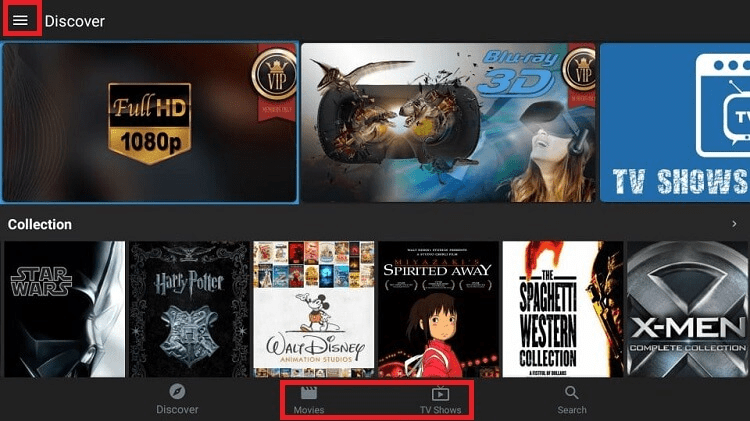 The Mediabox HD app for Android is a fantastic way to discover the newest TV episodes, popular movies, timeless animes, etc. You may watch, download, and favorite any content for free using this app.
This app offers high video quality, multi-device compatibility, no advertisements, and Chromecast support.
Additionally, Media Box HD offers separate tabs for your watch list, history, recently watched material and downloads. The app also offers a variety of links from which you may choose to watch your preferred material.
Read More: Install MediaBox HD on FireStick
11. Nova TV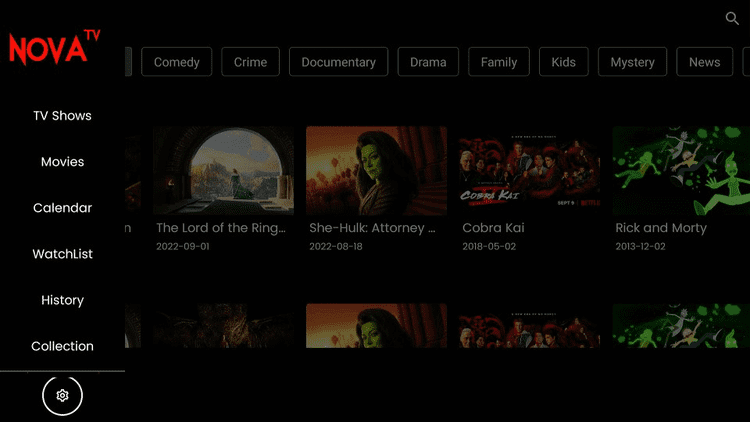 Nova TV is your one-stop shop for all of your streaming needs, including movies, TV shows, entertainment videos, and more. With frequent updates, this app provides a vast library of free HD and FHD videos.
Support for Debrid, one-click cookies & cache clear, link filtering, and more are just a few of Nova TV's outstanding features. Furthermore, Nova TV also enables you to watch content using any third-party player of your preference.
It is simple to use, offers support for multilingual subtitles, and offers the chance to upgrade to a premium subscription. A wonderful app for streaming free movies, and TV series, and being an alternative to BEE TV APK  is Nova TV.
Read More: Install Nova TV on FireStick
12. FilmPlus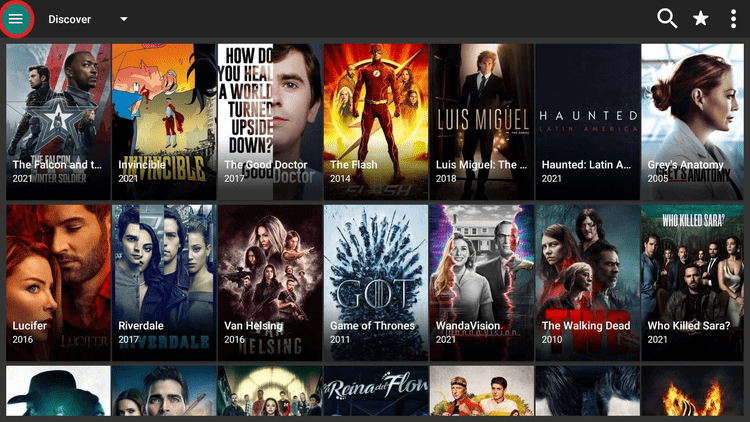 FilmPlus, like BeeTV, doesn't host any material. With the app, you can browse free movies and TV episodes online and stream them in 1080p, 720p, or 360p quality. The app functions something like a search engine.
FilmPlus is simple to use due to its humongous interface. In particular, all movies and TV shows are searchable and accessible in one place.
The app offers a variety of filter settings to help you select the ideal streaming material. Language, release year, quality, and other factors can all be sorted.
FilmPlus is ad-free despite being a free platform like BeeTV. As a result, you can unhinderedly watch your favorite movies and television programs.
Read More: Install FilmPlus on FireStick
13. Typhoon TV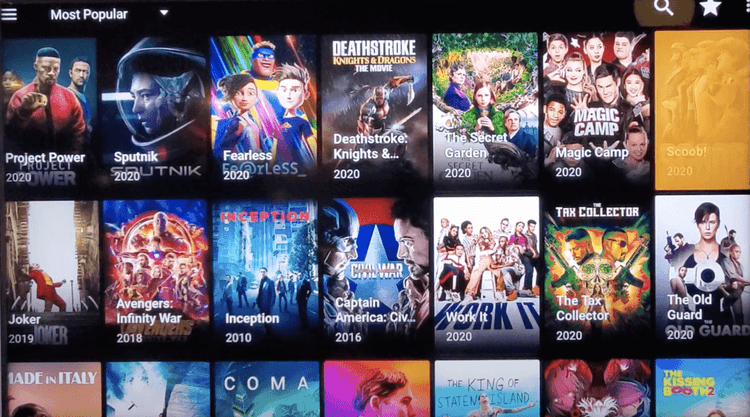 Typhoon TV is another free streaming app that can be added to the list of BeeTV alternatives due to the vast range of video content it provides.
It is a free streaming service that provides all the latest and classic movies and TV Shows without any subscription or registration.
Moreover, it also provides social media trending videos or viral content on the internet. You can also integrate an external player like MX Player with it.
Read More: Install Typhoon TV on Firestick
14. AstonCine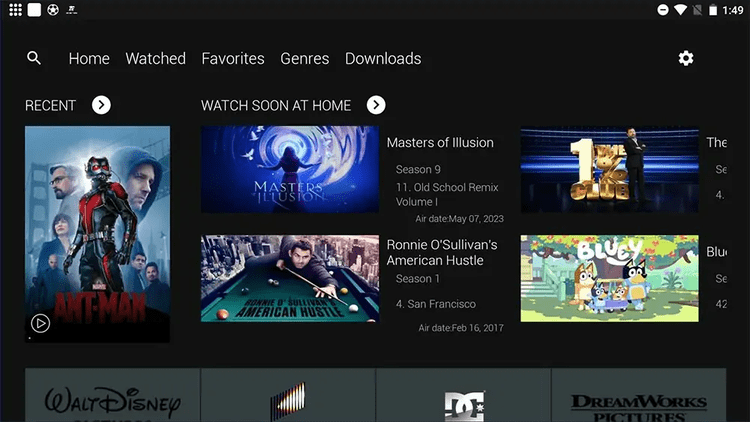 Aston Cine is a one-in-all stream app, it provides Movies, TV Shows, Live TV, Sports, and whatnot.
It is a rebranded app of a once very popular VOD streaming service named ZeniTivi. It provides its user with multiple server links to stream in HD quality.
It also features the Trakt TV integration and Real-debrid integration for suggesting content from your browser record and provides better streaming links respectively.
Read More: Install AstonCine on Firestick
15. HDO Box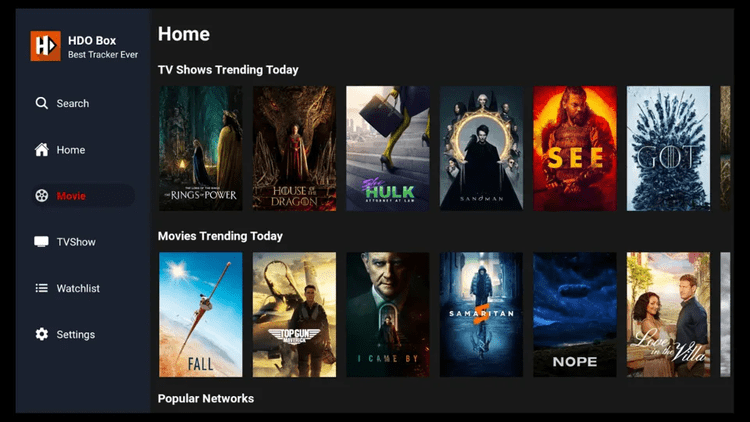 Last but not least, HDO Box is a new video streaming service that has gained popularity in such a short time with a great range of the latest Movies and TV shows for free.
It has a simple interface and provides HD-quality video links like 720p and 1080p. Its content is divided into various genres like Comedy, Action, Drama, Romance, Thriller, Adventure, etc.
It has one amazing feature, it has subtitles in 25 different languages including French, Spanish, Portuguese, Latin, Polish, Thai, Arabic, German, Romanian, and others.
Read More: Install HDO Box on Firestick
FAQs
1 What is Bee TV APK?
One of the top streaming services that will surprise you is BeeTV. If you enjoy viewing movies and TV shows, BeeTV will satisfy your need to stream the best accessible content. It offers enough possibilities to keep you occupied without a subscription. Additionally, this offers free, high-quality streaming.
2 is Bee TV free?
Yes, bee tv is a free streaming application.
3 Why is the bee TV not working?
If the BeeTV app has stopped functioning, you should first close it and then reopen it. If the issue still exists, restart your device and reinstall the application. However, because of constant complaints, we recommend using alternatives to Bee TV APK on FireStick.
4 Are there other apps like Bee TV?
Yes. Other apps like Bee TV are Nova TV, Cinema HD, FreeVee, MediaBox, Media HD, Syncler, and many more. Make sure to use ExpressVPN before you decide to install any of these free apps.
Wrapping Up
BEE TV has been a go-to application for movie and series lovers. But recently we have witnessed a lot of problems. These issues are installation, server overload, glitches, and much more.
Since these problems have not been solved yet you can go for any alternative mentioned above. I have listed the Best BEE TV APK Alternatives For FireStick.
However, you must not forget to use a VPN like ExpressVPN as these apps are free. This will keep you guarded while streaming. Furthermore, it prevents you from ISP throttling and malware for a protected connection.