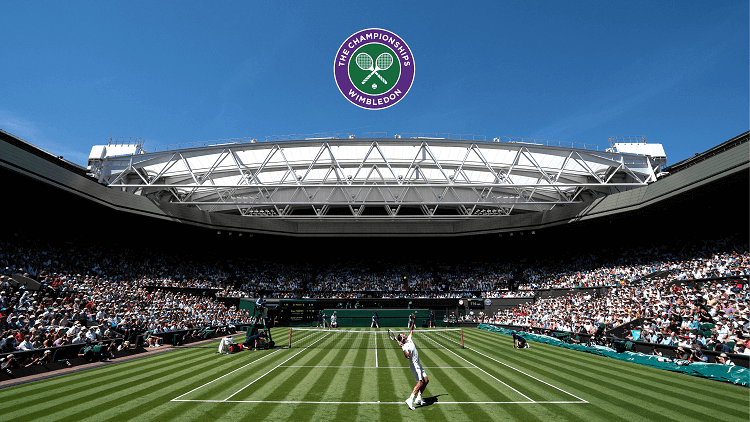 This is the step-by-step guide on how to watch Wimbledon Championship on Firestick, Fire TV, & Fire TV Cube.
Wimbledon is the oldest and most prestigious tennis tournament in the world. It is one of the four Grand Slam tennis tournaments and the only tennis tournament that is played on Grass.
The Tournament has 5 main events that include Gentlemen's and Ladies Singles and Doubles events, and in addition junior and invitational competitions also take place and the dress code of the tournament is full-white.
Wimbledon 2023 is expected to be scheduled on July 3, 2023, to July 16, 2023. BBC is the Official Broadcaster of Wimbledon till 2027 and you can easily watch it on BBC iPlayer on Firestick for free.
However, you can also watch Wimbledon on RTE in Ireland, ABC & HBO in America, ESPN, and a few other sports channels
3 Ways to Watch Wimbledon Championship on FireStick
I have discussed three different methods to watch Wimbledon Championship Live on FireStick. These are:
If you're watching the free method to stream Wimbledon Live on FireStick, then it is strictly advised to use a VPN on your FireStick for safe and secure streaming.
Our Recommended VPN – ExpressVPN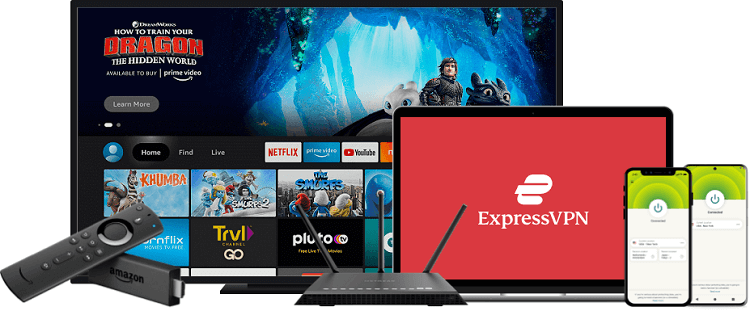 ExpressVPN is our recommended choice because it completely hides your IP address and keeps your online identity anonymous while you enjoy watching Wimbledon Live on FireStick.
Get ExpressVPN today to enjoy 3 extra months free. It also offers a 30-day money-back guarantee policy that allows you to access all features risk-free for 30 days.
Legal Copyright Disclaimer: FIRESTICKHACKS does not verify if apps, websites, or services hold a legal/official licensing of the media content they stream. We DO NOT own, operate, or re-sell streaming sites, apps, or services NOR it is administered or hosted by FIRESTICKHACKS.
Watch Wimbledon Live on FireStick Using Silk Browser
The free method that I am going to discuss is Amazon Silk Browser which streams the free BBC iPlayer website (official Broadcaster) that allows watching Wimbledon on Firestick.
Once again, I would recommend you install and use ExpressVPN on FireStick because you might face geo-restriction if you are not in the UK region.
Step 1: Open Firestick Home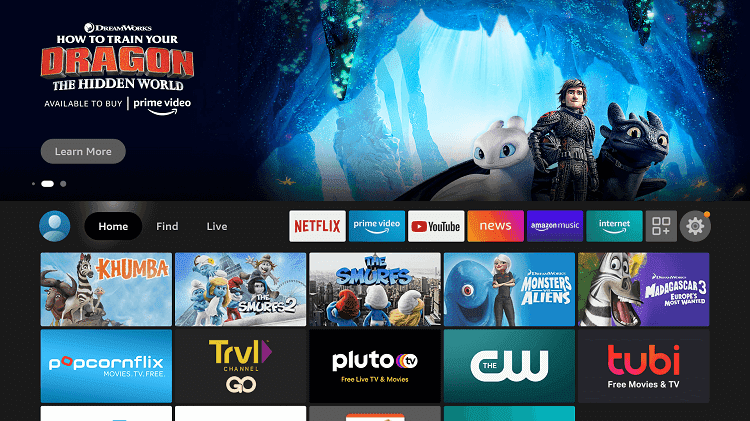 Step 2: Select the Find menu
Step 3: Click on the Search option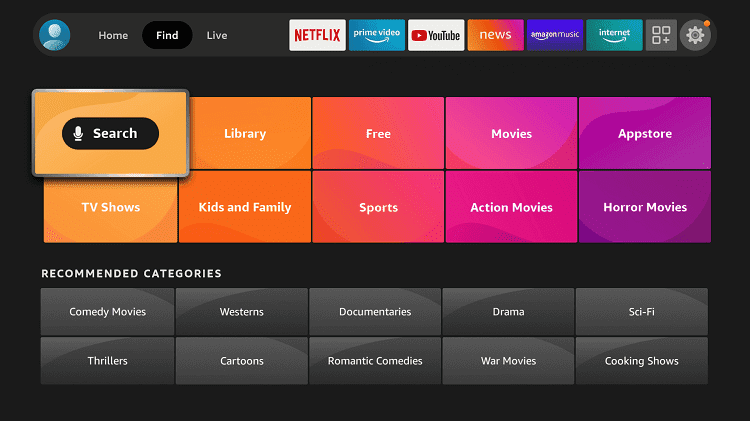 Step 4: Type "Internet Browser" and select it from the list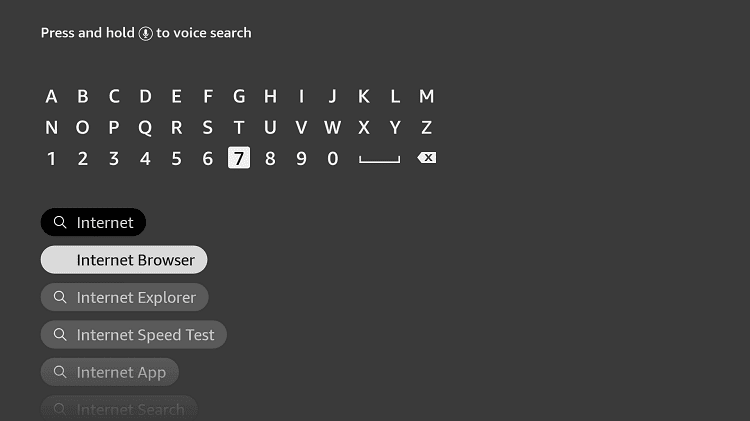 Step 5: Select the Internet icon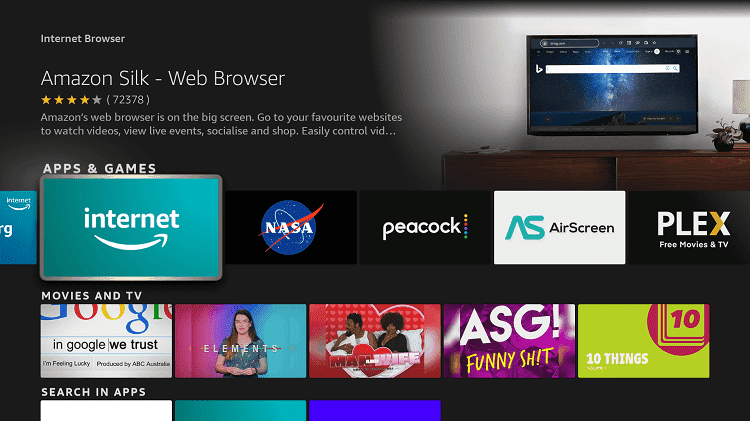 Step 6: Click on "Download"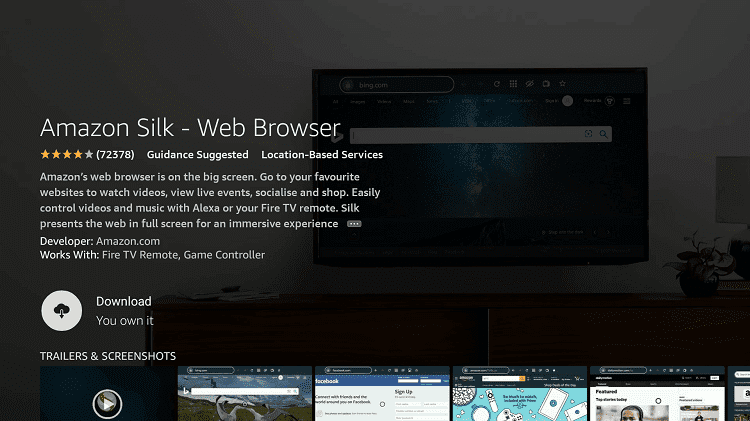 Step 7: Wait until the download is completed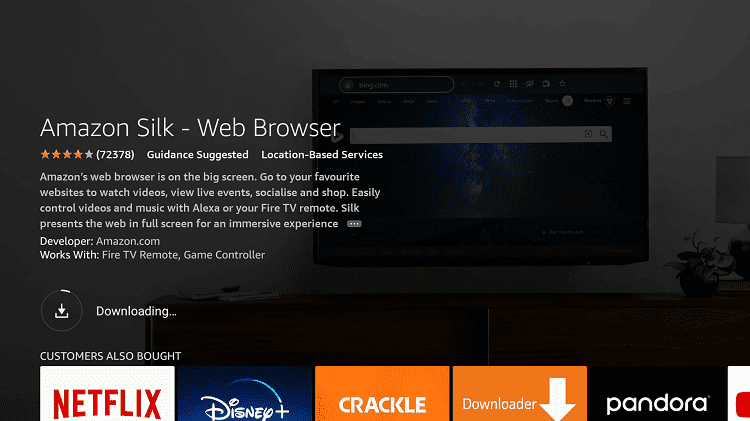 Step 8: If you're from outside the UK, you need to install ExpressVPN and connect to the UK server to bypass geo-restrictions.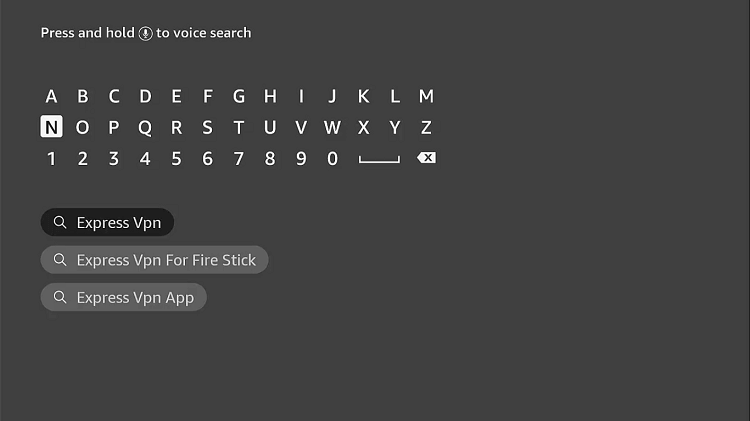 Step 9: Select ExpressVPN from the suggestions bellow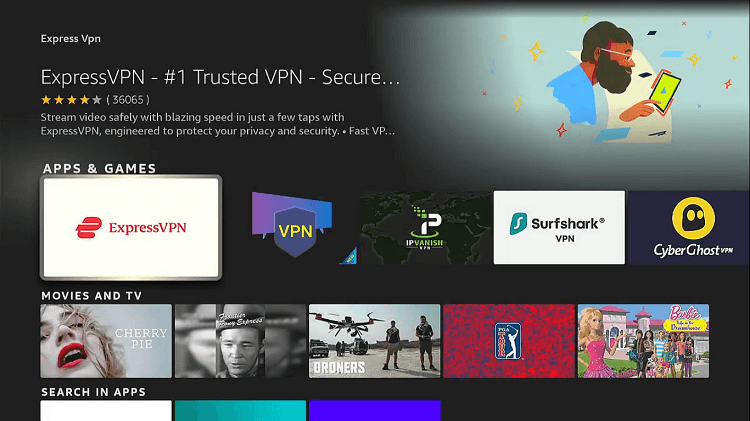 Step 10: Open Express VPN once installed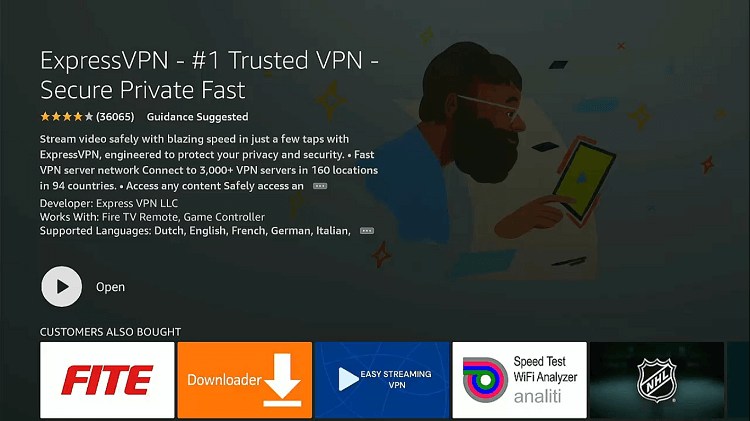 Step 11: You must connect the server to the UK to access BBC iPlayer as it is restricted to the UK only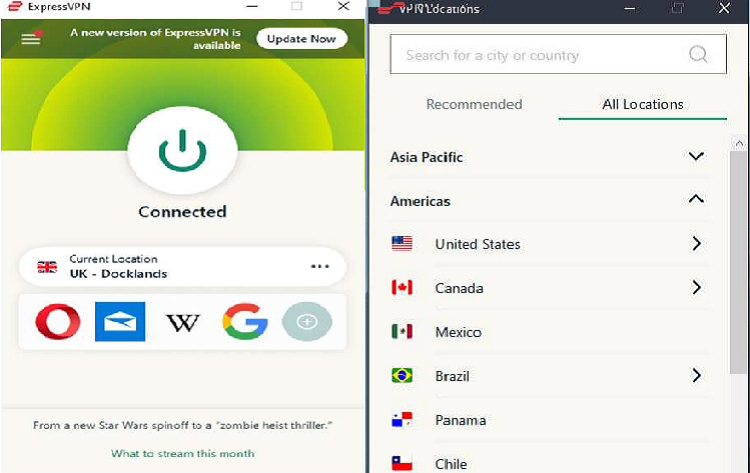 Step 12: Select Open to access the installed browser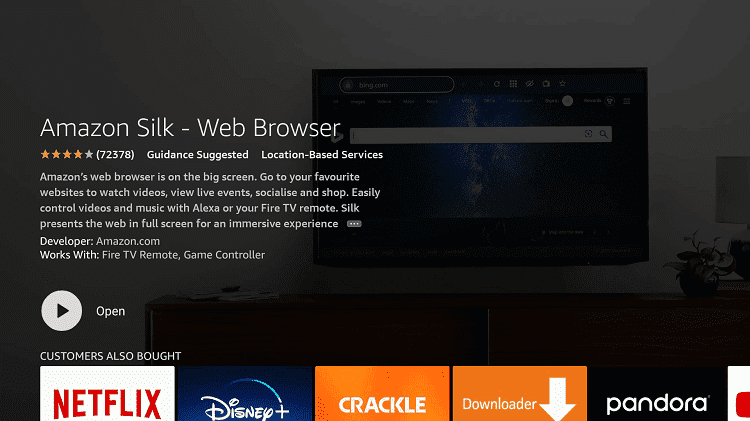 Step 13: Once the browser opens, click on Accept Terms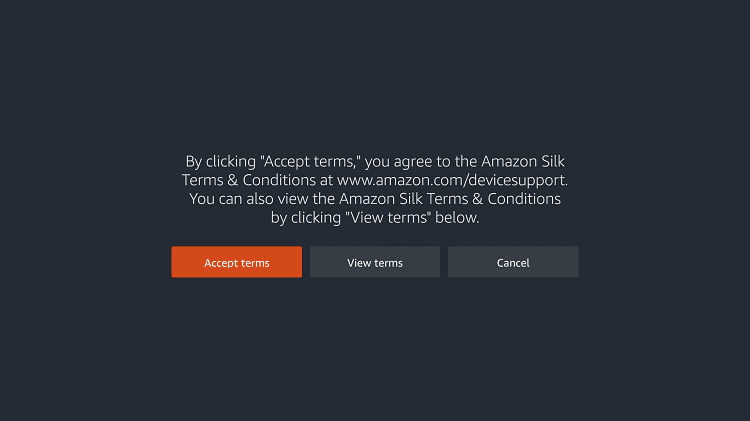 Step 14: Bing.com tab would be open, click the address bar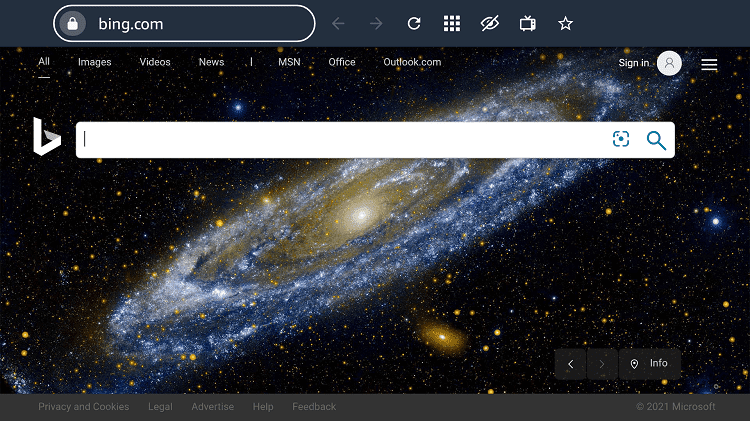 Step 15: Enter this URL https://www.bbc.co.uk/iplayer and click Go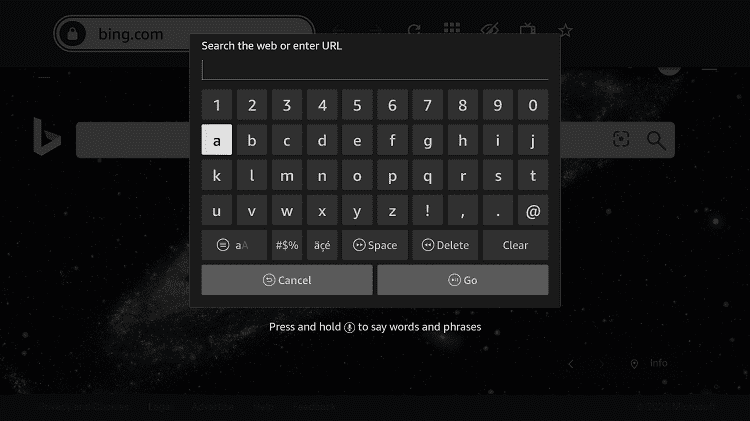 Step 16: This is the Home Page of the BBC iplayer website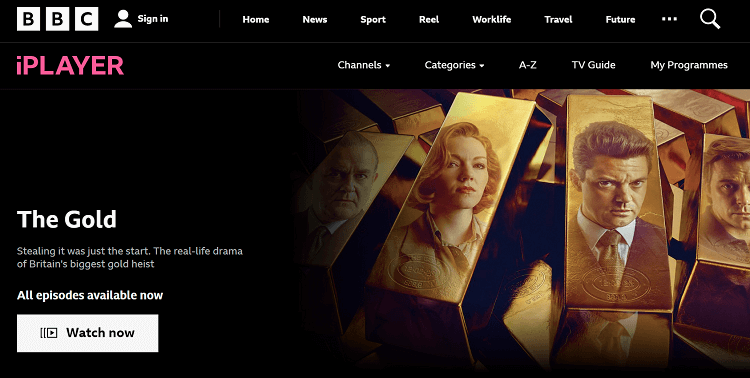 Step 17: Click on the Categories tab and choose the Sports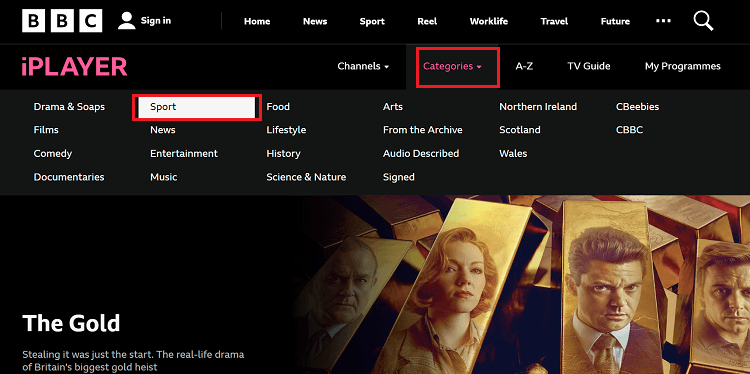 Step 18: Here you can watch the latest Wimbledon match when it's streaming live!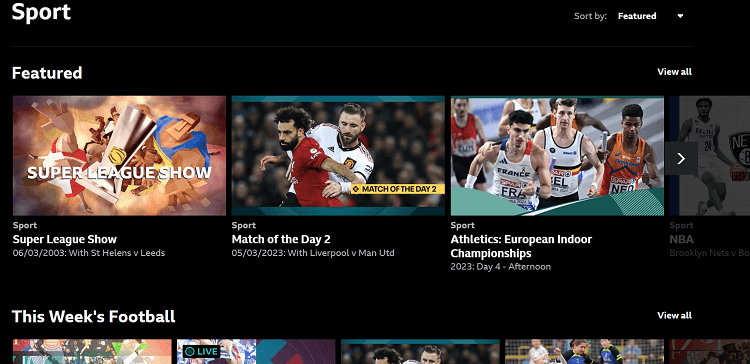 Watch Wimbledon on FireStick Using Rapid Streamz App
Rapid Streamz app is also a free method to watch Wimbledon Live on FireStick for free. Here are the steps you need to follow:
Make sure to use ExpressVPN as the service is free and you may require to bypass the geo-blocking.
Step 1: Open your FireStick Home Screen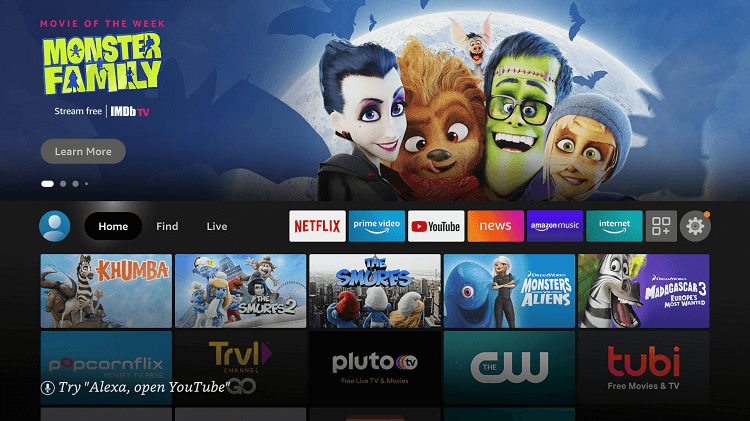 Step 2: Click the Settings icon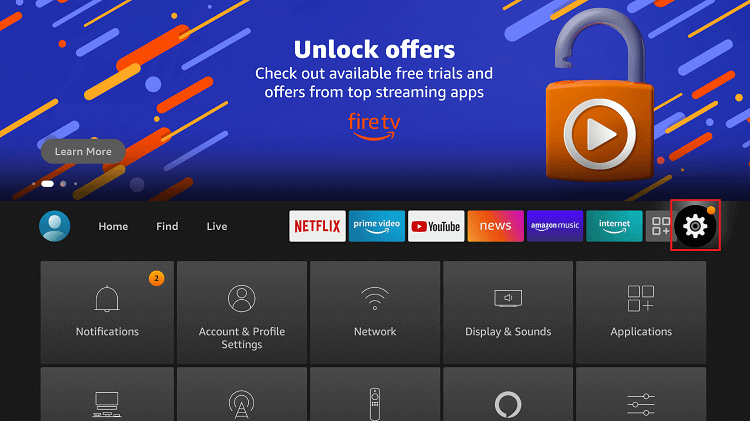 Step 3: Select the option My Fire TV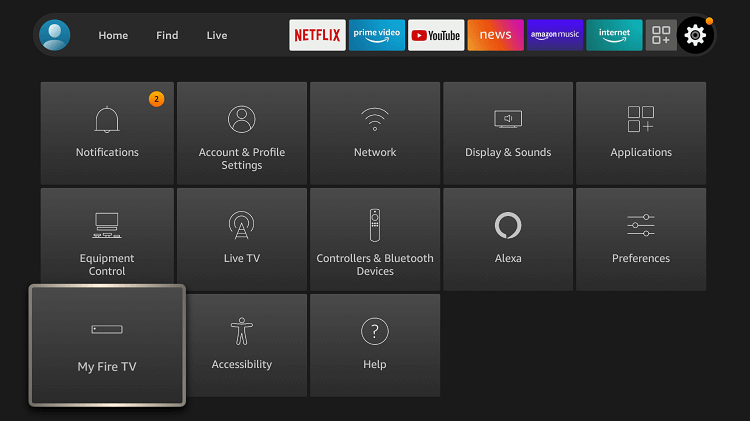 Step 4: If you don't find the Developer Option then Click About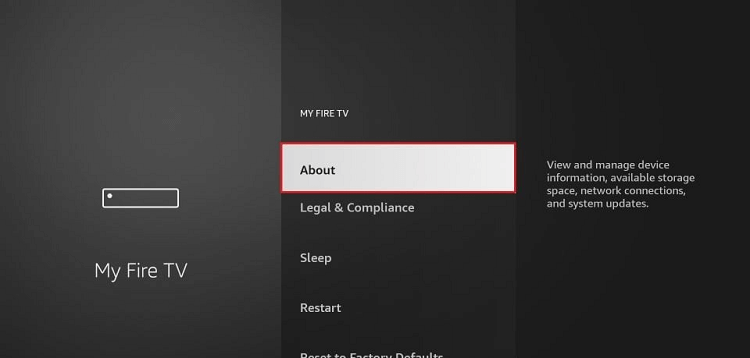 Step 5. Click on your Fire TV Stick quickly 7 times.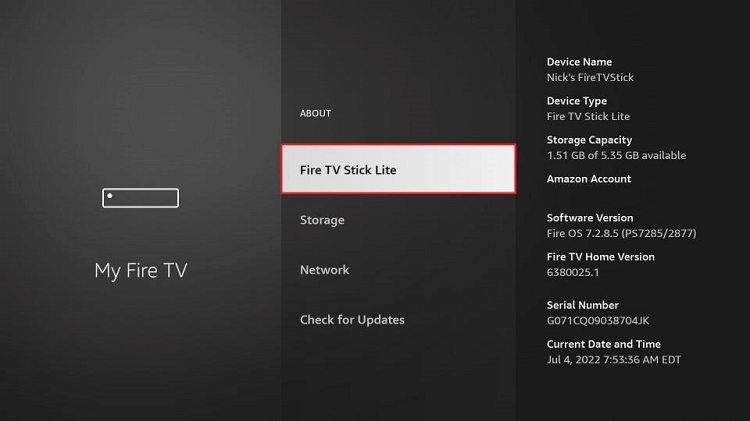 Step 6. A notification appears at the bottom saying No need, you are already a developer. That's it, you have enabled Developer Options.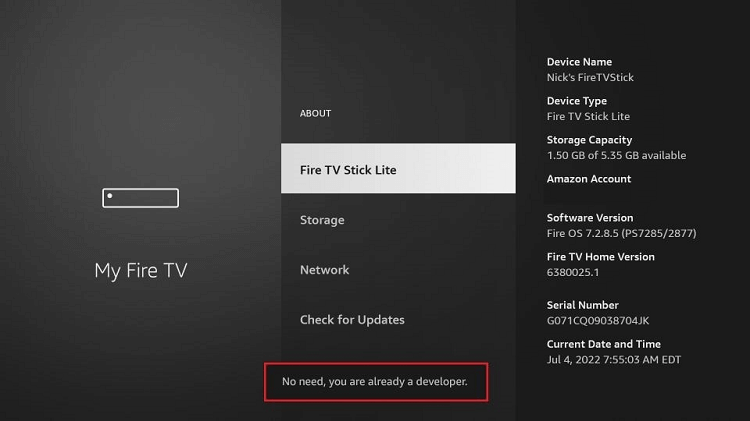 Step 7: Select the Developer Option given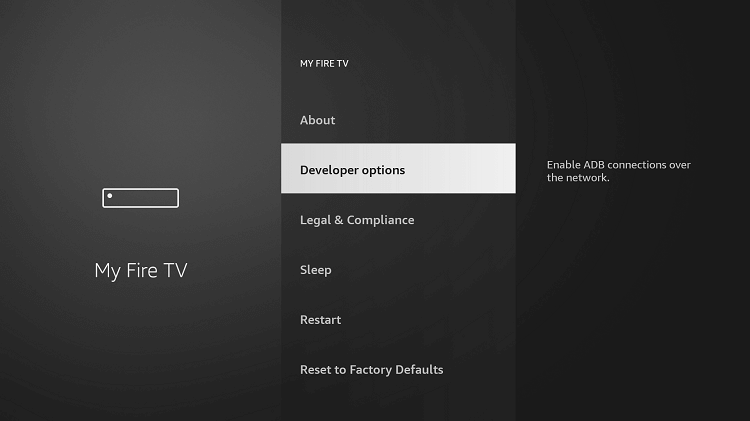 Step 8: Select Apps from Unknown Sources to enable it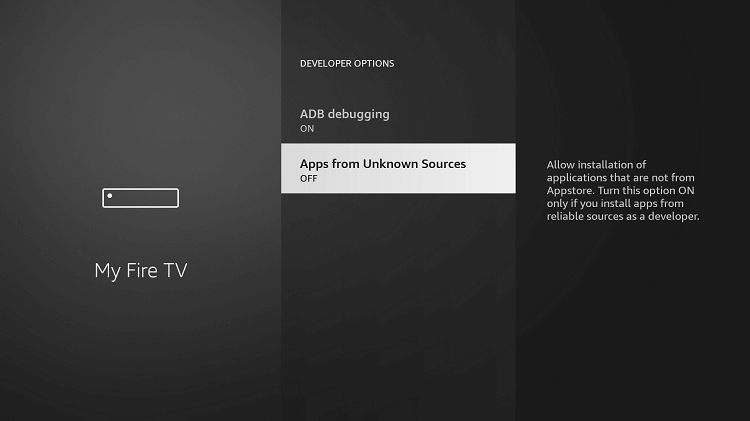 Step 9: Click the Turn On button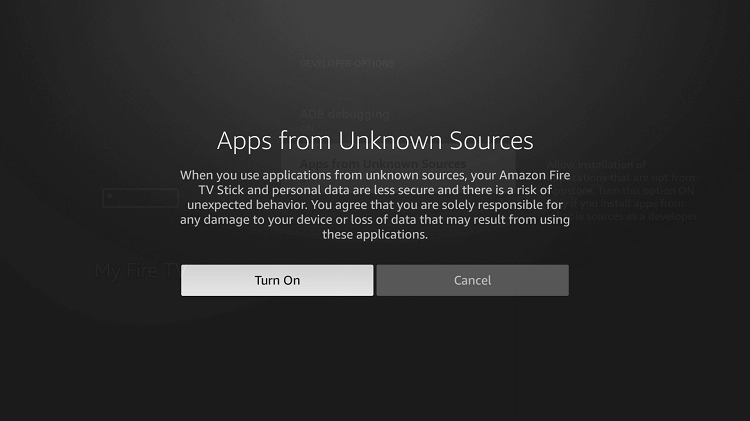 Step 10: Now navigate back to the home screen of your FireStick device and click the option Find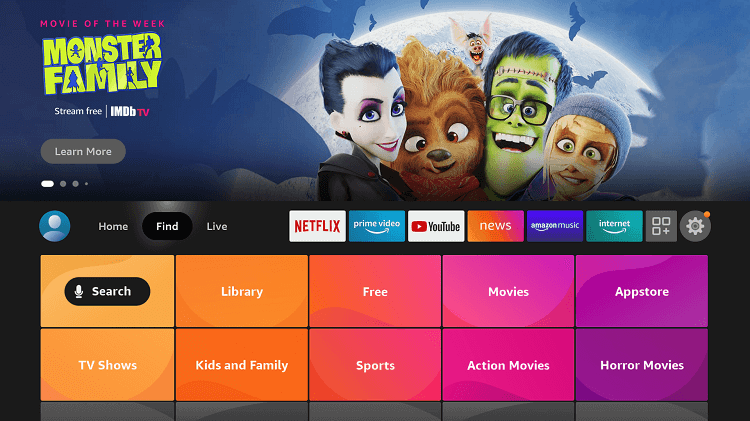 Step 11: Click the Search option from the menu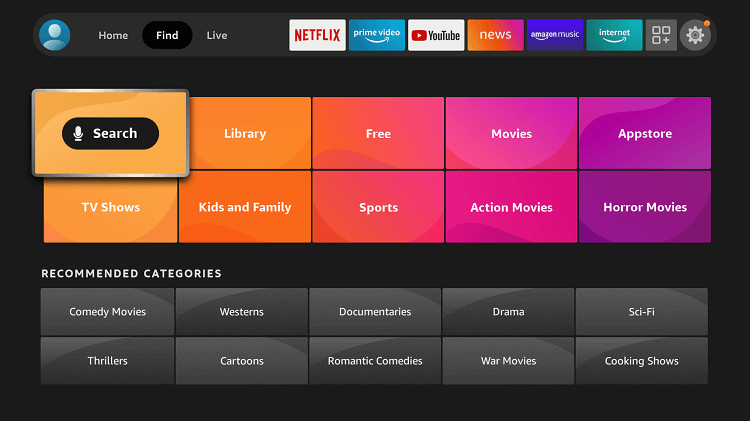 Step 12: Type Downloader in the search bar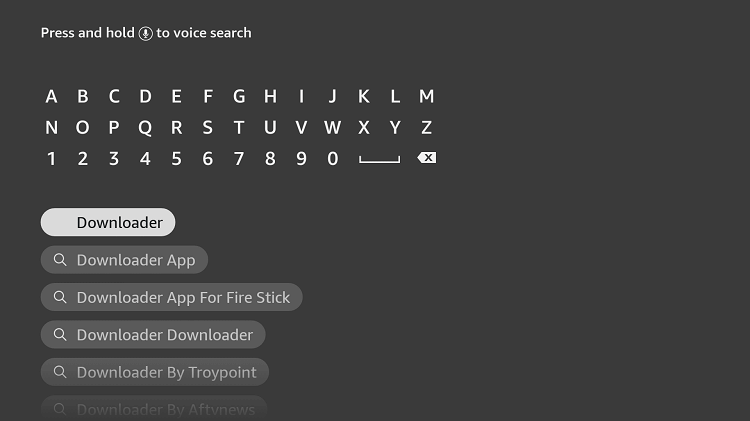 Step 13: Click the Downloader icon from the Apps & Games section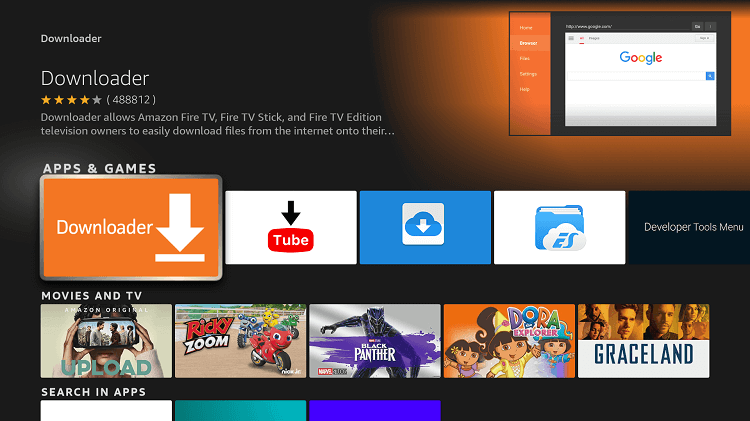 Step 14: Click the Download or Get option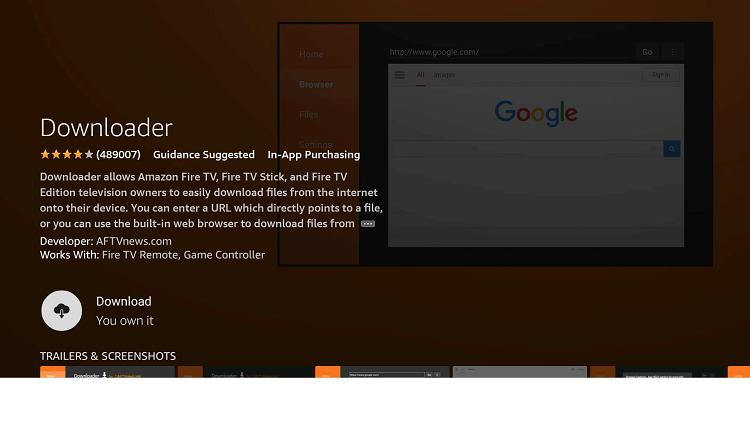 Step 15: Wait for the app to be installed on your device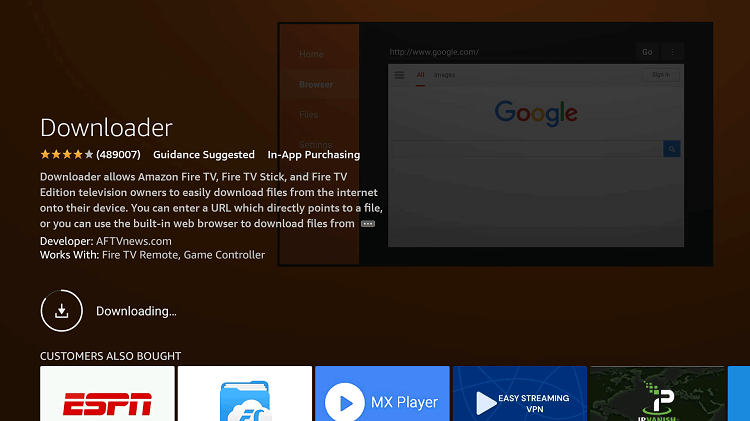 Step 16: Click Open once the app is installed successfully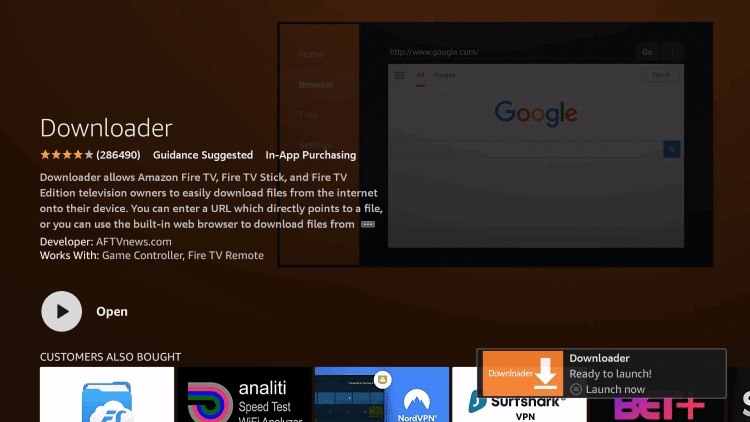 Step 17: Click OK if any such prompt appears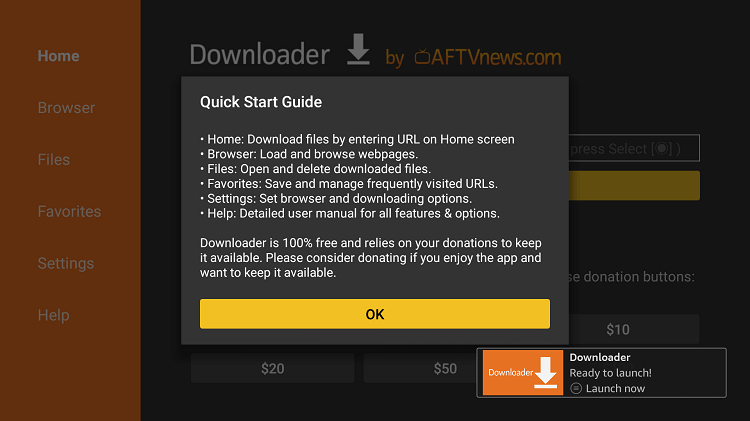 Step 18: Click Allow to give Downloader access to your photos, media, and files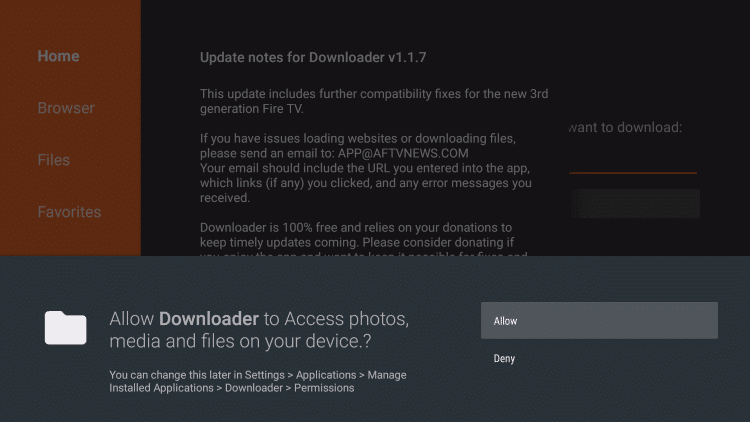 Step 19: Click the URL bar on the home screen of the Downloader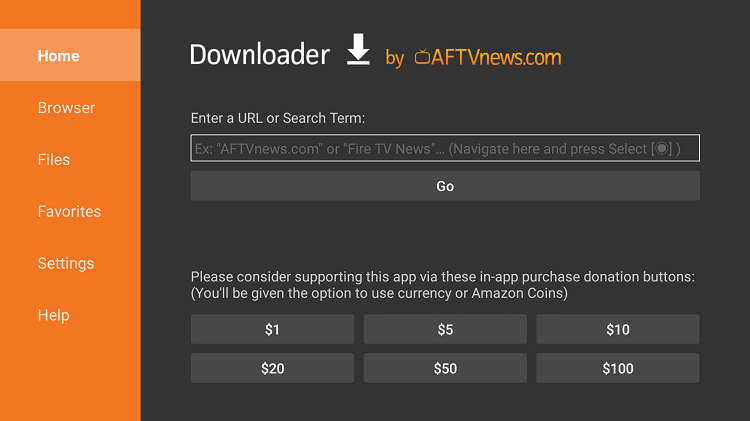 Step 20: Type the URL  rapidstreamz.tv and click Go.
Note: The referenced link is the official URL of this app/website. FIRESTICKHACKS does not own, operate, or re-sell any app, streaming site, or service and has no affiliation with its developers.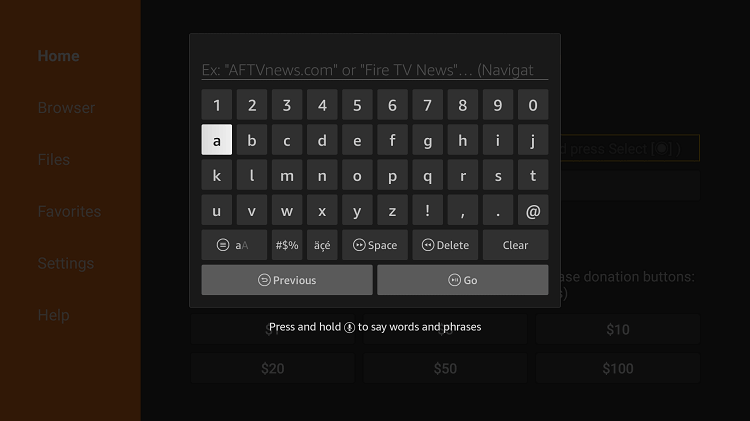 Step 21: Scroll down and select Download App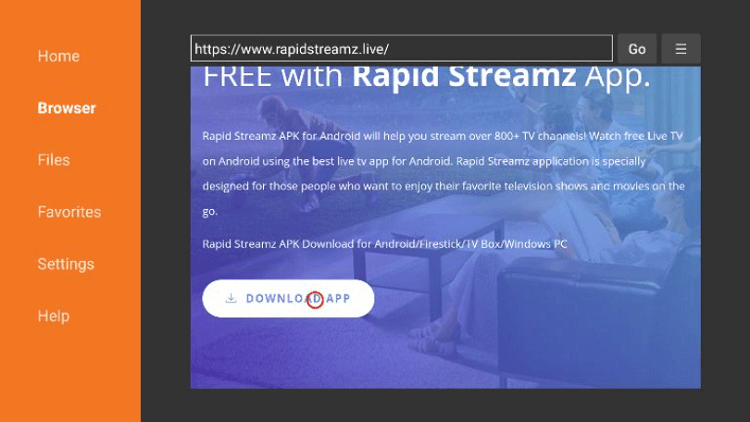 Step 22: Wait for the download to end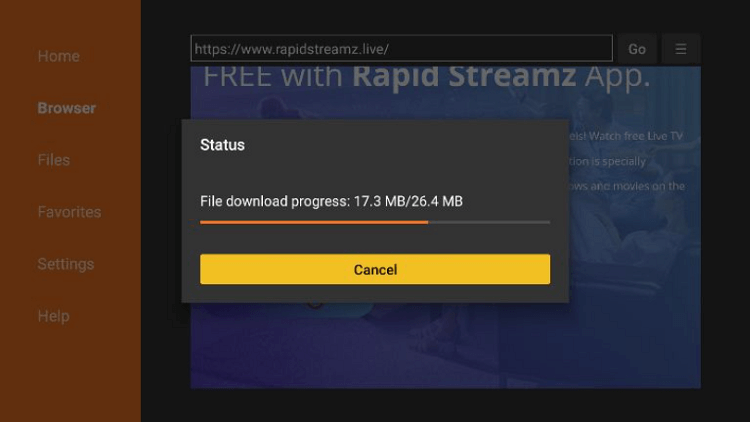 Step 23: Select Install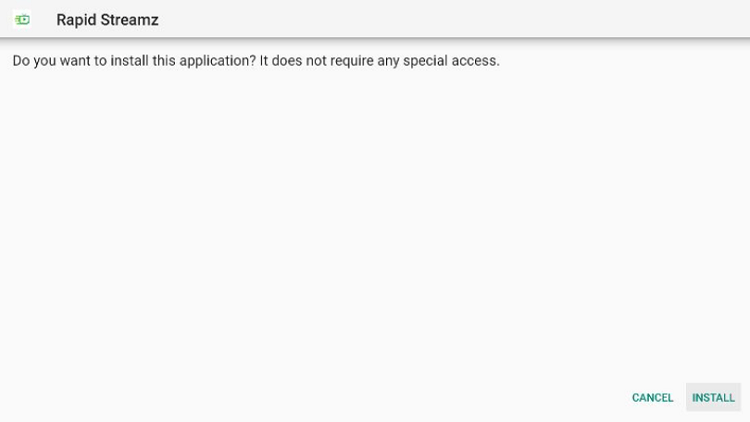 Step 24: Click Done OR Open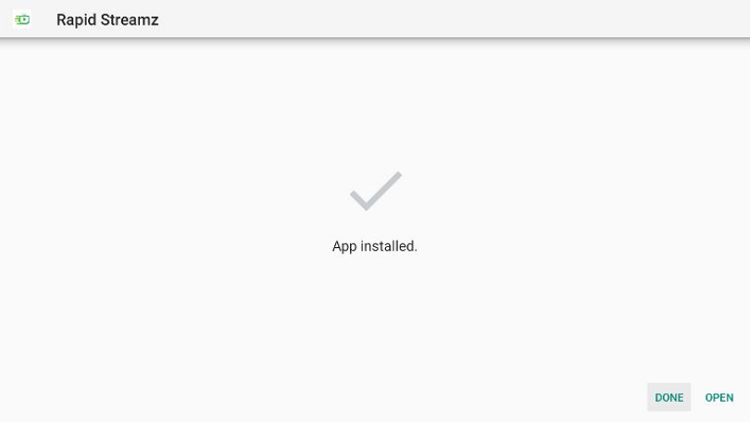 Step 25: Click Continue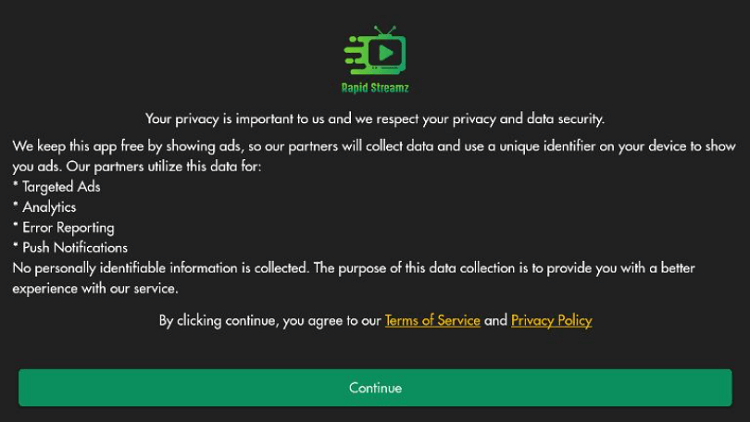 Step 26: Now click Allow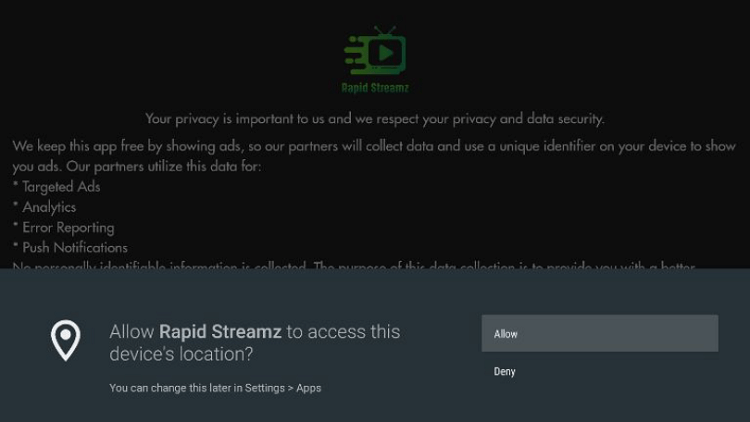 Step 27: Hover over the Tennis icon and there you will find the live matches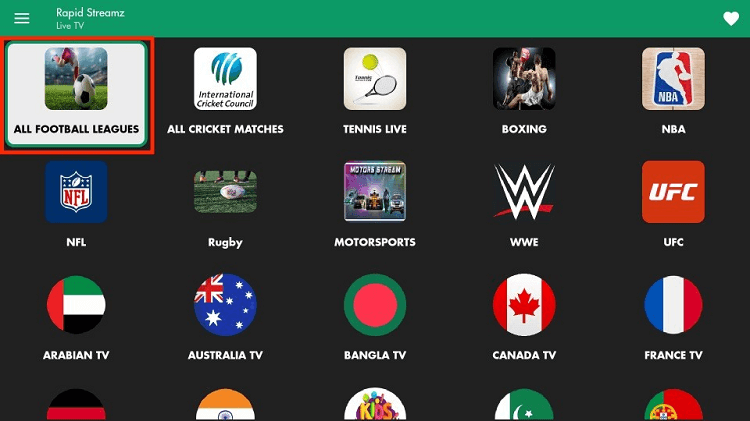 Step 28: This is Wimbledon Live streaming.
Watch Wimbledon Live on FireStick using YouTube TV
If you don't want to stream it for free, then you can watch Wimbledon at all events with either a subscription to YouTube TV, Fubo TV, or Sling TV. They all stream Wimbledon live which means you can watch all of the Wimbledon matches.
I will only be discussing how to watch YouTube TV because it is cheaper than the other two alternatives. Just make sure to use ExpressVPN and connect US server as Youtube TV is only available in this US
Now just follow these steps:
Step 1: Open Firestick Home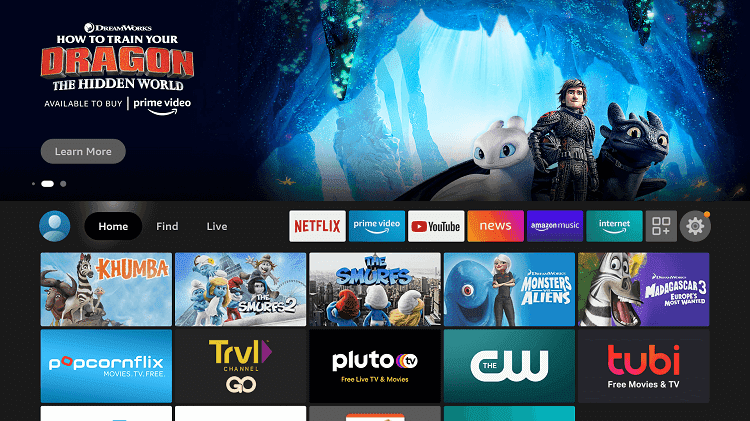 Step 2: Select the Find menu
Step 3: Type 'YouTube TV' and click on the first relevant result that appears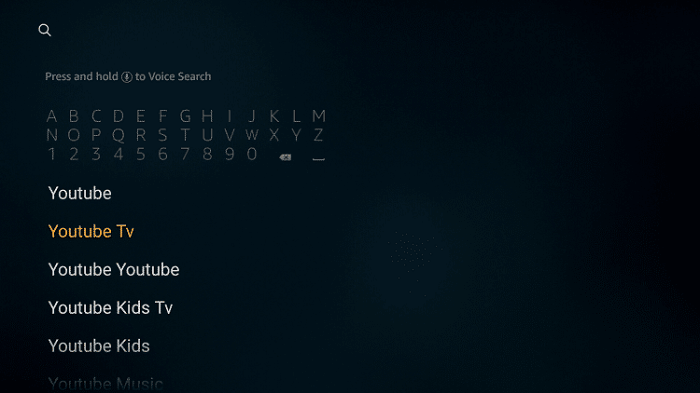 Step 4: Click on the YouTube TV app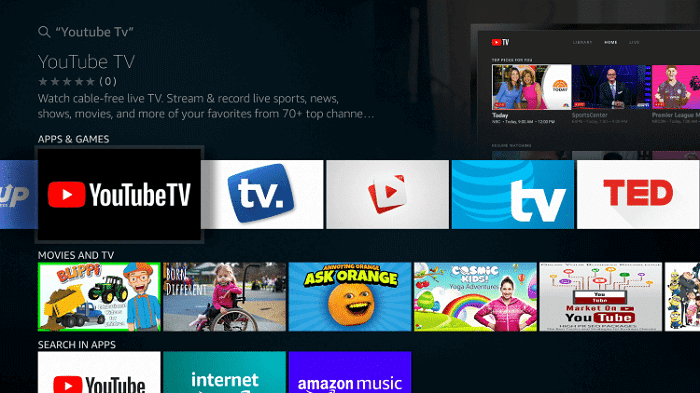 Step 5: Press 'Get' OR 'Download'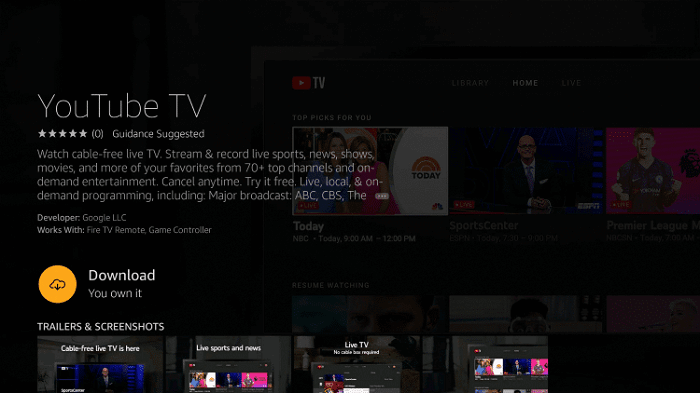 Step 6: Click Open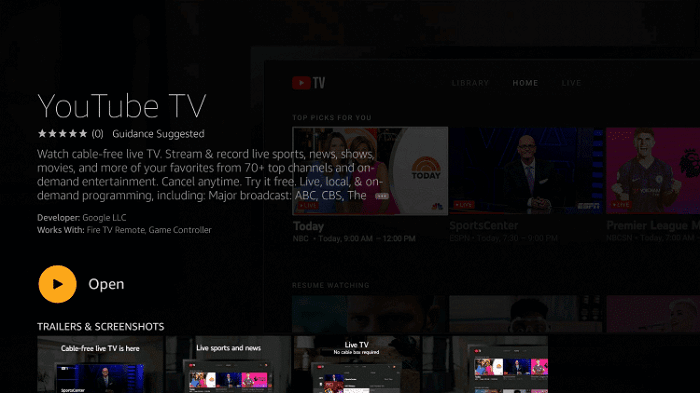 Step 7: Select 'Try it free to get a 5-day free trial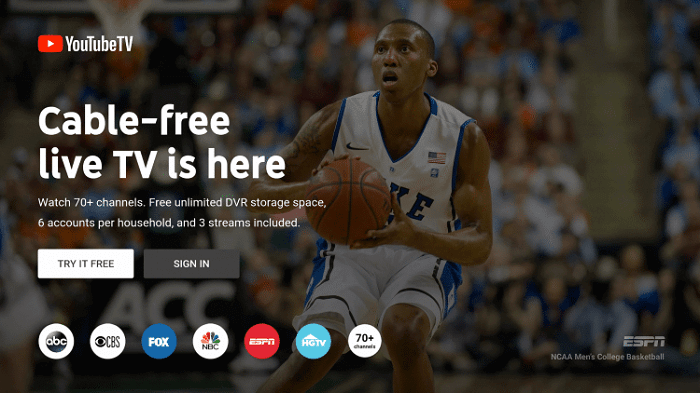 Events of the Wimbledon Championship
The Wimbledon championship has 5 main events, Juniors, and Invitation events that are described as under:
Main Events
The five main events and the number of players (or teams, in the case of doubles) are:
Gentlemen's Singles (128)
Ladies Singles (128)
Gentlemen's Doubles (64)
Ladies Doubles (64)
Mixed Doubles (48)
Junior events
The four junior events and the number of players or teams are:
Boys' Singles (64)
Girls' Singles (64)
Boys' Doubles (32)
Girls' Doubles (32)
No mixed doubles event is held at this level
Invitation events
The seven invitational events and the number of pairs are:
Gentlemen's Invitation Doubles (8 pairs Round Robin)
Ladies Invitation Doubles (8 pairs Round Robin)
Senior Gentlemen's Invitation Doubles (8 pairs Round Robin)
Gentlemen's Wheelchair Singles
Ladies' Wheelchair Singles
Gentlemen's Wheelchair Doubles (4 pairs)
Ladies' Wheelchair Doubles (4 pairs)
Schedule Wimbledon (2023)
Take a look at the matches of Wimbledon 2023 with the date and the schedule of rounds to be played accordingly:
Date
Matches
Mon July 3rd
Men's and Ladies Singles 1st Round
Tue July 4th
Men's and Ladies Singles 1st Round
Wed July 5th
Men's and Ladies Singles 2nd Round
Thu July 6th
Men's and Ladies Singles 2nd Round
Fri July 7th
Men's and Ladies Singles 3rd Round
Sat July 8th
Men's and Ladies Singles 3rd Round
Sun July 9th
Men's and Ladies Singles 3rd Round
Mon July 10th
Men's and Ladies Singles 4th Round
Tues July 11th
1 Men's and 1 Ladies' Singles Quarter-Finals
Wed July 12th
1 Men's and 1 Ladies' Singles Quarter-Finals
Thur July 13th
Ladies' Singles Semi-Finals
Fri July 14th
Men's Singles Semi-Finals
Sat July 15th
Ladies Singles Final
Men's Doubles Final
Ladies Doubles Final
Sun July 16th
Men's Singles Final
Mixed Doubles Final
Alternatives of Wimbledon
There are some other sports including other tennis events that you can watch on your Firestick device. These alternatives are:
FAQs – Wimbledon
How can I watch Wimbledon on FireStick?
Firestick offers plenty of apps to watch Wimbledon on FireStick like Sling TV, HULU, Fubo, Fox Sports, Navixsports, and others. some of them are premium services and some are free.
Which Channel is Wimbledon available on?
Wimbledon is available on the Tennis Channel on USTVGo. You can access this sports website on your FireStick using any browser such as Silk Browser.
Are there free methods to watch Wimbledon?
Yes, both of the methods mentioned in this guide are free. You don't have to sign up or register yourself to use these methods. Just install the particular app or browser and you are good to go.
Are these methods safe?
These methods are safe and legal but since they are free methods, it is recommended to use a VPN to watch free sports, movies, or any other free content on your FireStick to stay protected.
Conclusion
Wimbledon Championship is the most popular and only major event of the grand slam that is still being played on outdoor grass courts.
However, in this guide there are two free methods are discussed, so it is essential to use ExpressVPN to secure your connection and watch Wimbledon on Firestick for free.