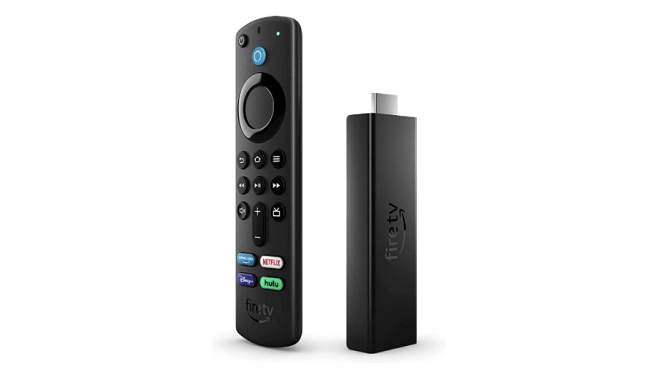 The new FireStick 4K Max has just launched that claims to be 40% faster than the Fire TV Stick 4K with faster app starts and fluid navigation.
It also supports the next-gen Wi-Fi 6 that makes smoother 4K streaming. It gives you access to more than 1 Million Movies & TV episodes and is compatible with HD TVs and 4K UHD TVs.
All of these features make FireStick 4K Max ($54.99) an exclusive choice for your streaming needs. This guide will help give have a thorough FireStick 4K Max review so you can decide if you want to replace your current FireStick version with the new FireStick 4K Max.
FireStick 4K Max Specification and Review
FireStick 4K max comes with some better hardware upgrades with Wifi 6 support and better remote assisted with Alexa voice control which will make huge competition with its competitors like Chromecast and Mi TV Stick.
Following are the specifications discussed in detail:
Price and Availability
Amazon launched its new FireStick 4K Max at a price of $54.99 but if you also need an ethernet adapter then the adapter will cost you $14.24 extra. Compared to the previous version, FireStick 4K with Alexa voice remote is $49.99 which is just $5 less than FireStick 4K Max. 
As we talk about availability, it is not available on the Amazon official store, perhaps like every other product of Amazon this also created hype among the users, so it is out of stock for now. But don't worry, you can wait for the restock or buy from other third-party stores.
Design & Interface
In the design when you compare with FireStick 4K, there is no change. You can observe the same matte-black dongle measuring 4.25 x 1.18 x 0.55 inches, with the same HDMI port to be plugged into the back of the TV.
If you don't have enough space in the back of your TV then, Amazon gives you an extra flexible HDMI adapter that can be used, just like the Google Chromecast.
After connecting the HDMI adapter, you need to connect the power cable because it does not work without a power cable same as any other FireStick device.
The interface has been recently updated with some new features on the home screen. Now it has 3 main rows, 1st, and 3rd rows contain ads from any movies or shows of Amazon Prime, 2nd row contains menu options in which first is Home, alongside is the Find button, and Live is the alternative app button (i.e. Hulu, Youtube TV). After these menu options, you will find the pinned apps.
Performance (Audio & Video)
The main focus of this device was on Performance, which is why they named it FireStick 4K Max, because of its max performance.
It comes with the new Quad-Core 1.8 GHz MT8696 processor and a 750MHz GPU, whereas the previous version had a 1.7GHz processor and 650MHz GPU in the Fire TV Stick.
The new addition of WiFi 6, 802.11a/b/g/n/ac/ax support is here, if you have a WiFi 6 supported router then you can stream with better speed.
With this hardware upgrade, you can now shift through apps more swiftly, and the booting time will be decreased with 2GB ddr4 ram and 8GB of storage.
Remote Control
With the FireStick 4K Max, new 3rd Gen Alexa voice remote comes which is supported by Fire TV Stick Lite, Fire TV Stick (2nd Gen and later), Fire TV Stick 4K, and also works with the Fire TV Cube (1st Gen and later) and Fire TV (3rd Gen, Pendant Design).
This new remote has some changes which are the location of buttons, the addition of some new preset buttons of Netflix, Prime Video, Disney+, and Hulu. It also has dedicated power and volume buttons.
You can also buy the Luna controller with the FireStick 4K Max for cloud gaming, you can get the Luna subscription for $5.99/month. Luna is in early access for now, but you can request access and play your favorite games.
Comparison between FireStick 4K Max and FireStick 4K
Here's a comparison of specifications and performance between the new FireStick 4K Max and the FireStick 4K:
FireStick 4K Max
FireStick 4k
Price

$54.99

$49.99
CPU Model
MediaTek MT8696

MediaTek MT8695

CPU Speed
Quad-Core 1.8 GHz

Quad-Core 1.7 GHz

GPU
IMG PowerVR

GE9215, 750MHz

IMG PowerVR

GE8300, 650MHz

Ram
2GB

1.5GB

Wi-Fi

Wi-Fi 5: 802.11 b/g/n/ac

Wi-Fi 6: 802.11 ax

Wi-Fi 5: 802.11 b/g/n/ac

Ethernet

10/100 External

(Sold Separately)

10/100 External

(Sold Separately)

Internal Storage

8GB

8GB

External Storage
Native Support

Via USB OTG

Unofficial Support

via USB OTG

OS
Fire OS 7

(Android 9)

Fire OS 6

(Android 7.1)

Architecture

32-bit

32-bit

Video Resolution

4K @ 60fps

4K @ 60fps

HDR Types

HDR10,

HDR10+,

HLG,

Dolby Vision

HDR10,

HDR10+,

HLG,

Dolby Vision

Video Decoding

H.265 (HEVC),

H.264 (AVC),

VP9,

VP8,

MPEG-4,

MPEG-2

AV1

H.265 (HEVC),

H.264 (AVC),

VP9,

VP8,

MPEG-4,

MPEG-2

Audio Decoding

Stereo,

PCM,

Dolby Digital,

Dolby Digital Plus,

Dolby Atmos

Stereo,

PCM,

Dolby Digital,

Dolby Digital Plus,

Dolby Atmos

Remote
3rd-Gen Alexa Voice Remote

2nd-Gen Alexa Voice Remote

Basic Remote Buttons

Voice, D-Pad, Select, Home, Back, Menu, Play/Pause, RWD, FFWD

Voice, D-Pad, Select, Home, Back, Menu, Play/Pause, RWD, FFWD

Device Control Buttons

Power,

Volume Up,

Volume Down,

Mute

Power,

Volume Up,

Volume Down,

Mute

Extra Remote Buttons
Channel Guide,

App Shortcut (4)

–
Best Apps on FireStick 4K Max
Amazon updated the interface and the OS (Operating System) to Fire OS 7 (Android 9), it has come with some new apps on FireStick 4K Max
1. Free Movie Apps on FireStick 4K Max 
Free Movie Apps are downloaded with APK, with the help of third-party apps. Following are some of the best Free Movies Apps on FireStick 4K Max:
2. Free Sports Apps on FireStick 4K Max
You can search for the free sports app with the Find button on the home screen, but if you don't find any app then you need a third-party downloader app.
3. Live TV on FireStick 4K Max
With the extra Live TV option in FireStick 4K Max, you can watch live broadcasts, and for third-party applications, you can try:
4. ExpressVPN
In order to watch Free Movies, Sports, Live TV, you need to use a VPN, to ensure the safety of your data privacy and to bypass the geo-restrictions on the apps.
We recommend using ExpressVPN for smooth streaming. In modern times no one's data is secure without the VPN, because of so many trackers and malware on almost every website and apps.
Read more: How to Install and use ExpressVPN on FireStick
5. Real Debrid
Real Debrid is another streaming service that you can use to watch your favorite movies or shows. You can also buy its premium subscription for streaming with no restrictions, whereas in the free account there is a time limit i.e. 5 am to 11 am GMT.
6. Kodi
Kodi is a very famous media player, where you can listen to music, watch movies, enjoy your favorite TV shows, share photos on a bigger screen, watch and record live TV with PVR, and you can also play games using the emulator service.
Just like other free streaming apps, Kodi is also another free streaming app that you can enjoy with a VPN to ensure your safety too.
7. ES File Explorer
ES File Explorer is a great tool for the management of files and programs. It also offers some other features like killing running applications, direct cloud drive storage (via Dropbox, Google Drive, or Skydrive). You can use it on both of your devices i.e. Mobile and FireStick.
You can also share media, decompress ZIP or RAR files, access different types of document files documents with various extensions, even access the content on your computer.
FireStick 4K Max Tips, Tricks, & Hacks
Once you've bought FireStick 4K Max then here are some of the tricks, tips, and hacks you can perform to make the experience better for you and to unlock some new things.
1. Install Custom Launcher
You can install a custom launcher to avoid ads and get a clean and faster home screen, disable the amazon screensaver to avoid cache of imaged filling space, install sd maid to keep it clean.
New home screen with the newest Firestick Update. Green is apps and UI elements, red is ads.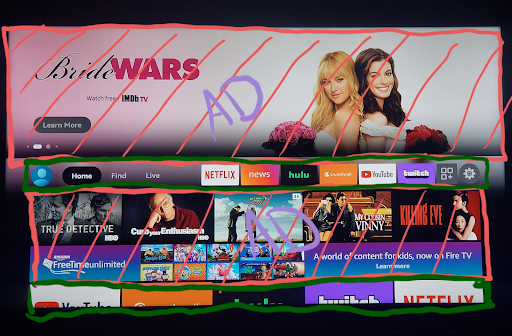 2. Hardwired Network Connection
Using a hardwired network connection will eliminate any Wi-Fi signal problem you might have and will make the streaming experience smoother.
If you do decide to hardwire your 4K Firestick, then you will want to look at the Ethernet->USB adapters that are Gigabit to USB3 adapters; unfortunately, this does NOT currently include the Amazon Ethernet Adapter for Amazon Fire devices as it is only 100Mb Ethernet/USB2 and will probably top out at 90Mbps.
The Gigabit to USB3 adapters can go up to 480Mbps, which is the limit of the USB2 port on the 4K Firesticks.
3. Disable Animations
By disabling animations, the speed of your firestick 4K max will be increased further, and reduce the load and power consumption. Follow the steps to disable the animation:
Step 1: In the Main Menu click on the settings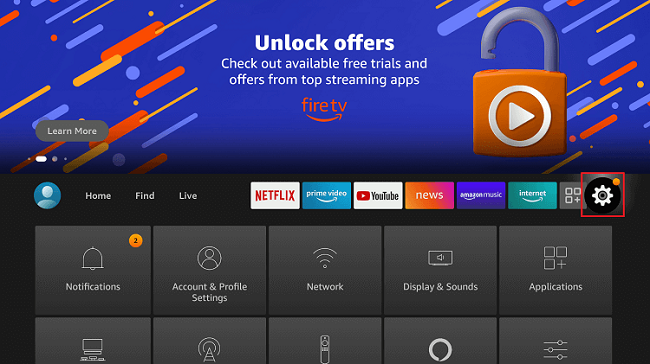 Step 2: Click on My Fire TV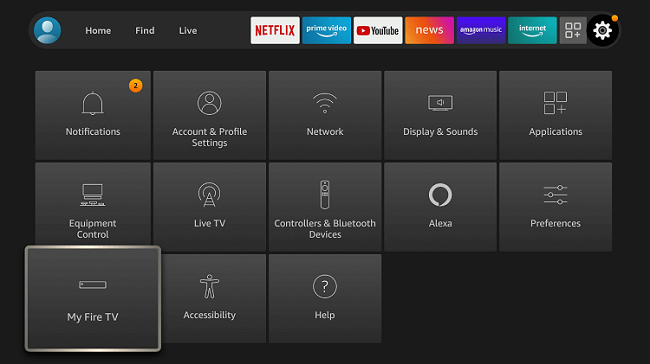 Step 3: Select Developer Options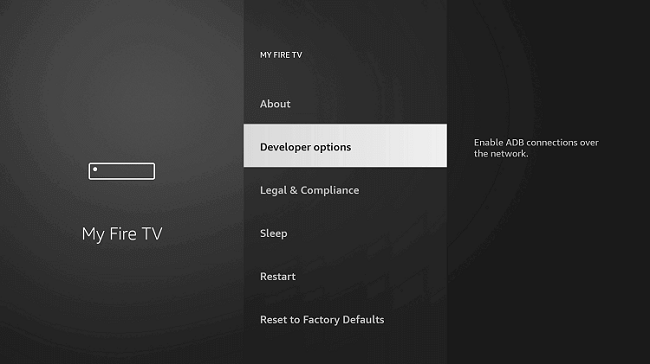 Step 4: Choose Apps from Unknown Sources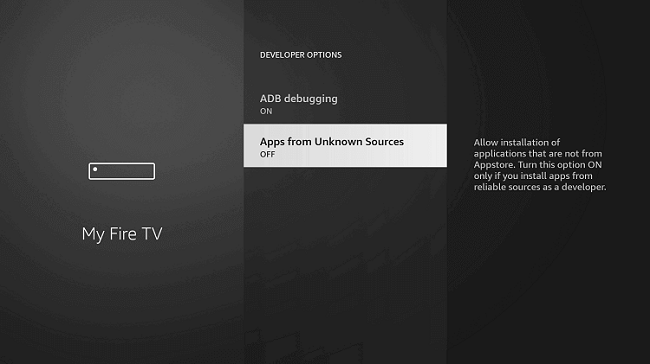 Step 5: Click Turn On to allow the apps from Unknown sources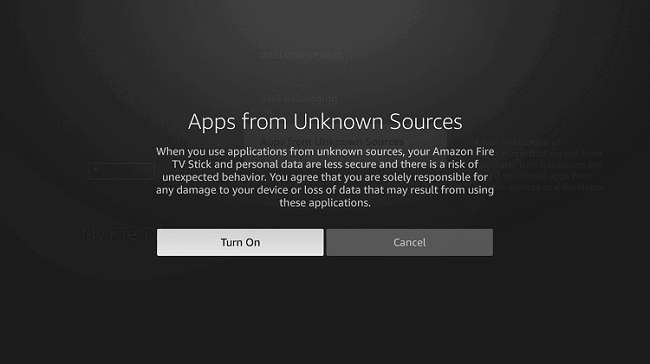 Step 6: Now if you want to confirm your IP address, then go to About and Network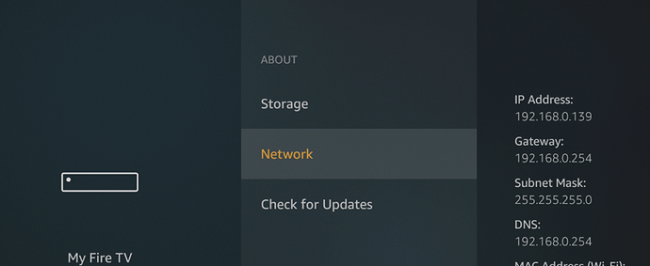 Step 7: Install TDUK Speed toolbox

Step 8: Now set the Transition Animation scale to 0.0, Window Animation scale to 0.0, and Animator Animation Scale to 0.2
Note: If you set Animator Animation to 0 then your virtual mouse will start jumping from corner to corner.
4. Debloat
There are so many services that are running in the background that you have no idea of, which consume RAM and CPU.
By using Debloat you can turn them Off and save some more RAM and CPU power which will simultaneously increase the speed of your FireStick 4K Max. If any app breaks or crashes continuously then you can just go back in the toolbox and enable it again.
To use Debloat, follow the following steps, 
Enable installation from

Unknown Sources

Ensure that

ADB debugging

is enabled.

Use Downloader app to install

Debloat toolbox

Open the Debloat Application

Tick "Always allow from this computer" and click

OK

Debloat will scan and show the list of things that are enabled (unticked) or disabled (ticked)

Now you can select which app to Enabled or Disabled, you can Disabled all by clicking on the box at the top and click on the Play button to apply the changes
NOTE: To make sure Prime Video works fine, do NOT tick these 5 processes
package:com.amazon.device.messaging
package:com.amazon.device.messaging.sdk.internal.library
package:com.amazon.device.messaging.sdk.library
package:com.amazon.firebat
package:com.amazon.avod                                
5. Sideload FireStick 4K Max
Sideloading your FireStick 4K Max will enable you to download any third-party application and enjoy free streaming. You must be thinking that is it legal or safe to sideload FireStick, well yes, it is safe and completely legal for you to sideload it.
Amazon by default disabled the downloads from any Unknown source, which means if you try to download any third-party app it will fail the download. So, to download them you need to sideload your FireStick 4K max.
Follow the below steps to Sideload FireStick 4K max:
Step 1: If you are following the article from the top, then you probably already enabled installation from unknown sources, if not then scroll up and follow along.
Step 2: After enabling Installation from Unknown Sources, go to Settings and Preferences
Step 3: Go to Privacy settings
Step 4: Click Collect App Usage Data
Step 5: It will ask for your permission to turn it Off, confirm by clicking on Turn Off
Step 6: After App usage, select Device Usage Data 
Step 7: Again click on Turn Off
Step 8: Now get back to Preferences and select Data monitoring
Step 9: Click on Data monitoring to Turn Off
Following is the list of Extra things you can do on FireStick 4K Max:
You can attach an external drive to extend the storage

Buy a Bluetooth mouse for easy navigation around the screen

Buy a Bluetooth keyboard for easy typing

You can get a FireStick Remote skin wallpaper
Conclusion
FireStick 4K Max is the latest streaming stick introduced by Amazon and that claims to work 40% faster than the FireStick 4K. There might not be a very big difference between FireStick 4K max and FireStick 4K in price, but you can get better features in the Max, such as Wi-Fi 6 support, better CPU, more RAM, expandable storage, and 3rd Gen Alexa voice remote.
If you Sideload your device, then you can also enjoy free streaming with third-party applications and make sure that you use a VPN while free streaming or downloading any third-party app. ExpressVPN is our tested recommended VPN for the safety of your online data privacy.