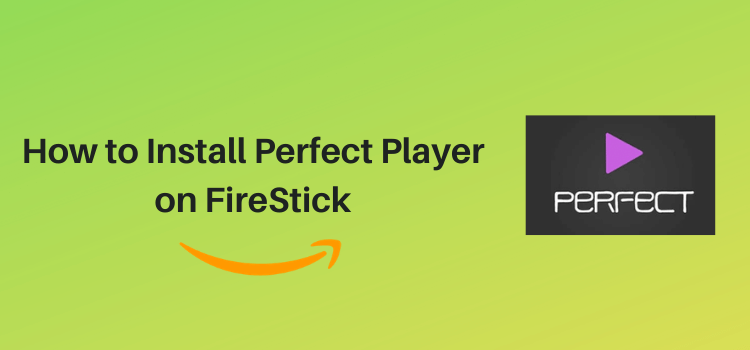 This is a step-by-step guide on how to install and use Perfect Player on FireStick, Fire TV, and FireStick 4K.
Perfect Player is a video player that allows you to stream anything including the latest movies, TV shows, live streams, and much more, in every format you want.
Perfect Player is an IPTV player, not an IPTV service provider. That means you have to buy a subscription from an IPTV provider to stream video content with the help of Perfect Player.
Your IPTV provider will give you the URLs of channels. You can stream any channel or content by entering those URLs in the app and you will be good to go.
Before proceeding, read this…
Using a streaming app without a VPN connection might get risky. It can lead you to legal troubles by exposing your IP address.
This is why a VPN is always recommended. It hides your IP address and enables you to access geo-restricted content too, without any trouble. We highly recommend using Surfshark VPN.
How to Install Perfect Player on FireStick
Perfect Player is not available on the official Amazon App Store so you have to sideload it using the Downloader app. Also, make sure to install and Use Surfshark VPN on FireStick before start streaming with Perfect Player.
Follow these steps:
Step 1: Click on the Settings option from the home screen of FireStick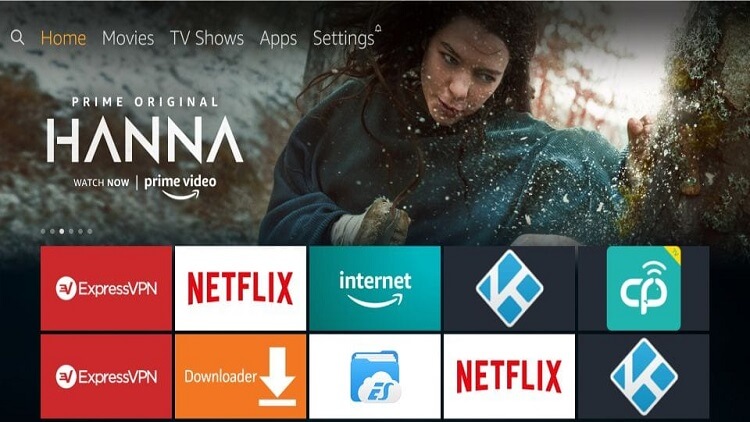 Step 2: Click on My Fire TV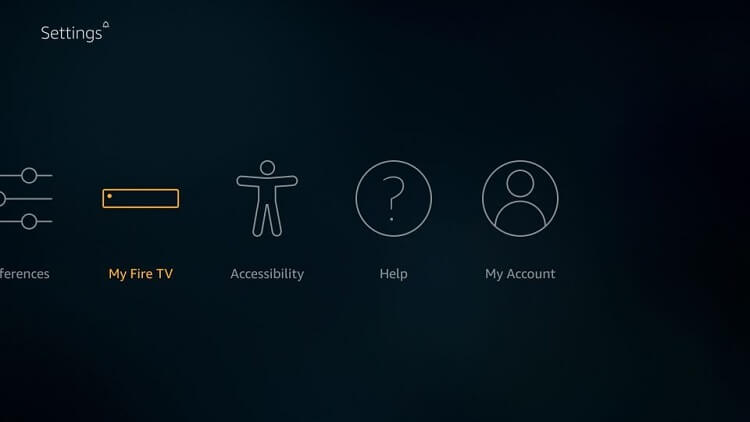 Step 3: Choose the Developer options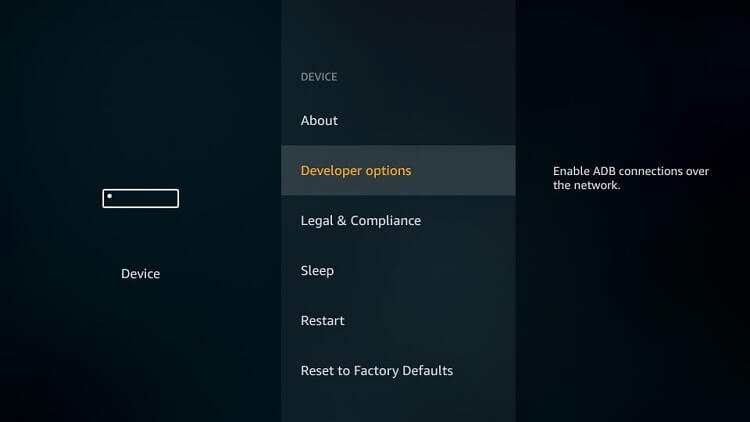 Step 4: Select the option Apps from Unknown Sources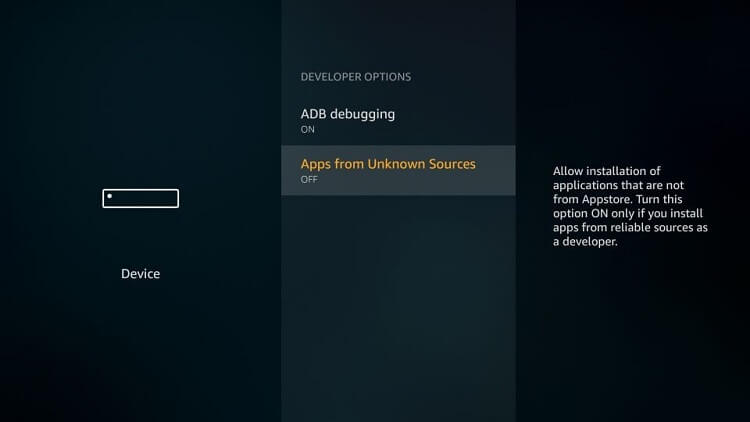 Step 5: Now click Turn On tab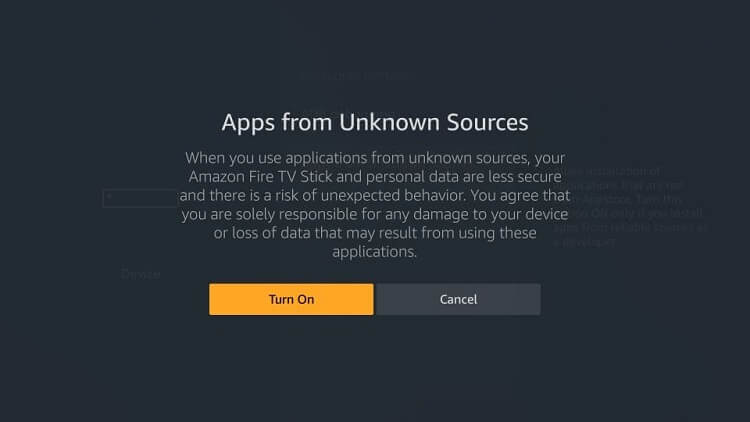 Step 6: Return to the home screen again and click the Search icon from the top left corner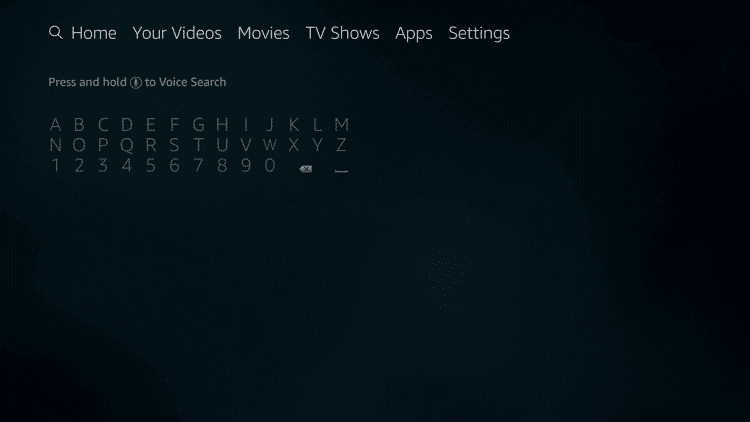 Step 7: Search for Downloader and click the relevant search results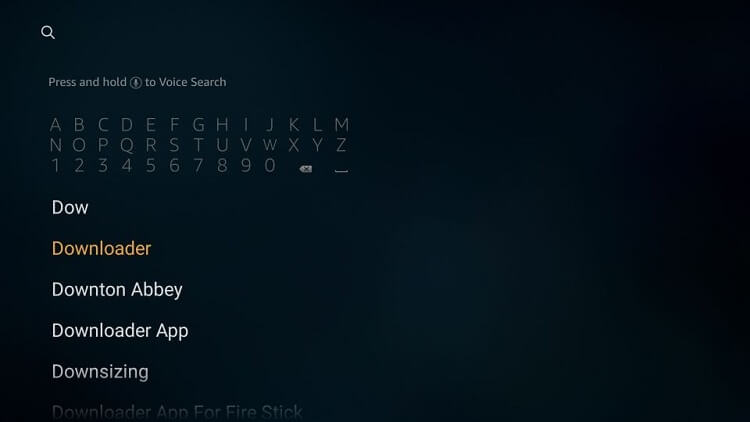 Step 8: Launch Downloader on your FireStick and click Allow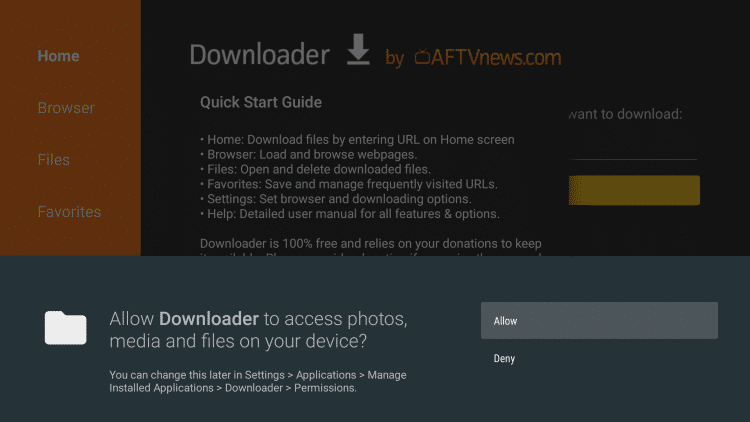 Step 9:  Click the URL bar on the screen and enter the URL bit.ly/perfect-playerapk and click Go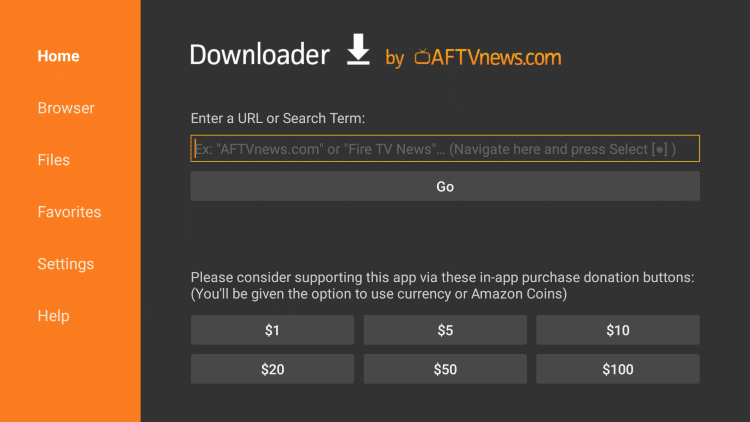 Step 10: Wait for the app to be downloaded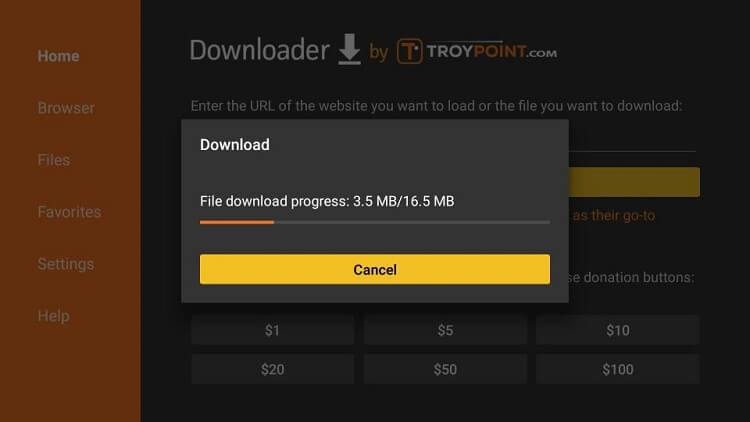 Step 11: Click Install once the app is downloaded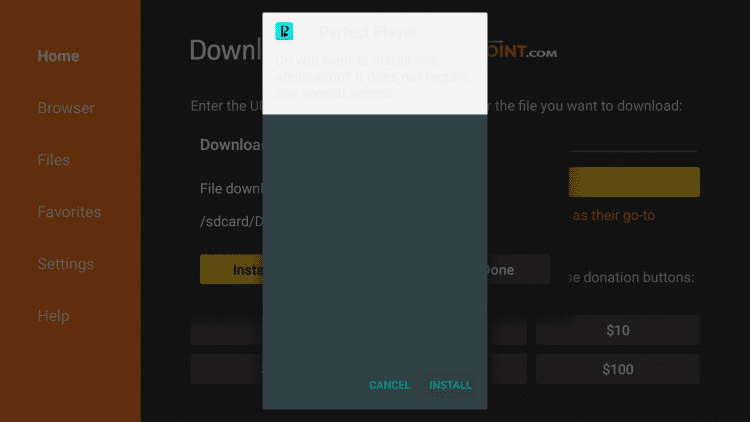 Step 12: The app will be installed in a couple of minutes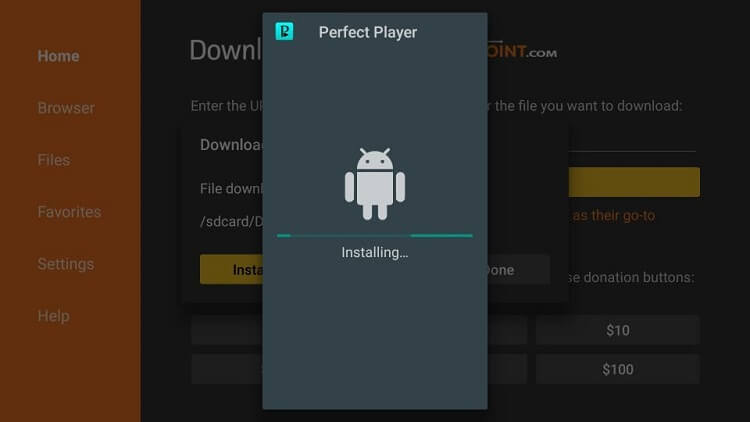 Step 13: Now click Done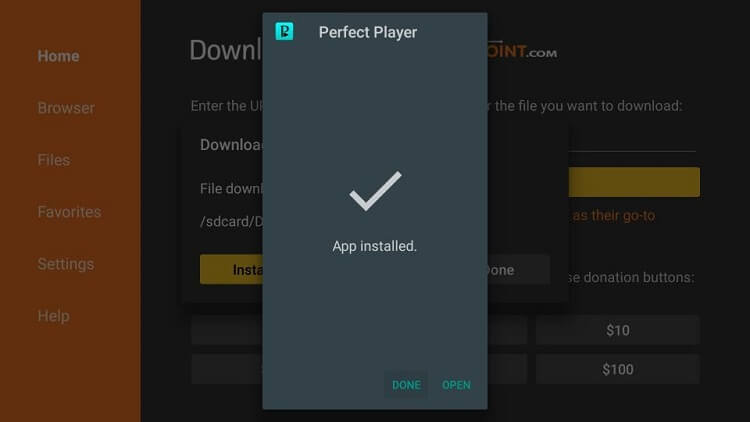 Step 14: Click Delete to delete the APK file as there is no longer a need for it
Step 15: Hit the Delete button again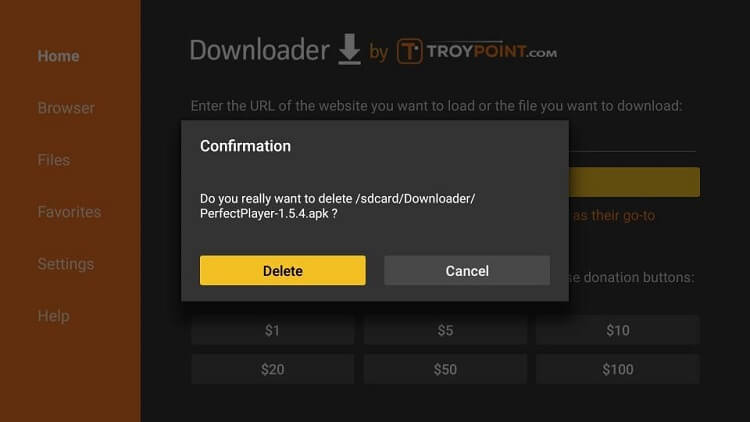 Congratulations, you have successfully installed Perfect Player on FireStick.
How to Access Perfect Player on FireStick
Follow these steps to access Perfect Player once it is installed on your FireStick:
Step 1: Go to the home screen of your FireStick and click the Perfect Player icon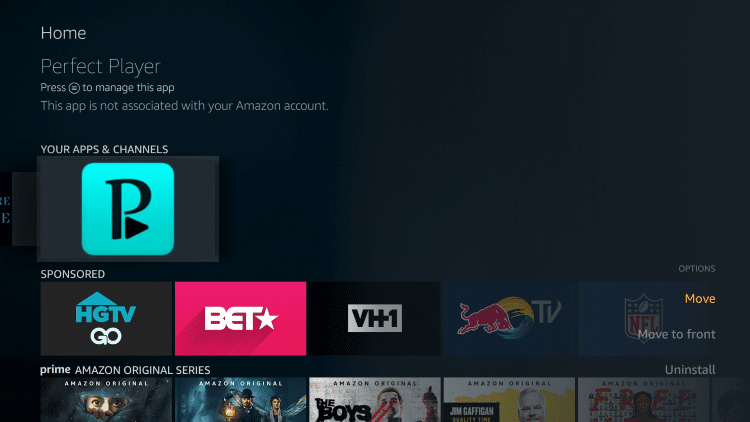 Step 2: If you have more than 20 apps installed, you might not find the icon. Click See All in this case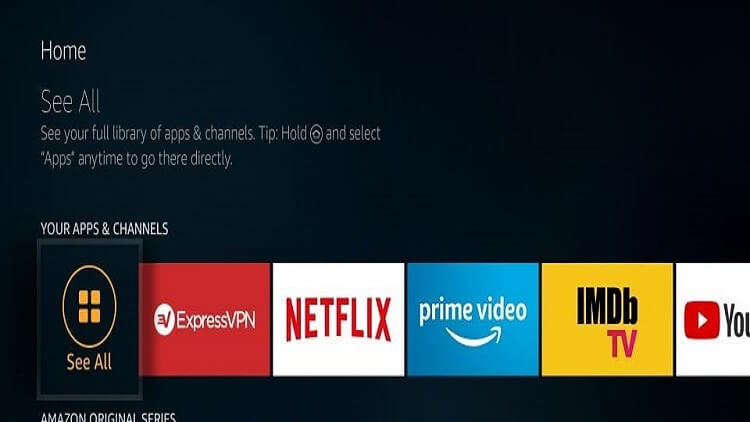 Step 3: Click the app's icon now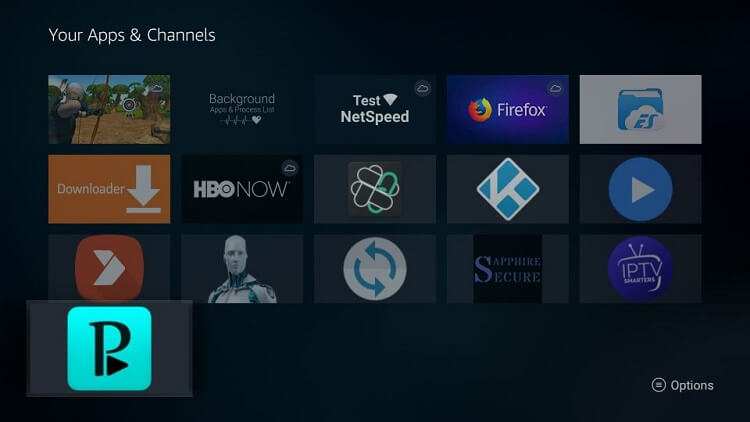 Step 4: Click Move to bring the app to your main menu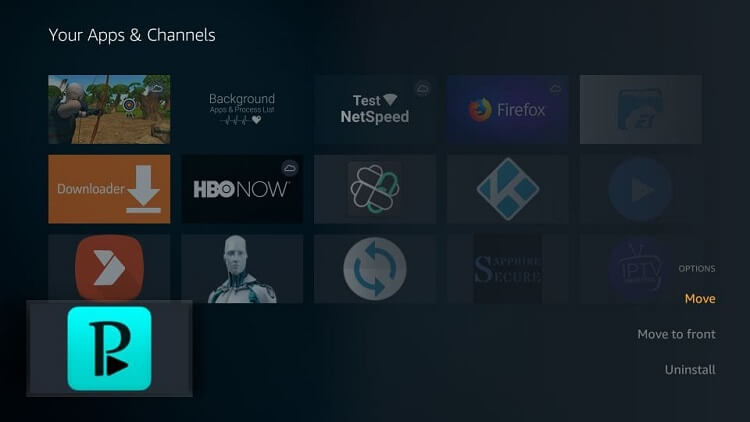 How to Set Up and Use Perfect Player on FireStick
The next step after installation and accessing the app is to set up and use it. We have discussed the setup process in detail to help you out in case you are facing any trouble.
Now follow these steps to set up Perfect Player on the FireStick device:
Step 1: Launch Perfect Player of your FireStick and click the Settings icon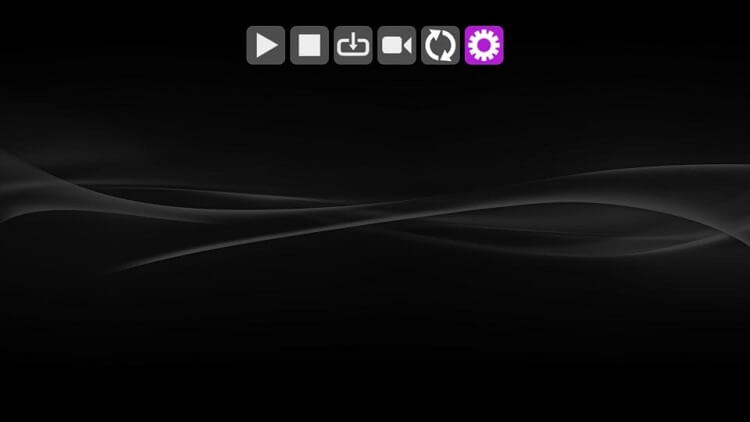 Step 2: Click the option General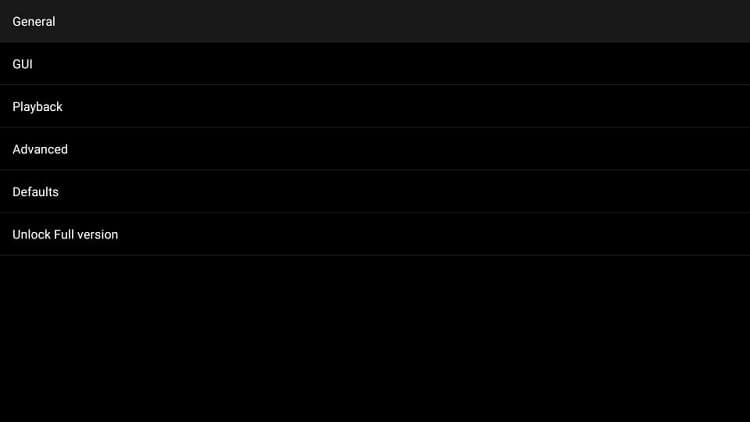 Step 3: Now click the Playlist option
Step 4: Enter the M3U URL that you have received via registration email and click Next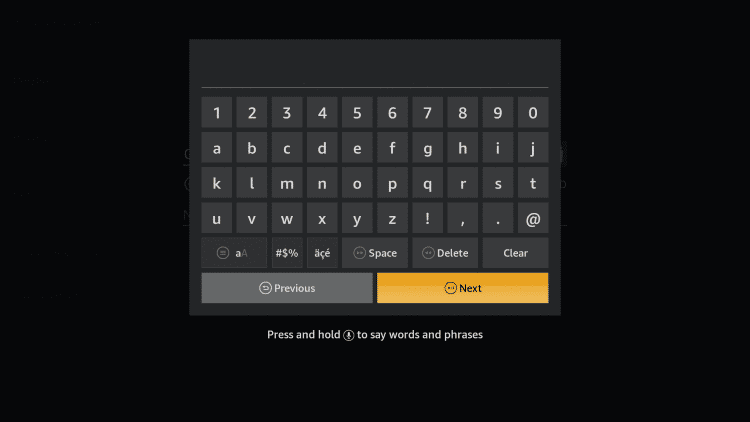 Step 5: Make sure you have selected the M3U file format. Then click OK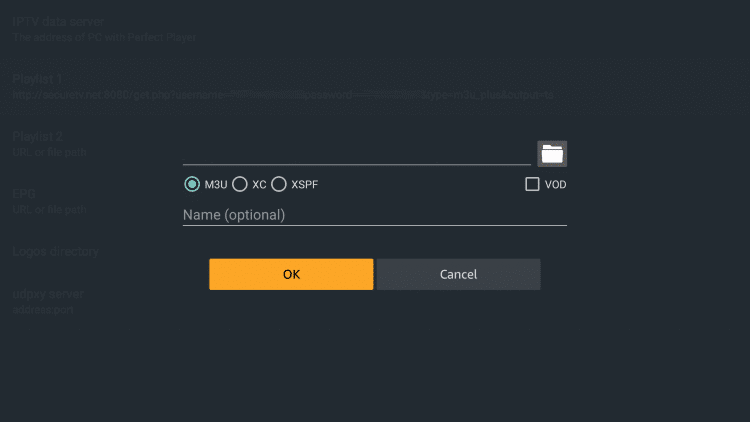 Step 6: The M3U URL you just added will be displayed under your playlist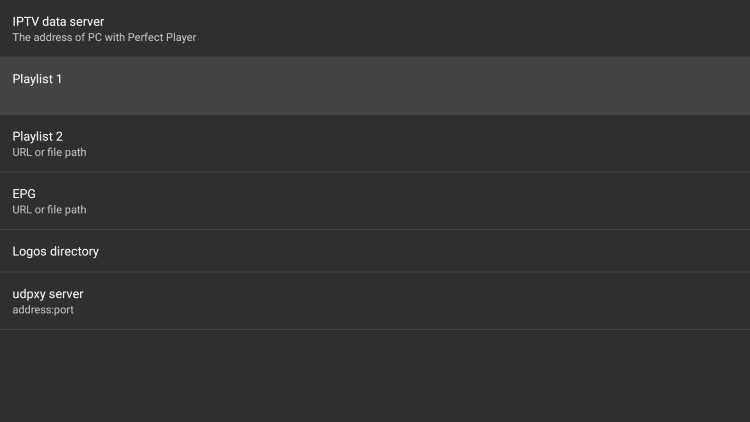 Step 7: Now scroll down and click the EPG option from the menu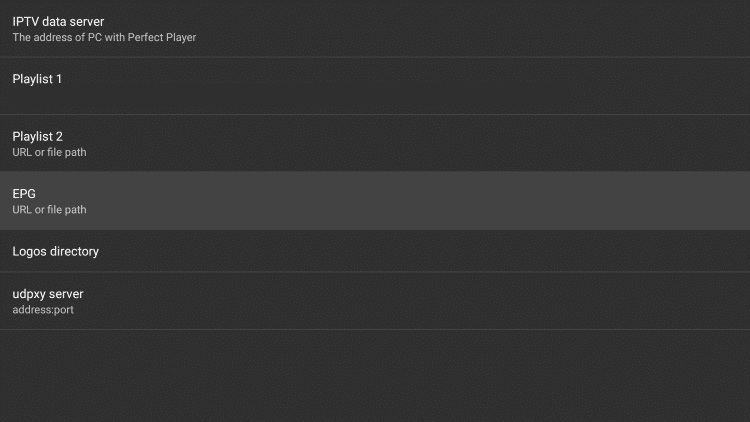 Step 8: Enter your EPG M3U URL received through email and click Next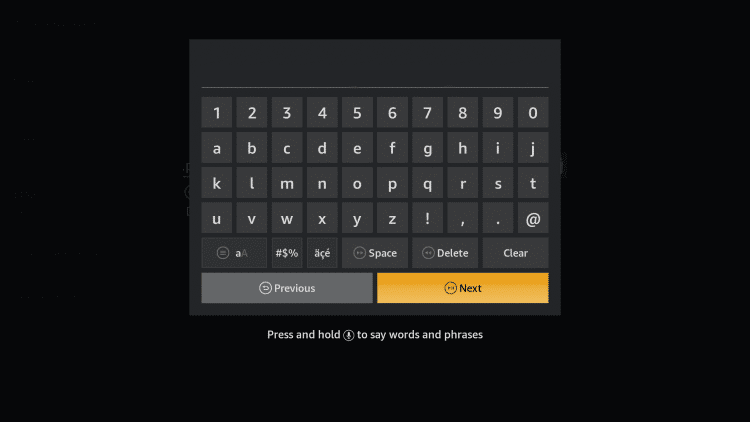 Step 9: Select the XMLTV file format and click GO
Step 10: Same as the previous one, this URL will also be added to your playlist and displayed on the screen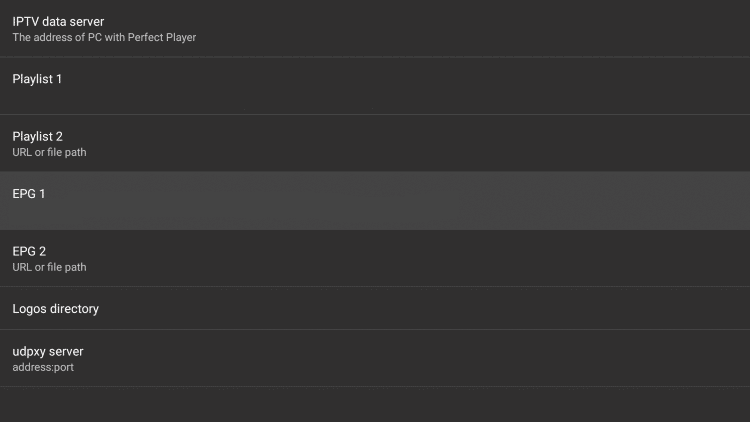 Step 11: The pop-up saying Playlist update started will appear going back several times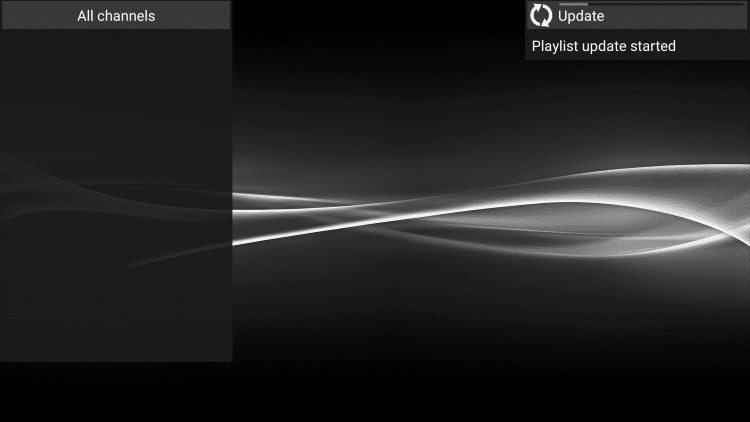 Step 12: Finally, all the channels are updated on Perfect Player. Click All Channels options to access them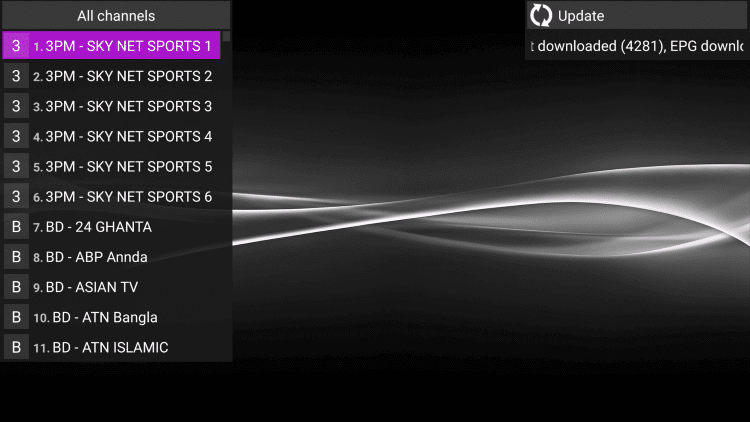 Step 13: If you want to change the channel category, click the right or left button of your Firestick remote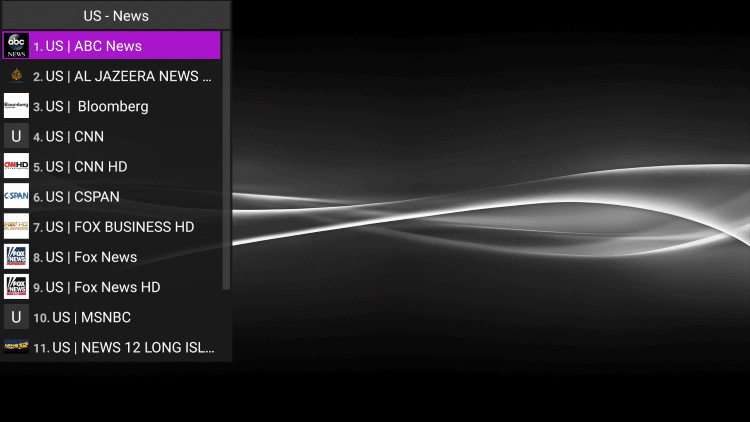 Step 14: Press the Options button on your remote or long-press the OK button. This pop-up will appear. Click the option Show EPG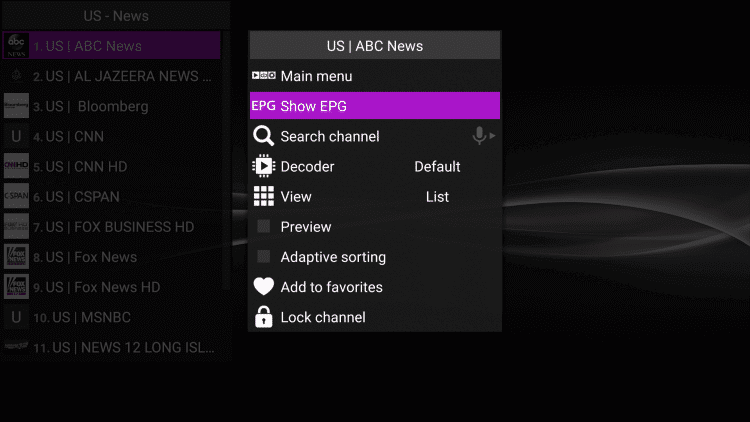 Step 15: You are now able to stream any channel
How to Add Channels to Favorites on Perfect Player
You can add your favorite channel on Perfect Player to favorites to access them anytime without any hassle. Follow the below-mentioned steps to add channels to favorites on Perfect Player.
Step 1: Open Perfect player and select the channel that you want to add to your favorites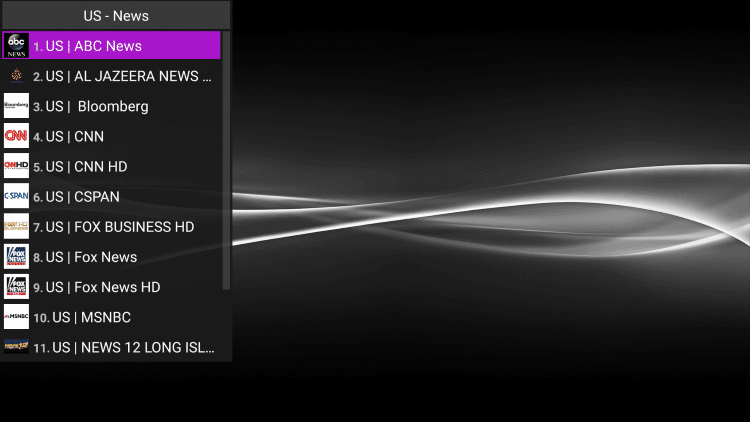 Step 2: Click the Options button on the remote and select Add to favorites from the menu that appeared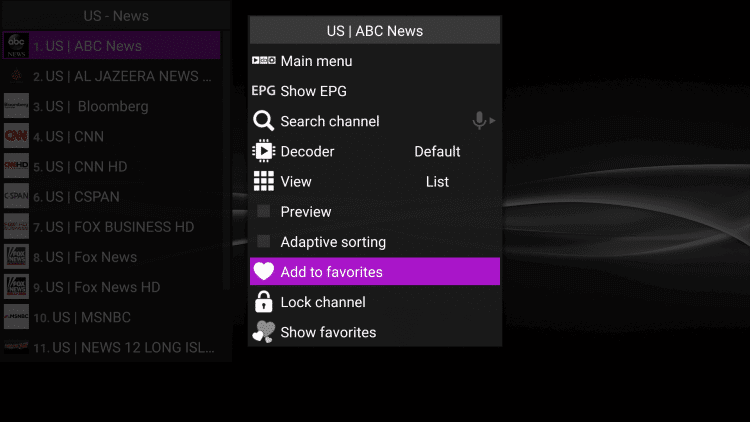 Step 3: Repeat the process and click the Show favorites option this time to view your favorites channel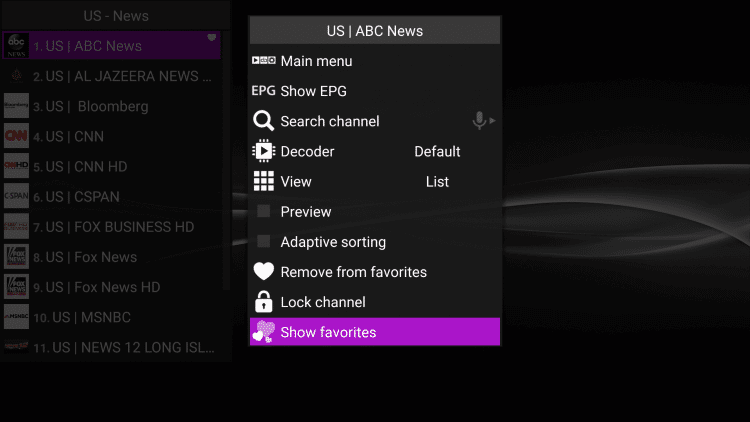 Step 4: The favorites channel will appear on the screen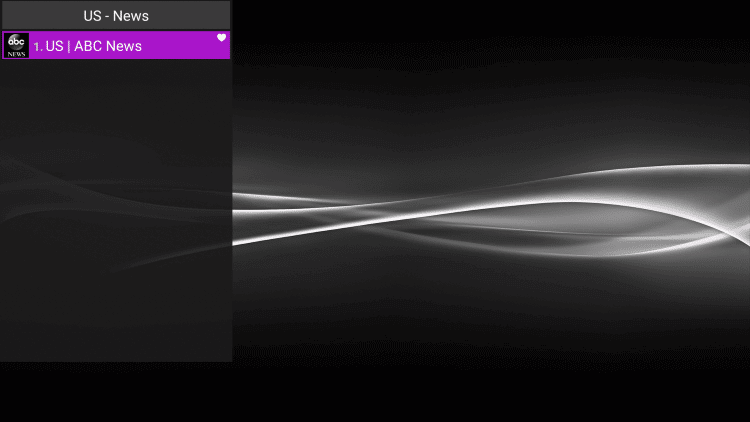 Step 5: You can remove the channel from the favorites list by clicking the Remove favorites option from the same menu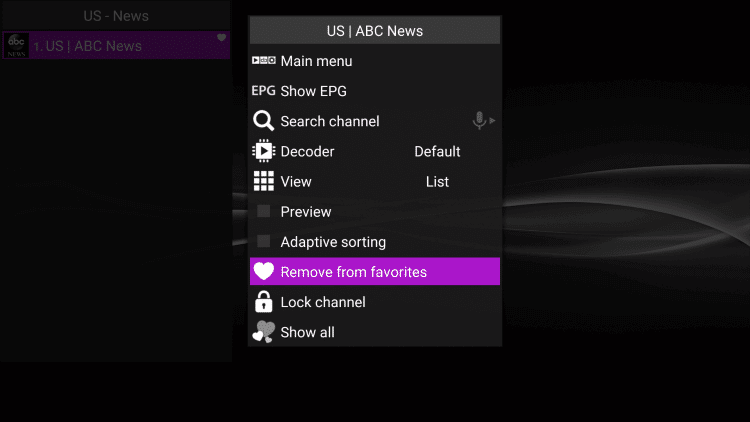 Perfect Player Features
Perfect Player is one of the best IPTV players you can have. It is compatible with all the IPTV providers and you can use it with any of the IPTV subscriptions.
That means Perfect Player is not a free platform and you should have a subscription to use it. You can create multiple playlists on the app and access your desired content conveniently.
The app is highly user-friendly and has a really simple interface. Moreover, it is lightweight and works well on any device including Amazon FireStick. The navigation is so smooth and the clutter-free design makes it super easy to use.
The app allows you to stream videos on your USB or SD card too. You can save the channels to favorites and watch offline videos. Perfect Player supports UDP to HTTP servers.
Perfect Player Alternatives
If you're not satisfied with the features Perfect Player has to offer, you may install other media players hat works with FireStick streaming apps and IPTV service providers:
FAQs – Perfect Player
What is the Perfect Player?
Perfect Player is a video player that allows you to stream a variety of content on your FireStick device. You should have an IPTV subscription to use the app for free. The app itself is free and doesn't cost anything.
How to set up the Perfect Player?
The method to set up Perfect Player is discussed in detail in this guide with screenshots. You can follow those steps and set up Perfect Player. The process is quite easy and doesn't require much effort.
Is Perfect Player safe and legal?
Yes, Perfect Player is safe is legal until and unless you are streaming the safe content. If you are more concerned about your privacy, use a VPN. It will protect your identity and makes your connection secure. Surfshark is our top choice.
Conclusion
Perfect Player is an easy-to-use app that gives you access to loads of content. You have to buy any IPTV subscription to use Perfect Player. Since the app is not available on the Amazon app store, you have to sideload it.
The process to install, access, use, and set up Perfect Player is discussed in detail in this guide. I hope all the information is good enough to guide you and answer all your queries.
Using a VPN is always recommended to maintain your privacy while streaming anything. VPN will hide your IP and assign you a new IP. This will protect you from potential security threats. Surfshark is our recommended VPN.