As technology is dominating the world, we are rushing forward from simple mobile phones to smartphones, from the old-fashioned simple camera to the latest DSLR and from the backdated fire stick (a poker used to arrange coals in a fire) to the latest smart fire stick. Yes you guessed it right ! It's about the Amazon Fire Stick! And this piece of writing is going to take you to the journey of the ways in which you can restart Firestick, so let us start the journey with a U-turn and have a look on what actually Amazon fire stick is.




What is Amazon Fire TV Stick
Amazon Fire TV stick is a small device with a size of a flash drive that plugs into a TV's HDMI port. The Fire Stick enables any TV to stream content over WiFi such as Netflix,YouTube, Hulu, Pandora, HBO GO, and much more . A remote control is included that works with buttons or voice commands. New versions now included Alexa Virtual Assistant that can turn any TV into a Smart TV by simply plugging it into a HDMI video port.
Who should use the Amazon Fire TV Stick
If you are a diehard fan of TV shows and movies that help you to unleash your streaming desires, you should consider using Amazon Fire TV stick. This is because you can use the device after connecting it to your TV's HDMI port anytime.
Which streaming services are compatible with Amazon Fire TV Stick




Fortunately, you can watch various TV shows, movies, documentaries and much more on Amazon Fire TV Stick through different streaming services. These streaming services are compatible with Fire TV stick and offer list of attractive video content features to the users. These services are Netflix, YouTube, Amazon Prime Video, Kodi and others.
What are the different versions of Fire TV Stick
Introduced in 2014 the Fire Stick is in competition with Google Chromecast, and Roku. Amazon's Fire Stick, Chromecast, and Roku, are a new breed of electronics called Streaming TV Sticks that stream movies and TV shows from online sources. There are two versions of the Fire Stick with the new version introduced in October 2016. The newest version included updated hardware along with the virtual assistant Alexa.
A Fire Stick is plugged into a HDMI port on a TV.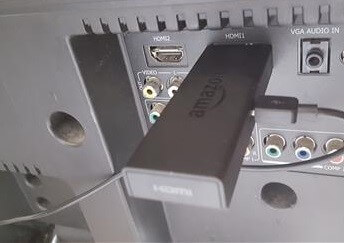 It also needs power which is supplied by a USB connector or alternatively an AC power supply. After it is powered on and the TV set to the correct HDMI input a WiFi connection is set up to a router.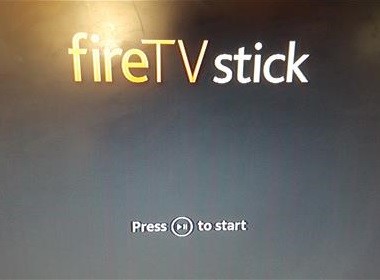 The setup is easy with an on screen guide. Once a WiFi connection is made , videos are ready to be streamed to your TV. It includes all the popular online streaming sites such as Netflix, Hulu, Amazon Instant Video, HBO Go and more.
Now let us take the straight road to the ways of restarting or rebooting the Amazon fire stick. In order to restart & reboot Amazon Fire Stick, you can use either the Fire TV remote or the app (Android, iOS). Through our guide, we will let you know how you can restart Fire TV stick using the remote to reboot or restart the USB stick.
Why Should I Need to Reboot the Fire TV Stick
You would primarily need to reboot or reset the Fire TV stick because of the following reasons.
Wi-Fi does not work properly or buttons on your remote do not work efficiently
Your TV stick has become slow with the passage of time
The apps are loaded slowly or crashed on a regular basis
The disk space has been completed because of cached data of the installed appsHowever; you should also note that the device would be completely wiped off when you reset the Fire stick to factory defaults. It is advisable to reboot the device first unless you are sure.
How to Reboot Amazon Fire Stick
The rebooting process of Amazon Fire TV stick is simple and does not any rocket science. Here is how you can do to achieve your objective.
Go to settings, and select "Device"

Choose the option "Reboot"

Confirm, "Restart" and proceed with the reboot process.
Here are the screenshots below: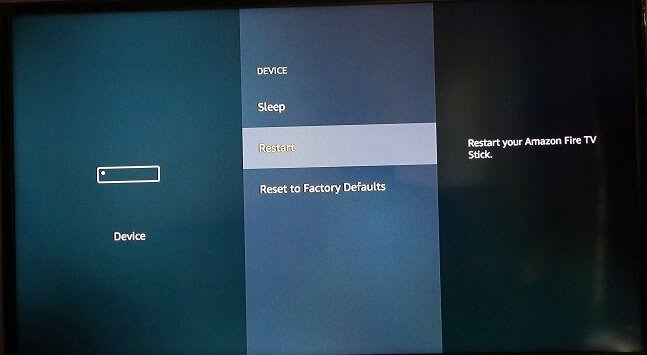 If the restart process does not help in resolving the problem, you may proceed with the resetting steps.
How to reset the Amazon Fire TV Stick
The Amazon Fire TV stick does not provide a physical reset button. You will have to reset the Amazon Fire TV stick using the remote. There are two ways to reset the Amazon Fire TV stick easily. One is using a key combination and the other is through the menu system. Here are the steps you can follow, these are:
Method 1:  Press and hold the "Back button" and the "Right button" on the Fire TV remote. This will trigger the reset menu where you can proceed with the onscreen instructions.
Method 2: From the home screen, go to the "Settings" menu and select "Device". Select "Reset to Factory defaults" and select "Reset". The process takes a couple of minutes to complete.
Once you have completed the resetting process, you can start over from scratch.
There are no physical buttons on the device or on the remote to turn off or shut down the device. The only option is to select "Sleep" from the device menu, once you are under "Settings". You can press any key on the remote to wake up the device. Here is a screenshot below: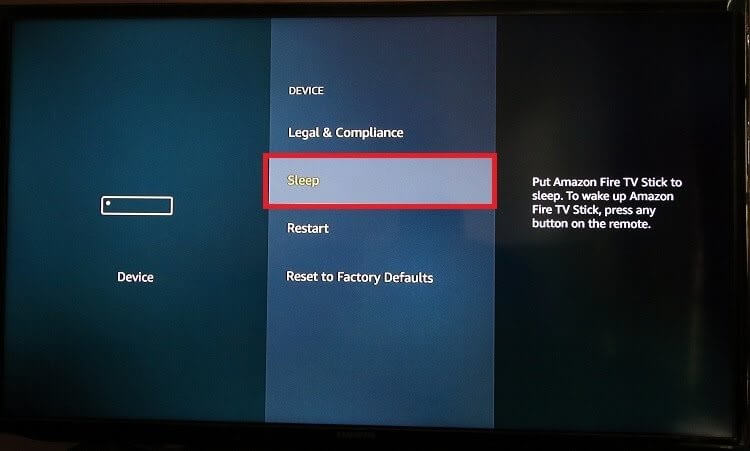 Final Thoughts
We expect you would have liked our guide on how to restart a Fire TV stick to the next level.  The Amazon Fire TV stick is a smart way that allows you to watch your favorite video content be it movies, TV shows, and others straightaway. Through the instructions provided above, you can restart your Amazon Fire TV stick in no time and unleash your streaming desires to new heights.