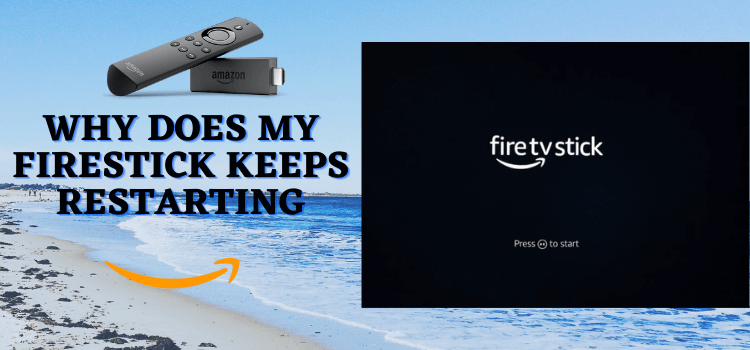 This is the step-by-step guide on the basic problem of Firestick Keeps Restarting again & again.
Fire TV Stick is a popular streaming device that does not malfunction so often or without any reason, but the basic issues may cause in which restarting is the most common issue.
When your Fire TV Stick keeps restarting again and again it is very disturbing and annoying during streaming any program.
There may be several issues for this common problem that we will be discussing to solve restarting problem.
How to Solve Restarting Problem on Firestick
Whenever FireStick cause any problem some might technical and some might basic. The problems like Firestick keeps restarting again and again, are the most common problem that could be troubleshot with some basic Tips & Tricks.
There are several ways that can be used to resolve this problem. You should try each of them until your restarting problem is solved.
1. Plug Into the Right Power Adapter
Whenever your Firestick is restarting rapidly first thing you must check is your power adaptor. Your Firestick device may be plugged into a power adapter that came with another device — sometimes it works just fine and sometimes not.
If your Firestick is plugIn to any other adaptor then it is needed to be plugged into the power adapter that came with your Fire TV device. Switch to that and see if the problem goes away.
2. Use the USB cable that came with the Fire TV Stick
The USB cable is the most common and almost identical hardware that is to be connected to any device, it can be switched. If the cables of the Firestick are swapped out, replace the original USB cable that came with the Fire TV Stick. See if that resolved the issue.
3. Restart your Amazon Fire TV Stick
Rebooting is the solution to many minor issues to any device it will resolve the basic problem and gives you back your device. Sometimes "rebooting" the device will reset all the In-process apps and malfunction and get you a total refreshed device.
Unplug your Fire TV Stick and leave it completely powered off for two minutes. Then plug it back in and see if that solved your problem.
Read more: How to Restart Amazon FireStick
4. Updating the Fire TV Stick to the latest software
Updating the device is very important as these streaming devices keep updating their software for a better streaming experience for the user.
If your device is not updated it may cause several glitches in which restarting is the most common one, you must check the update for your FireStick device.
To update the Fire Stick, use the remote to select Settings, then My Fire TV, About, and then select Install Update. Install any software if there is an update available.
5. Test the Fire TV in a different HDMI port
HDMI port is the main port in your TV from which you will connect the Firestick device. After trying all the above tricks including the software update still, if you are facing the problem then there might be some issues with the TV Device.
One way to test the TV is to plug the Fire TV Stick into a different HDMI port. Sometimes the port malfunction or the Fire TV Stick is incompatible with the version of HDMI in the original port.
6. Test the Fire TV Stick on another TV
Still not working? There is one more thing that you can try is you can plugIn in your Fire TV Stick to any other TV Device or plug it into the HDMI port of a computer monitor.
Run Firestick device for a while and see if the problem prevails. If it does not, when you plug it back into the original TV, unplug any devices from the other HDMI ports and see if the problem resolves itself.
7. Perform a Factory Reset
If you have tried all the tips and tricks to solve the restarting Firestick problem and nothing has fixed the problem. There is one last trick that you may try to fix this problem.
The Factory Reset will refresh your device as if you bought it as new. Unfortunately, this will wipe out your account settings and installed apps and channels, so you'll need to set your Fire TV Stick up again afterward.
You can perform a factory reset on your FireStick by using the remote, choose Settings, then My Fire TV, and then select Reset to Factory Defaults. To confirm you really want to do this, choose Reset.
If the Fire TV Stick is still not working after a factory reset, it's likely there is a problem with its hardware. You may need to get it serviced or replaced.
Closing Thoughts
If your Firestick is keep restarting and you are getting disturbed and annoyed by it then there are several methods that you can try to fix this issue.