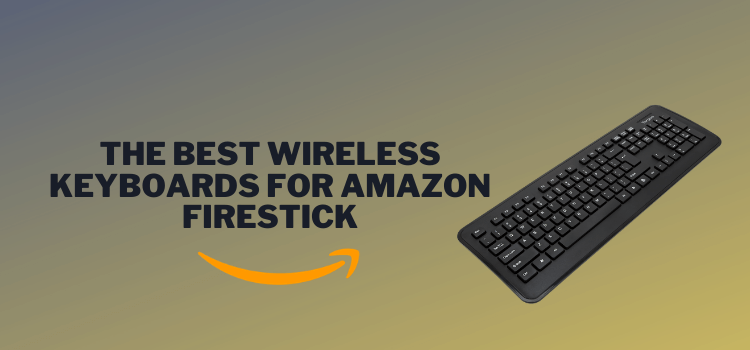 If you happen to use a conventional FireStick remote, it may take a lot of time for you to type words that can otherwise be easily written through a FireStick Keyboard.
Even though Amazon launched a free Android and iOS app that replaces your FireStick remote through your phone, but if you really want to use FireStick Keyboard, I have provided some great options in this guide.
I have also discussed how you can pair a wireless FireStick Keyboard to your FireStick.
The Best Firestick Keyboards
Following is the list of the best wireless keyboards for Amazon Firestick according to their ranks.
1. iPazzPort KP-810-30B Mini Bluetooth Keyboard for Fire TV Stick with QWERTY
The iPazzPort KP-810-30B Mini Bluetooth keyboard is the best wireless keyboard for firestick on our list. IpazzPort makes many small keyboards which include the KP-810-30B made for the firestick.
It's one side has standard remote control buttons while the other side has a small keyboard. A button is also built for voice controls with Alexa which makes it a good overall controller.
Its button side layout resembles the original remote (remote that comes with the firestick) but with a keyboard on the other side
Shop Now
2. AmazonBasics Bluetooth Keyboard for Android Devices, Kindle, Kindle Fire – Black
It is a wireless keyboard with a simple basic layout. It can work from 30 feet away and has nice tactile keys. This keyboard is also compatible with a kindle. It is a low budget keyboard that works quite well.
Shop Now
3. 1byone Folding Bluetooth Keyboard
1byone has different Bluetooth keyboards that work quite well with the firestick. This one is small and can be easily stored away when not in use. It can also be folded for easy storage.
Shop Now
4. JellyComb Mini Bluetooth keyboard
This firestick Bluetooth keyboard from JellyComb is small, and its size is equal to the size of a smartphone. Its touchpad is built into the center with keys outside for typing.
Its Bluetooth pair button is at the top that is pressed for 2-3 seconds which sends it into pair mode.
Shop Now
Connecting a Wireless Keyboard to FireStick:

In this part, we will be using a Bluetooth keyboard for Firestick. Following are the steps required to connect a wireless keyboard to a Firestick
First, go to the settings tab on your firestick
Now under the settings section click the Controllers and Bluetooth devices button.
Next click the other Bluetooth devices
Under the other Bluetooth devices section click the Add Bluetooth devices
Now on your Bluetooth keyboard press the pairing mode button (that sets the keyboard in pairing mode)
Your device will now be connected to firestick
As soon as your device is displayed on the screen under the Other paired input Devices section escape out of the screen.
Now test your keyboard buttons
You can now start using android applications such as Firefox browser with your Bluetooth keyboard
Frequently Asked Questions  
How can you use a FireStick without a remote?
You can alternatively control your firestick with the official remote app from Amazon. From this app, you can control firestick using your Android, iOS device.
It is quite easy to run the FireTV remote app because it is quite similar to the normal hardware remote. Follow the steps mentioned below to pair the remote app on your phone with the firestick.
Make sure that the firestick and phone (with the app) are connected to the same WI-FI network.
Download and install the remote app for firestick from the app store.
Now Launch the app then select your Amazon Fire TV
Your TV should display a code. Enter that code on your phone
Now you can use the remote app from your phone to control firestick
How do I connect a Bluetooth keyboard to my fire stick?
You can connect a Bluetooth keyboard to a firestick easily. We have described it under the heading Connecting wireless keyboard to firestick.
Is the firestick Bluetooth?
Yes, Firestick has a Bluetooth feature that enables you to connect wireless headphones, keyboards, speakers, and mouse with it without any hassle.
How do I connect a phone to my firestick?
You can connect your phone to your firestick in the following ways:
1)    For Fire Phone
First Open quick actions
Now under the display section click on Share your screen via Miracast
Just select your Amazon Fire TV device. It may take up to 20 seconds to display your phone's screen on your firestick TV screen.
If you want to stop mirroring your phone screen click Stop mirroring
2)    For Android devices (running android os 4.2 or greater):
First, click on settings then click on Display & sounds from the Fire TV menu
Now click on Enable display mirroring
Next, connect your android device to your Amazon Fire TV
Your Android device is now connected to your firestick.
You can press any button on your firestick remote to stop mirroring your mobile's screen.
Final words
In the first part of the article, we have described how you can connect a wireless keyboard to a firestick. In the second part of the article, we have described some of the best firestick keyboards.
We recommend you the iPazzPort KP-810-30B for firestick as it is the best keyboard for firestick because of its feasibility. In the end, we have answered the most asked questions in the faq section.