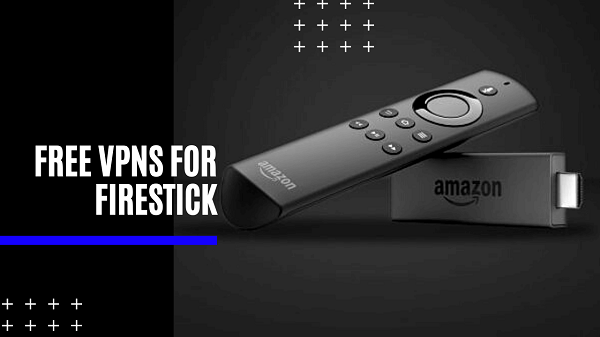 Having a VPN on your FireStick device keeps you anonymous over the internet and helps you unblock many streaming services that aren't available in your region.
But if you don't want to spend on premium VPNs and try those VPNs that are free to use, we have that covered as well.
The free VPNs that I am about to show you are completely safe to use and they will hide your IP address whenever you stream free content on FireStick.
But if you want more server locations to connect to and faster speed, you may wish to select the best premium FireStick VPNs.
Why Do FireStick Users Need a VPN
Although with an Amazon FireStick comes the freedom to indulge in entertainment from around the world, geoblocking makes this impossible. In simple words, geoblocking decides what you can or cannot watch based on your location.
The good news is that a VPN can bypass these geo-restrictions and give you your freedom back. It does this by masking your IP address and rerouting your traffic through a server in a country different than the one you are located in.
Pro Tip: Should you really need a VPN? Briefly Explained
This is how it works! A VPN connects you to a server in a country other than your own. You are assigned a new IP address which fools the video streaming apps into thinking that you are instead located in the region where the content you're trying to access is available and voila!
For FireStick, it is important to have a VPN that requires no compromises on speed since you would need high bandwidth for a smooth and high-quality video streaming experience and that offers connections to various servers in an extensive range of countries across the globe.
This is why all the VPNs on our list are your best bet for a premium streaming experience on your FireStick.
What Else Can a VPN Do?
In addition to granting access to content that you otherwise wouldn't be able to watch, there are many other benefits to having a VPN.
In this age of cybercrimes and increased digital surveillance by the government and other law enforcement agencies, it is critical that you take steps to protect your identity during online activity.
A VPN not only masks your IP address, but it also masks your activity on the internet so it can't be tracked by your internet service providers (ISPs) which may leak this data to the government and other agencies.
VPNs also offer maximum protection with their encryption feature.
Most VPNs now come with a zero-logs policy feature which means they don't store information on your internet traffic in the first place and would have no data to volunteer even if approached by the agencies.
A good VPN would also make sure that you are able to stream at the highest possible speeds with no interruptions, ads, or buffering issues.
8 Best Free VPNs for FireStick
1. ExpressVPN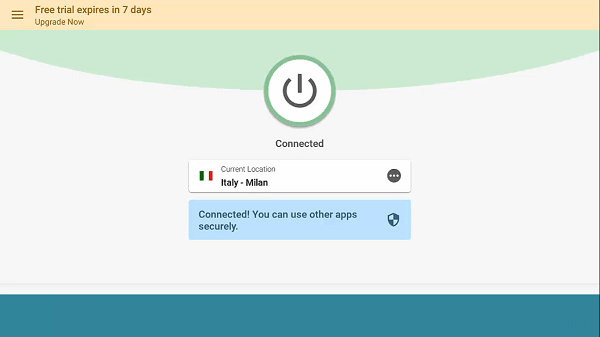 The 1st on the list is ExpressVPN. This is undoubtedly an expensive VPN but it still manages to exist on the top of the list because it offers blazing Speed (89 out of 100 Mbps) and an unbreakable connection with a 7-days free trial for FireStick users.
The good part is, that you don't even need to enter your payment details as well. Just enter your email address and you will be able to access ExpressVPN for 7 days without any charges.
Along with that, it also offers a 30-day refund policy as well. You can get your money back if your money isn't worth using the service.
It offers access to over 3000 servers at over 160 locations to let you watch content from various parts of the world.
With unlimited bandwidth and data allowance, there are no limits on entertainment. There are no interruptions either with ultra-fast connection speed.
With AES 256-bit encryption, it offers military-grade encryption. A no-logs policy ensures your data won't be stored.
The kill-switch feature disables your internet in case the VPN server connection drops. This makes sure that you don't surf the internet unprotected and that your privacy isn't compromised.
Since ExpressVPN is available on the Amazon store, you can download it directly on your FireStick. Just search for it using the search option and follow the prompts.
2. Surfshark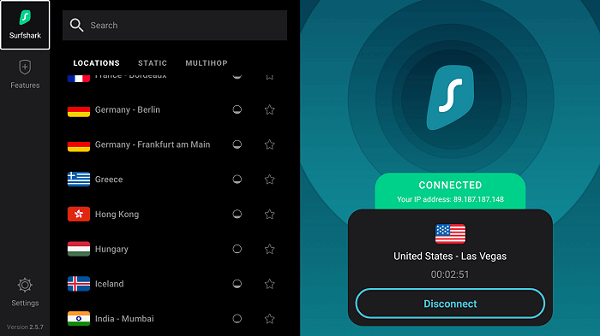 With over 3,200 servers in 65 countries, SurfShark lets you browse the internet with a high-speed connection.
Even though it's a premium VPN, it will allow you to use the VPN for 30-days until it charges you $2.49/month. It will ask for your payment details while you subscribe.
It comes with a kill switch feature that protects you against accidentally surfing the internet unprotected in the event that you are disconnected from the server and a strict no-log policy to keep your data from being stored so your privacy remains intact.
Its camouflage mode makes your internet traffic appear normal to avoid suspicion and its ad-blocker ensures long uninterrupted hours of streaming.
It can support an unlimited number of devices and allows torrenting. It can be directly installed and use Surfshark VPN onto your FireStick using the Amazon Play Store.
3. ProtonVPN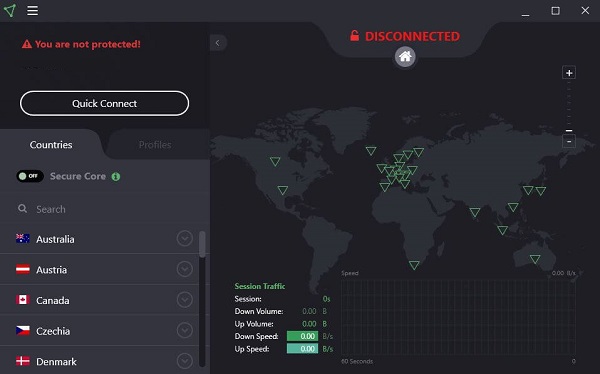 ProtonVPN offers unlimited data usage even for its free users making it the best free VPN for unlimited streaming.
However, the free version doesn't support torrenting and has only 3 server locations to choose from.
It also boasts a no-logs policy, military-grade encryption, an ad blocker as well and support for up to ten devices.
Read More: How to Install ProtonVPN on FireStick
4. Hide.Me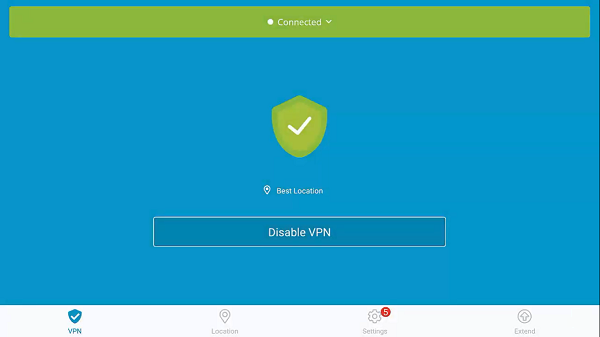 Hide.Me has an absolutely free version to use and offers a great deal in terms of features for a free VPN.
With a monthly cap of 10GB on data allowance, the free plan may not be a good choice if you want to enjoy unlimited streaming but can easily take care of your monthly torrenting and P2P activity needs.
It lets you choose from 1700 servers in 70 different locations across Asia, Europe, and The Americas.
It also offers a no-ad experience, strong encryption, and a no-logs policy.
5. Windscribe VPN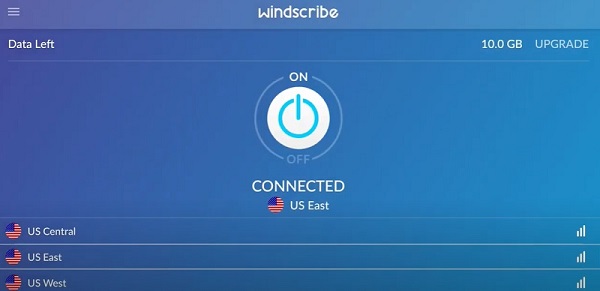 Windscribe amazes its free users with a monthly data allowance of 10 GB which is sufficient for streaming a couple of episodes of your favorite TV shows.
With servers in over 63 locations, Windscribe is a good option for unblocking content from other countries, however, this is restricted to 10 countries for free version users.
It allows torrenting and ad- and malware-free browsing with its ad and malware blockers.
Read More: How to Install Windscribe VPN on FireStick
6. TunnelBear VPN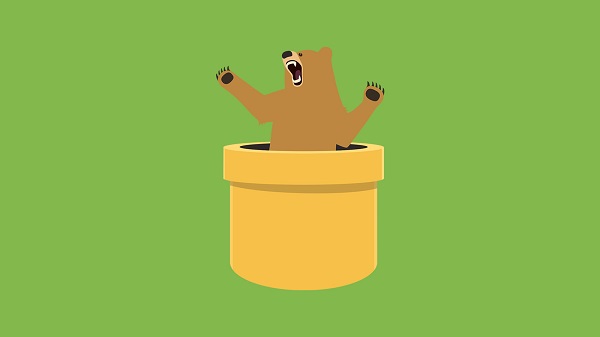 With a 500 MB monthly data allowance, TunnelBear's free plan is perfect for those with limited streaming needs on a monthly basis.
It not only lets its free users connect to servers in over 22 countries, but it also has a kill switch feature which is characteristic of premium VPN services.
It also offers ultra-high speeds on connections which means almost no buffering. It has a dedicated app for FireStick which makes it optimized for use on FireStick.
Read More: How to Install TunnelBear VPN on FireStick
7. Hotspot Shield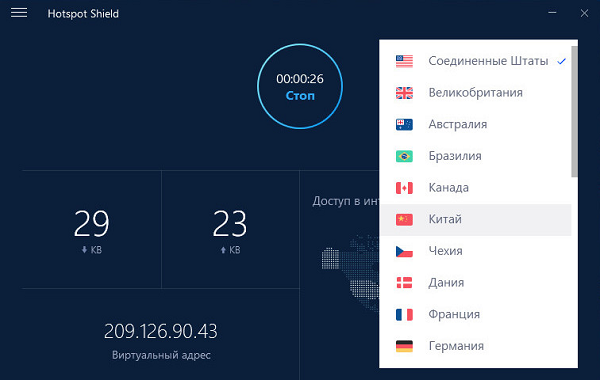 Hotspot Shield is currently one of the most popular VPNs on the market available online. It claims to be the fastest internet speed out of all free VPNs and has a smooth and easy-to-navigate user interface.
What makes Hotspot Shield so popular? is the fact that, unlike most free VPNs, it actually allows torrenting and P2P file sharing without any restrictions.
The Hotspot shield app allows maximum compatibility on Fire TV, PC, Android, and iOS devices. It is available on Amazon App Store.
The service also comes with a paid plan, which does improve over 2,500 servers all around the world, around-the-clock live chat customer support, and military-grade SSL encryption.
You can subscribe to its premium service by visiting the Official Hotspot Shield Website and enjoy more features than the Free version.
8. PrivateVPN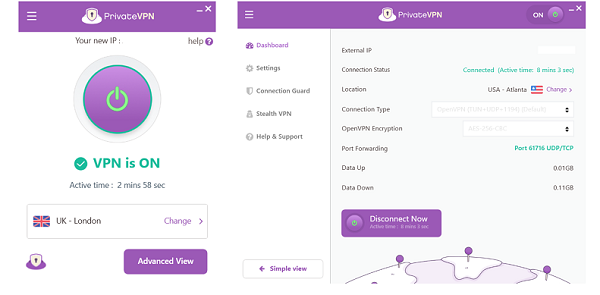 PrivateVPN is quite a unique VPN that offers a different business model than the other VPNs we've talked about above. It offers its potential customers to test out its service for 7 days, completely for free without any restraints during that period.
What goes into this premium time-limited service?
First of all, it includes more than 80 servers all around the globe, offering unlimited bandwidth for maximum speeds. Easy to use software and up to 6 simultaneous devices.
It provides 2048-bit encryption and a strict zero-logs policy. PrivateVPN may not be the best free VPN for FireStick but it is sure worth a try. Once you try the free test version, you'll certainly want to keep using it in the long run.
Besides this free 7-day plan, PrivateVPN also offers a very generous 30-day money-back guarantee. To Try its 7-day free trial or to subscribe to it, you may visit the official PrivateVPN website for either purpose.
Read More: How to Install PrivateVPN on FireStick
Risks and Limitations of Free VPNs
Although free VPNs still protect you against any vulnerabilities to digital surveillance and threats and let you gain access to content that is otherwise blocked for your particular location, they come with some limitations.
Some free versions may be generous with one feature but they'd massively cut back on other functionalities to lure you into buying the paid version.
Most of the time, free VPN plans come with serious compromises on speed as the lightning-fast connection speed is reserved for paid subscription packages.
This means your streaming experience would be marred by buffering and low-quality videos.
The other area that free VPNs roll back on is data allowance. The monthly data allowance they offer for free VPN service isn't sufficient to enjoy unlimited streaming.
These are two main concerns for users investing in VPN for their FireStick device and should be taken into account when you're considering free VPNs.
Key Takeaways
To enjoy a digitally secure streaming experience, you should definitely look into the best free VPNs for FireStick that are available.
There are numerous benefits of using a VPN service from unrestricted access to on-demand and live streaming content to enhanced security.
This blog will help you decide on the best free VPN according to your streaming needs and preferences by letting do a comparison across all VPNs and their features.
We recommend you invest in SurfShark as it is the most economically feasible option that delivers maximum security with its wide array of premium features, making it the best choice for VPN in all aspects.
However, we do hope that you would read the entire article and decide for yourself!