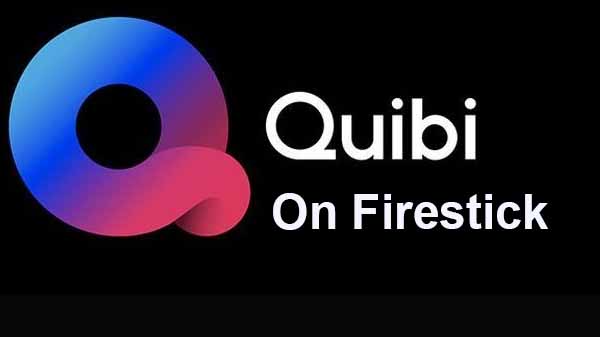 Update: Quibi streaming service has been shut down and is no longer working. You can try other alternatives to watch Movies and TV Shows.
Quibi is a popular streaming choice nowadays for people who believe in watching on the go and keeps them entertained through its short yet gripping TV shows.
Its name Quibi which a modern twist on the words 'quick bites' opens a portal to the world of videos that takes less than 10 minutes to consume. Like other popular video streaming services, Quibi also brings original content to its subscribers.
If Quibi is so amazing, imagine how entertaining it would be to have Quibi on FireStick so you can access all that Quibi has to offer on your TV screen from the comfort of your lounge sofa. So let's have Quibi installed on your FireStick device.
A word of warning before we proceed…
It is not wise to watch free content on your Fire devices with an unprotected internet connection and you may land yourself in legal trouble.
To secure your streaming experience, hide your IP address and encrypt your connection using a VPN. Our recommended choice of VPN is Surfshark.
How to Install Quibi on FireStick
Since the app is not available on Amazon store and can be downloaded through either Google or Apple Play Store, follow these easy steps to get Quibi on FireStick.
Step 1: On your FireStick home screen, click on the 'Settings' option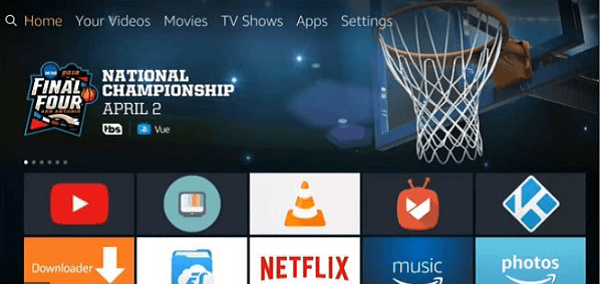 Step 2: In the Settings menu, click on 'Device' or 'My Fire TV'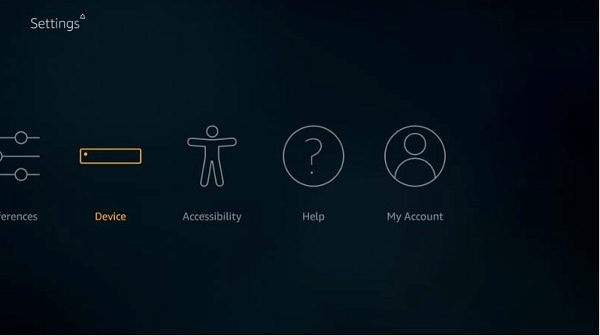 Step 3: Click on 'Developer options'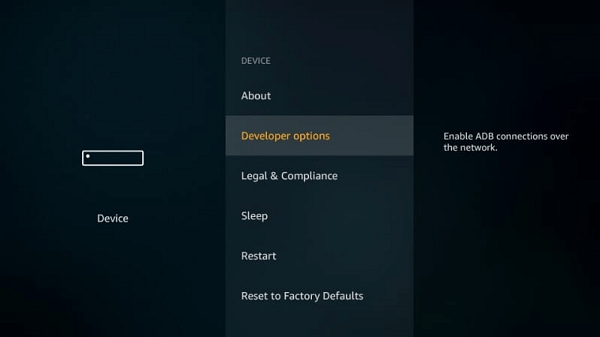 Step 4: Turn on the 'Apps from Unknown Sources' option on the next screen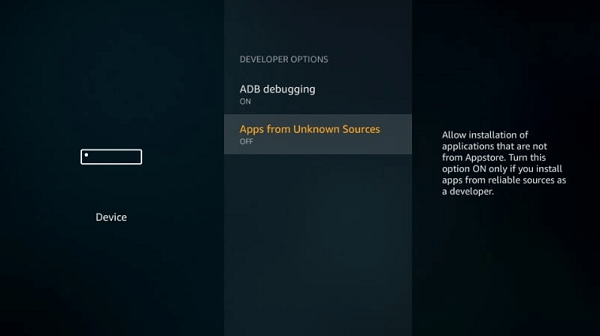 Step 5: Click on the 'Turn On' button as Quibi is a reliable app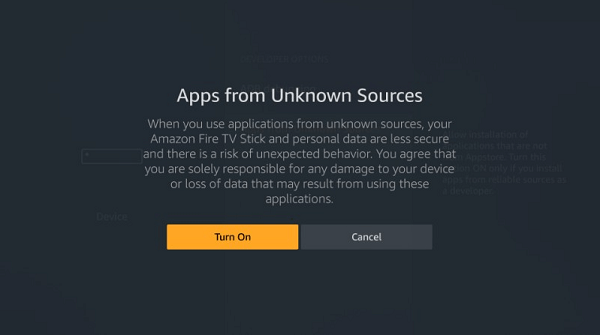 Step 6:Now, go back to the home screen of your device.
Step 7:Click on the search icon on the extreme left of the screen.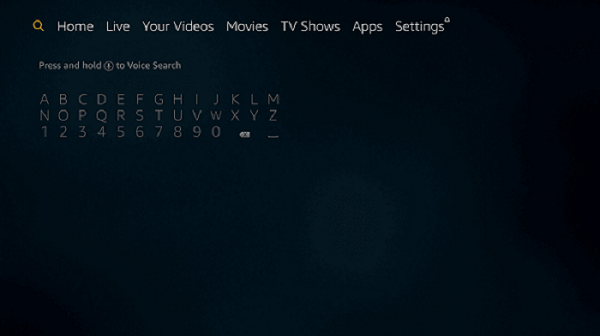 Step 8: Type 'Downloader' in the search bar given.
Step 9: Select 'Downloader App' from the given results.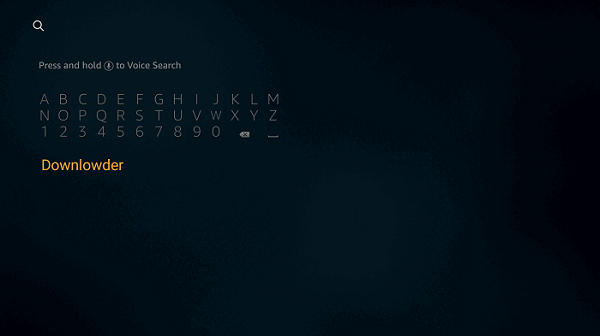 Step 10: On the next screen, click on the 'Downloader' tab in the 'Apps & Games' menu.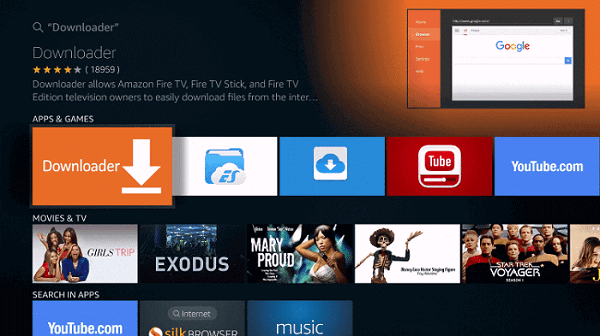 Step 11: Click on 'Download'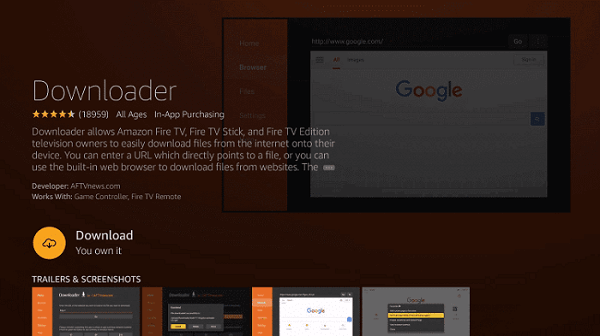 Step 12: Download will start and upon its completion, your device will automatically proceed to the installation process.
Step 13: After the installation process is complete, click 'Open'.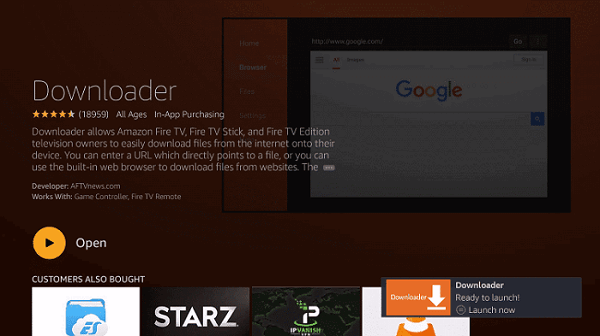 Step 14: Click on 'Settings' on the Downloader home page.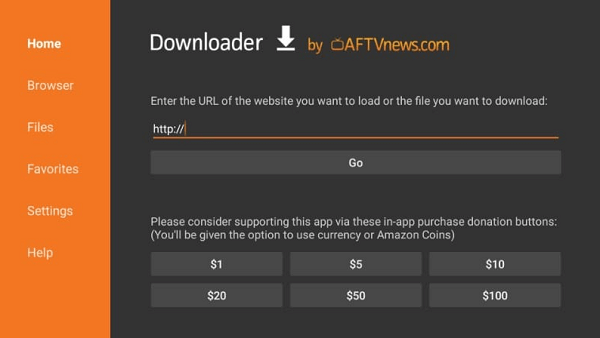 Step 15:Enter the following URL bit.ly/quibi-tv in the URL bar given and click Go
Step 16: Click Download APK
Step 17: The file would start downloading.
Step 18: Click 'Next' when the following screen appears.
Step 19: Click 'Install' to start the installation process.,.
Step 20: On the 'App installed' screen, click 'Open' to launch Quibi.
How to Use Quibi on FireStick
Once the installation is complete, follow these quick steps to start watching Quibi on your device.
#1.Go to FireStick home screen using your remote.
#2.Click on 'Settings' in the menu at the top of the screen.
#3.Next, Click on 'Applications' in the Setting menu.
#4.Click on 'Manage Installed Applications'.
#5.Move your cursor to 'Quibi' in the list of apps installed on your device and click.
#6.Click on 'Launch Application' and enjoy streaming!
 Quibi on FireStick Features
It's cheap! Quibi delivers a premium streaming experience but is much easier on the pocket as compared to other popular streaming platforms. In US, you can get Quibi for only $4.99/month. Make it $7.99/month for an ad-free Quibi streaming. UK and Australia uses have to pay £ 7.99/month and AU$12/month respectively.
All episodes whether of TV shows or documentaries are less than 10 minutes long so you can space out your screen time according to your schedule.
Hurry up and sign up for Quibi so you can avail a two-week free trial period. You can unsubscribe without paying anything within these 14 days.
Quibi lets you have unlimited downloads so you can also watch your favorite TV shows offline.
It's only been a month since Quibi was launched but it is dropping new content every week. Apart from other content, Quibi will have released 175 original shows by the end of this year.
Quibion FireStick Alternatives
Quibi has a couple of alternatives. These are video-streaming platforms that also boast a huge library of TV shows, movies, documentaries and original content.
If you want more channels, you can always refer to our Best FireStick Channels guide. But before you install any app, make sure you get best VPN for Amazon Fire TV.
Frequently Asked Questions
Can I still avail the free three-month trial?
Quibi offered a free 3-month trial for users who subscribed to the service in the first 24 days of its launch i.e until April 30, 2020. The offer has sadly expired but you can still enjoy the first 14 days for free.
Can I watch movies on Quibi?
Yes, but since Quibi's special feature is its short-episodic content, movies aren't available to stream in one go. They have been divided into short episodes.
Key Takeaways
Quibi is expected to grow as big as the biggest video streaming services out there soon! Since its launch last month, it already has 1 million subscribers.
Its exciting features also makes it unique and different than other streaming apps and a must try!
We hope this guide will make you realize how easy it is to install Quibi on FireStick and enjoy the new shows and episodes being released on Quibi every week. So, what are you waiting for? Get Quibi now!